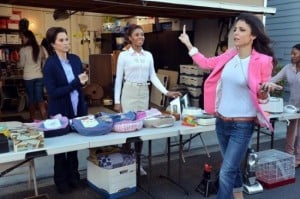 Last night's episode of The Neighbors saw Debbie attempting to hold a garage sale after she damages her car. Determined to pay for the repairs with her own money but put off by the fact that she's not good with money, she enlists Jackie's help after Larry declares women are not fit for working outside the home — and Jackie is great at it!
Things take a more stressful turn when Jackie makes a deal with a buyer, guest star Bethany Frankel, and gets them more money for purses that Debbie has made, provided they can produce more in just a couple of days. Inspired, Debbie goes out for material to make new purses, yet after a montage of purse production they've only made one, and they are just not going to make it in time.
Meanwhile, because Marty is busy trying to find a 'thing' with Max — puzzles — Larry is left watching Abby's Sunshine Scout troop. Larry Bird with a room full of little girls? Oh no.
At first, he begins by explaining to them that they must learn to be housewives, waiting for their husbands to come home, but after witnessing them braiding he becomes fascinated and decides to help them learn their merit badges. The girls prove to him that women can work, which leads Larry, in an attempt to solve Debbie and Jackie's problem, to set up a sweatshop with the girls making purses.
Of course, the operation is discovered by the very woman the girls are making purses for and the deal falls through. While the Sunshine girls get away, remaking at how beautiful the fresh air is, everyone else spirals into arguments. Debbie, Jackie and Larry fighting about the business, Amber and Jeremy, Giselle and Reggie fighting over relationships (Jeremy won't leave Amber alone), all while Marty, Max and Dick watch. It's oddly poetic, and perhaps a bit over-done, but Marty declares that "the pieces are coming together," and silences the fighting by pointing out everyone's issues with each other — even pointing out that Reggie is really the guy Amber likes.
Somehow, everyone peaceably disperses, but not before Giselle can threaten Amber that she's not going anywhere — Reggie is hers. While seemingly out of place in the grand scheme of the episode, I have a feeling this has set us up for the finale.
Marty, Max and Abby also go to Debbie with a proposal that they want to invest in her business.
As usual the episode was sweet, and presented family values of working women and parent-child bonding in a subtle but funny way.
And of course, the episode was great with Dick Butkus, as always. However odd the character, you can't deny that Ian Patrick is a talented kid with great comedic timing. He played the part of an aspiring comic sidekick this week, and even got in a "that's what she said" zinger.
I think I'd have to say that one of the most enjoyable things about The Neighbors — for me, at least — is the fact that these characters are constantly shuffled around with each other. It's nice to see the different interactions and relationships between them, and really, Larry Bird with a room full of little girls is quite funny.
Bethany Frankel seemed like a toss-in as far as guest stars go, but not in a way that hindered the episode.
Don't forget that next week is the season finale of The Neighbors! Hidden Hills is going to receive a visit from Mark Hamill and George Takei! What on Earth — or Zabvron — can we expect!?
The Neighbors' season finale airs next Wednesday at 8:30 PM on ABC.