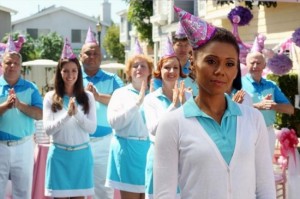 Last night's episode of The Neighbors explored what happens when Debbie Weaver tries to throw a birthday party — insanity.
The chaos begins when Abby invites Dick to her birthday party. There's only one problem…the Zabvronians have no idea what birthdays are. In a true motherly fashion, Debbie explains the whole deal to Dick and Jackie, excited because the party's going to be incredible. But according to Marty, as he explains to Larry, birthday parties turn his wife into a crazy person.
As Debbie throws herself into the party planning, Jackie makes it her mission to learn about birthdays and pushes Larry into learning about working by observing Marty at his job. This, Larry takes as an invitation to follow along wearing a hard hat and work boots, promptly, not-so-subtly belittling Marty's workplace. But Marty is proud of his little office and likes the satisfaction he gets from providing for his family…even though working as much as he does means he doesn't get to see them as often.
In their own attempt to learn about birthdays, Reggie and Dick set upon the idea of gifts and what exactly they mean to humans and themselves. Reggie, crushing on Amber, wants to get her a gift. Though, his catalogue of everything that's happened on the planet since her birth doesn't go over so well. Amber explains that if it were her birthday, she'd wish to be back in her old house with her old street and friends, so, only wanting to impress her, Reggie later paints a mural of her old street for her on her bedroom wall.
The further we get into the episode the more we see that yes, birthdays turn Debbie Weaver into a crazy person. She goes about goodie bags like a drill sergeant, tears into delivery men for bringing the wrong form of bounce house, and delegates tasks to all who stop in her kitchen, with ridiculously high standards. Her obsessive need to throw the perfect party pushes Larry to follow Marty to work for a second day, and pushes Dick, Abby, and even Jackie (after an explosion over curled ribbon) into Max's fort — something he constructs every year to escape the birthday madness.
Over in Marty's office, an overlooked mistake means that he has to completely restart his work, which means he'll miss Abby's party. He has to explain to Larry again how even though he has an often thankless job with long hours, he likes the satisfaction he gets from a good day's work. As a father he gets maybe fifteen good minutes a year, and he's going to miss some from Abby's birthday because of his mistake. So what does Larry do? He takes Marty's place, punching numbers into the computer like there's no tomorrow, and leans back when he finishes, proclaiming that it's been a "good day's work."
The big day looks like it's going to fail when the bakery gives Debbie the wrong cake and Darth Vader shows up instead of Rapunzel. After ripping into Jackie over her inability to let her know what's been happening, Jackie moves to storm out, stopping only when Debbie apologizes and explains that the reason she turns into such a lunatic is because she never had her own real birthday party as a child and wants to do the best for her kids, so they feel special on their birthdays. Being the kind alien she is, Jackie calls on the Zabvronians to pull the party back together, and turns it into a combined party for both Abby and Dick, who wished for a birthday party if he had a birthday.
Overall, "Larry Bird and the Iron Throne" was an enjoyable episode. The only aspect that seemed odd to me was the fact that Larry Bird was oddly predatory of Marty's handicapable boss — hence the title. While amusing it didn't lend too much to the plot of the episode.
I'm enjoying the fact that the show has transitioned from being obvious about the differences between the humans and aliens. Though the knowledge gap is at the forefront, it's not "in your face" as much as it has been in previous episodes. I like the fact that there are more subtle references to the differences in species (i.e. — the aliens don't know what cupcakes are), just dropped throughout the story. Just off the announcement of a full-season pick-up, The Neighbors seems to be evolving into a light, entertaining family sit-com.
Who knows what the writers will throw at us throughout the season?
The Neighbors airs Wednesdays at 8:30 on ABC.