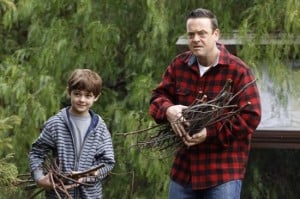 Tonight's episode of The Neighbors was surprisingly calm given the show's reputation for family insanity. But similarly, "Camping" lived up to the show's habit of touching hearts.
As per the title, tonight found the Weavers camping after Max turns to his grandfather for help with building a derby car. Turns out, Marty is not quite the "man's man" and it upsets him. He can't even punish Abby and be taken seriously. So, he decides that the only solution is for them to take a family camping trip —
Which apparently also includes the Bird-Kersees.
However, despite Marty's confidence in his manly abilities, Debbie's just a bit more skeptical. Jackie happens to to have her own opinion one the subject, citing having learned a lot about handling a "well-meaning but incapable man" on her ten year 'camping' trip to Earth. She instructs Debbie to complain and repair what's gone wrong in private, but openly give the men credit for the things that are going right.
So, when they finally arrive at the campsite — after the Zabvronians do math in the car, for fun — Debbie and Jackie clean up behind Marty as he continues to "handle" things. But it all turns sour when Abby and Max catch on after Debbie hooks pre-purchased fish to Marty's fishing line while he's gone, and they spill the beans over the campfire.
Meanwhile, Amber struggles to get Reggie to distance himself from Giselle. Though he has no cell phone in the woods, he continues to write down his would-be text messages in a book, which Amber ultimately tosses into the fire. Reggie finally settles down at the pier, struck by the realization that Amber missed having him as a friend. The two dive into the lake, Reggie struck by how fun the activity is, and the lingering hints of romance between them are quite obvious.
The families are just getting ready to sleep for the night when a bear meanders into camp. Larry proves useless, running away screaming like a girl, but Marty knows just what to do. He returns from his mysterious walk just in time to follow the essential to-do of scaring away a bear — and succeeds!
And his big move bumps him back up to hero in the eyes of his children.
This was a surprisingly simple episode of The Neighbors, yet did not abandon the quirky humor we've become so accustomed to. Dick has a fascination with pop tarts and the toaster, and is even some odd natural attraction for mosquitoes, and Larry has an odd determination to tell a good ghost story.
It's nice to see the show embrace the simplicity as well as the zany, all while being true to entertaining.
On a related note — be sure to tune in to the show's season finale for a pair of legendary guest-stars. It was recently announced that Star Wars' Mark Hamill and Star Trek' George Takei will be stopping by Hidden Hills with a big announcement.
The Neighbors airs Wednesdays at 8:30 on ABC.
Tell us what's wrong with this post? How could we improve it? :)
Let us improve this post!