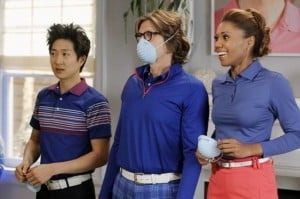 Last night's The Neighbors "Cold War" or as I would otherwise title the episode, "Larry Bird versus Germs," was quite entertaining.
Must like many human customs, the Zabvronians are not aware of what a cold is, and thus, when Abby falls ill, panic ensues. Well…not so much panic as a difference in opinion on what exactly is the best way to treat a cold. Larry Bird is quick to toss the young girl into a quarantine tent, as is the Zabvronian way, though Debbie and the other Weavers ensure the alien family that a cold is simply something to get over.
After a very "angel versus devil on the shoulder" moment with Larry and Jackie, Debbie caves and kisses her daughter's forehead, only to be repaid with a sneeze in the face. Thus, the entire Weaver family ends up sick.
As fate would have it, and really not surprisingly, Jackie seems to have a desire to nurture others, and is unhappy when Larry Bird drags her away from the sick household. Her husband is concerned, maybe even afraid that his alien community could catch said illness and rallies them all to inform them of the risks. So, as he sets off with a tank of fresh oxygen to patrol the neighborhood for sickness, Jackie sets a timer and heads to tend the sick Weaver family.
Running with the theme of the show, Jackie's nurturing of the bunch is a heartwarming, yet altogether amusing situation. As she fluffs pillows, wipes noses, takes temperatures, and more, "A Spoonful of Sugar" plays in the background, just setting that doting feeling. However, all her caring and healing tests her time limit — she just can't say no to Debbie's request for more tea, at the same time that Larry arrives home…four minutes early. Thankfully for her Dick, who is apparently working on his lying abilities, stalls his father long enough for her to swing a grappling hook up and climb into bed, feigning exhaustion.
She's in the clear until she sneezes in her husband's presence. Or, as he puts it, emits one of the humans' "sickness gasps."
And so, Jackie gets shoved off to the Weavers' whilst Larry continues his plans to quarantine the home. However, his plan to enlist the Zabvronians to help falls flat, as they've decided that they want to nurse their friends back to health. Larry finds himself alone — healthy, but alone — as everyone around him rallies to help Jackie and the Weavers.
But just before alien healing army arrives, Debbie finally yells at Marty for being a baby and not helping out at times when the entire family is sick. It doesn't seem to get through to him, however, until Larry Bird shows up wanting to help, jealous after observing his friends' pleasure at tending the Weavers'.
Elsewhere in the episode Reggie Jackson sought to cure the common cold to please his crush, Amber. He even sneaks in a test subject — janitor from school — to give his 'cure' to. Ultimately, he gives up on his efforts after the janitor explains to him that love isn't about actually curing the cold, it's letting your girl know that you would, if you could. Reggie takes note and brings Amber a care package while she's sick, completely customized for her interests.
This episode was cute, and had plenty of laugh-out-loud moments to make it enjoyable. The writers certainly give Larry plenty of great one-liners, and Dick as well, and I find that I'm constantly impressed by the actors' portrayal of such "out there" characters. I'm also convinced that the writers have some kind of attachment to The Muppets as this was the second episode they've been spotted in — Max likes to watch Kermit The Frog sing 'Rainbow Connection' when he's sick.
Tune in for more alien amusement when The Neighbors airs Wednesdays at 8:30.
Tell us what's wrong with this post? How could we improve it? :)
Let us improve this post!