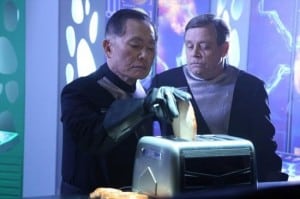 In tonight's Season 1 finale of The Neighbors Marty and Debbie took Larry and Jackie to Atlantic City while the children were left to their own devices back in Hidden Hills, Mark Hamill and George Takei guest-stared, and the show took every opportunity to push the fourth wall.
Much like the Bird-Kersees, the Weavers are in desperate need of a break from their children and come to ask said alien family to keep an eye on them while they jet to Atlantic City for a day. But of course, the idea is all too appealing to Larry and Jackie, yet, contrary to almost every other episode this season, they come right out with their desire to participate to the Weavers, citing that when they go behind the Weavers' backs: "…hijinks ensue, you learn from us, we learn from you, and it's all wrapped up in a nice tidy package around 9 PM."
Unable to deny the truth, Marty and Debbie prepare for their trip, leaving Dick in charge as Amber and Reggie have been deemed too irresponsible. The instant the adults are gone Dick has the younger Weavers in line, while Reggie reveals to Amber that he wants to tell Giselle that he is not from Earth. Of course, Amber is concerned, but when she attempts to lighten the mood Reggie cracks from the pressure of their constant back-and-forth, tells her that if she has something new to say she needs to say it — she doesn't.
Then there's Dick, who receives a message from his grandfather (George Takei) via toaster that "it" has begun. As fate would have it, the heads of the Zabvronians are not satisfied with the way things have been going in Hidden Hills and plan to evacuate the community. Just as Reggie is about to break the news of his 'heritage' to Giselle, Dick bursts in with the news and the two boys panic over what to do, and how to tell their father.
Meanwhile in Atlantic City, Marty has discovered that Larry can see through cards and tries to use him to win at Blackjack — but thanks to a smudge on the card, Marty finds himself out a rather large sum of money. The two try again, successful this time, when Larry somehow makes the ball on the roulette wheel land on the right number and they win back some of the money Marty originally lost. The girls, however, are otherwise occupied as Jackie discovers her longing for a traditional wedding, complete with a white gown and maid of honor. Debbie manages to get her into a wedding dress, in which Jackie proposes to Larry right there on the casino floor.
After sweetly admitting that Marty is his best friend, Larry asks him to be his best man, while Jackie delivers a gift of a hotel maid uniform (complete with cart) to her maid of honor, Debbie — after all, "a maid of honor should look like a real made" according to Jackie. The wedding is sadly interrupted by the phone call from Dick announcing the arrival of Larry Bird's father.
Back in Hidden Hills, as the Zabvronian community prepares to leave Reggie is struggling with revealing his secret to Giselle. Thankfully for him, Giselle assumes the big secret is his love for Amber and leaves, just enough time for Reggie to admit to Amber that she was his favorite thing about Earth — which she reciprocates, right as Grandfather drops in.
The Zabvronians are all set to go, the Weaver children looking on, when Larry and Jackie run up, still dressed in their wedding attire, and protest. They will not leave, they like it on Earth with the Weavers, and with another "6 or 7 seasons….years" they could have it all figured out. Ultimately, the Supreme Zabvronian leaves in a huff and claims that he will return, and both couples, Larry and Jackie, and Marty and Debbie, sweetly look back on the year with high hopes for the next.
And yes, Amber and Reggie finally get their kiss — and the last Zabvronian surprise of the season, Reggie has two tongues.
But where was Mark Hamill in all of this? Because as of 8:55 he still hadn't appeared. As always with The Neighbors, the episode had an entertaining tag, this week's featuring Hamill and Takei making playful cracks at each other over Star Wars and Star Trek.
It has been quite a season for The Neighbors. The show has grown from the odd newcomer with horribly mixed reviews, to the heartfelt family comedy that everyone can find something in — even the critics, whose tunes have since changed.
Yes, as I have said in almost every review I have had the pleasure of writing this season, the show is quirky. The Zabvronians are strange, they don't look like they belong in family units, and have very weird habits and customs. But on the flip side, perhaps we would seem just as strange to any outsider.
The show has spent the season light-heartedly dealing with everyday challenges (racism, driving, romance) and somewhere along the line the "alien" aspect of it seemed to just blend into the larger canvas of the show, and simply became, well, funny.
There is still no word from the network on a second season for The Neighbors, but tonight's season finale certainly left us on a cliffhanger:
Just what is the Supreme Zabvronian trying to warn Larry Bird about?
It has been fantastic writing for this show all season, and I can only hope that there will be more to enjoy next season.
What did you think of The Neighbors' season finale? The season?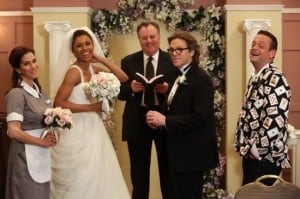 Tell us what's wrong with this post? How could we improve it? :)
Let us improve this post!