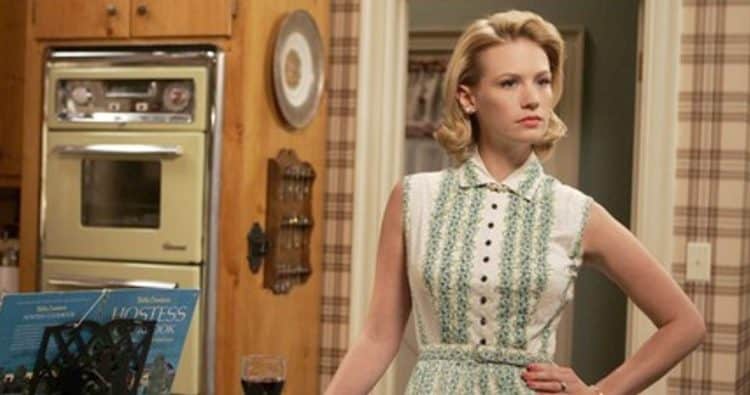 During television's Second Golden Age, much has been made of anti-heroes. A lot of this has to do with male anti-heroes being the protagonist of their respective series, in addition to morally ambiguous characters that inspire love and hate with audiences typically being men. But female anti-heroines have featured just as prominently on television in the last 20 years, even if these characters did not lead the shows they appeared within. In this TV golden age that seems to have no end, three anti-heroines stand out the most: Carmela Soprano, Betty Draper, and Skyler White. But what exactly is a television anti-hero/heroine? Anti-heroes and heroines are central characters in a TV series that lack the traditional, heroic characteristics of a wholesome and good hero/heroine. These characters are not black and white and wholly gray in terms of moral ambiguity and portraying their flaws with equal weight to their virtues. In other words, an anti-heroine is a normal person trying to navigate the world by doing whatever it takes to survive and thrive. This means that audiences will typically find themselves rooting for the characters and despising them only an episode or two later. Mythology has always taught us that being human is to consistently struggle to overcome evil and aspire to be good–anti-heroes and heroines are the reality of that myth. Carmela, Betty, and Skyler have long been targets of online hate–even though their respective husbands did far worse deeds in each show. It is time to firmly settle the argument and place these strong female characters in the anti-heroine hall of fame.
Carmela Soprano from The Sopranos
Played by Edie Falco, Carmela Soprano was Tony's long put upon wife that existed inside a bubble of affluence and luxury at the expense of her husband's serial infidelity, blood money income, and neurosis. Sitting through the 86-episode run of The Sopranos and solely focusing on the character of Carmela presents an equally fascinating portrait of the years-long arc of an anti-heroine mired down in her love of her family but also her inability to fully sever ties with her deeply flawed husband. There are many moments in the series where the writers present Carmela as a sympathetic character. She is a mostly decent person that is fiercely dedicated to her children and her commitment as a homemaker; she is also a great friend to her friends and a great partner to her husband. But Carmela's entire conundrum is that she knows what her husband does is wrong, yet she mires herself down in nauseating hypocrisy to try and justify her profiting from money that is built on theft, fraud, bribery, and murder. In the season three episode, "Second Opinion," she meets with a psychiatrist who bluntly tells her that the only way to absolve herself of the guilt she feels is to leave her husband. We can tell she knows this is true, yet she continues on in her role as an enabler and never sees the therapist again. Even when she does leave Tony based on his infidelity in the explosive season four finale "Whitecaps," she spends about a year separated from him where she tries to find an attorney bold enough to take her divorce case–there are none. She agrees to take Tony back on the proviso that he purchase a $600,000 plot of land for her where she can build a spec house. She also flirts with becoming a real estate agent in season four but quickly drops the studying. Carmela is deeply hypocritical, staunchly Catholic to the point of bigotry, materialistic, vain, complicit in her husband's crimes yet morally virtuous in her outlook, and much more. But despite all her toxicity, she is a thoroughly compelling character we can't help but care about.
Betty Draper from Mad Men
First of all, how exactly is Betty Draper (later Betty Francis) an anti-heroine? Betty is just as morally gray as Don is. Betty is also for all intents and purposes a carbon copy of Don Draper in female form. But the exception to this is that Betty strives to hold onto the illusion of a perfect marriage inside of a truly dysfunctional one whereas Don falls on accepted, societal toxic masculinity to glide over his own faults. Don repeatedly cheats on Betty in the first few seasons which allows us to feel sympathy for her, but Betty is not the June Cleaver that 1960s society would have everyone believe. She is vain, selfish, inept at motherhood, neurotic, spoiled, materialistic, –and unfortunately, these are the accusations always leveled at the character in fan circles. Betty was the product of a terrible upbringing. Her outward beauty was used by her parents to sell her to the world, and if this didn't work out, a rich and successful husband like something out of a Jane Austen novel. Unfortunately for her, she marries a man just like her, and later another man that she seems to be with just for convenience. Betty's tragic end is all the sadder because she was trying to finally aspire to her true potential.
Skyler White from Breaking Bad
Skyler White was quite toxic at times, and this is to Vince Gilligan and Anna Gunn's credit since Breaking Bad was all about exploring characters that disintegrate due to internal dissatisfaction with their lives. But the hate for the character is incredibly misguided and juvenile. Skyler's style of breaking bad may have been more easily repellent than how Walt served his own needs to break bad (at least in the first few seasons), but not everybody gives in to selfishness in quite the same ways. Like Carmela and Betty, Skyler dysfunctionally loved her spouse, and perhaps that compassion to the point of criminal culpability was a detriment to all their respective lives. Tony Soprano and Don Draper constantly cheated on their wives, why should Skyler get more hate because she was the one who decided to step out of her marriage while her husband reveled in being a newfound criminal?Edie Falco
Tell us what's wrong with this post? How could we improve it? :)
Let us improve this post!