The Menu, which starred Anya Taylor-Joy, Ralph Fiennes, Nicholas Hoult and more, follows a young couple as they dine at an exclusive resort restaurant which has terrifying motives. Near the end of The Menu, a film that celebrates elaborate and theatrical cuisine. Viewers would have seen emphasis placed on a traditional cheeseburger, perhaps the most iconic food served in the entire movie. However, some viewers could have found the food to be too random and sudden. So below, we will attempt to explain what that cheeseburger meant and what it had to do with the story.
The Menu's Ending Explained

After breaking into the Chef's home and defeating one of his loyal servants, Erin entered a room that she was, at first, forbidden to enter. In there, she found remnants of the Chef's younger self such as a picture of him smiling while doing his simple job as a burger cook in a random burger joint. Beforehand, Erin and Chef Slowik had deep talks among themselves and the chef realized that Erin was a service worker. It seemed that the Chef's suspicions of Erin (who was then referred to as Margot) came from the fact that she was the only one who did not seem to be appreciative of his pretentious dishes, and that Erin appreciated and recognized his genuine culinary skills more.
Before exiting the house, Erin found a telephone and rang it to call for help. Coastguard personnel seemed to arrive on the island, so Chef Slowik and his company tried to clean all traces of the brutality that happened. A coast guard came and asked if anyone called for help, and the Chef said that there was nothing wrong and they were just having a fancy dinner. The guests slipped a note to the coast guard asking for help, so the latter pointed the gun to the Chef, an act that made the other guests feel more confident and revealed what was going on. However, it turned out that the coast guard was with the Chef all along, and instead of helping, he lit the candle next to Erin using his lighter gun, indicating that she was the one who initiated the distress signal. This broke the Chef's trust in Erin.
The Menu's Traditional Cheeseburger
Risking being killed, Erin called the attention of Chef Slowik and diplomatically rejected the food, stating that the dishes served beforehand were unpalatable and not normal. For example, no one serves food on top of a telephone wire or serves breadless bread. She pointed out that, because she did not like the food, she was still hungry, and was craving real food – something simple.
She ordered a cheeseburger, beef cooked to medium, with American cheese, and with fries. She just wanted a real cheeseburger, a normal food that can be appreciated.
What Does the Cheeseburger Mean?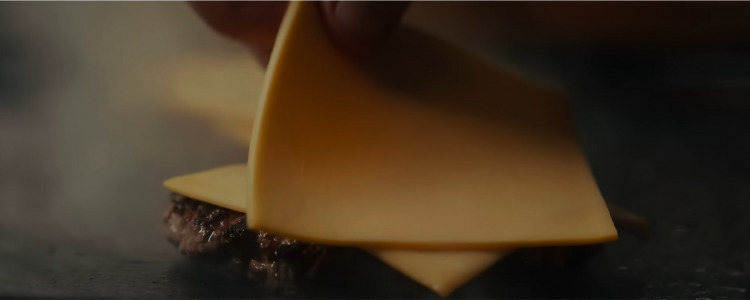 While Erin was placing her order, it was very noticeable that Chef Slowik seemed happy and was about to tear up. He even complimented her on her choice of cheese, stating that American cheese was, indeed, the best cheese that would go with her cheeseburger. While he was cooking Erin's order, Slowik was visibly smiling.
The cheeseburger was Chef Slowik's epiphany, it was his redemption arc, and it was the key to the chains that had kept him for long. Before, Slowik was happy as a burger flipper. However, as he grew more and more successful, fewer and fewer of the common people became his customers. Until, one day, he had a fine restaurant of his own whose only customers were the picky rich who did not seem to appreciate the food but only criticize the food. This scene in the menu. made him remember his younger days when he was still a beginning cook. He felt connected with his roots in cooking. After all, his burger-flipping job was what made him fall in love with cooking. Erin's order made him reunite with his now-dead passion for cooking, which died a long time ago after he only cooked just to "please the unpleasable."
After tasting the burger, Erin complimented him and said that it was a real cheeseburger and none of the nonsense that was served earlier. She paid and asked for the rest to go ("take out"), to which Slowik agreed, and gave Erin a free escape ticket. That take out moment also gave Slowik a new reminiscing thought: the rich never took out their food. Meaning, they just left whatever leftovers they had and not fully appreciating it. Meanwhile, Erin went to show that she wanted to savor the burger completely, but it was a shame that she was "already full."
READ NEXT: Anya Taylor Joy is Clearly the New It Girl