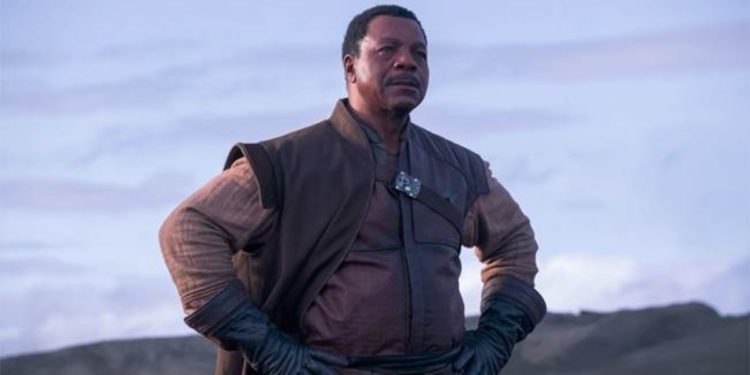 Disney+ isn't wasting any time when it comes to getting ready for season 3 of The Mandalorian, and while they still can't film anything it does sound as though Jon Favreau and the art department are hard at work with ideas as they continue to churn out new adventures for Mando and Baby Yoda. Where the rest of the cast will fit in is hard to say but as Ryan Scott of MovieWeb has announced there will be a number of them returning such as Gina Carano, Carl Weathers, Bill Burr, and of course Giancarlo Esposito as Moff Gideon. Pedro Pascal will be donning the famed helmet of the Mandalorian once again as he and his small green charge traverse the galaxy looking for other Jedi or perhaps the home planet where Baby Yoda's people are from. Either way it's bound to be a long trip since not only is the story set following Return of the Jedi, but it's also never been established just where Yoda's species came from, so trying to pin it down in a series such as this almost feels as though it would be the wrong place and time to do something of such magnitude. People are still divided on whether or not this should happen or if the mystery should be left alone since that's a big part of what gave Yoda his mystique, the fact that no one knew where he was from or even what his species called themselves. At one point it just ceased to matter, but there are still plenty of fans that would love to know.
The second season is also primed to see the emergence of Ahsoka Tano if we're lucky, as the Togrutan Jedi will be played by Rosario Dawson as the rumors go, while we'll also see scifi veteran and legend Michael Biehn and possibly even Jamie Lee Curtis in an as of yet undisclosed role. While Curtis isn't exactly known for scifi, more for horror really, she's still a longtime veteran of the screen and is usually welcome pretty much anywhere since she's very adaptable and can take on pretty much any part she needs to. Given how guest stars have been treated on this show however it's likely that unless her character has a bigger part to play she'll be in one episode and that's it. Carl Weathers, Gina Carano, and a couple of others are about the only ones besides Pedro Pascal that have been in multiple episodes, largely because they had something to do directly with Mando and were deemed as important characters that could help further the story. Greef Karga is after all the mercenary leader that was in charge of giving Mando his assignments until the mercenary went off script and rescued Baby Yoda from the Imperials, thereby disrupting the contract and breaking the rules. It would also be nice to see the Armorer make her way back as I've said before, as she proved to be something of a badass as the troopers that came after Mando found out.
Right now the plan to bring the show back in October isn't a done deal but it's a prediction that a lot of people are hoping is real. It's likely that Disney+ will continue to release the show one episode at a time in order to allow people to enjoy and even catch up with the story, rather than release the whole season so people can binge-watch. Let's be real about this, if Disney+ had followed the same formula Netflix a lot of us would have been done with The Mandalorian season 1 in a day since the story was gripping enough that a lot of people didn't want to let it go and still don't. It's definitely established itself as a Star Wars story, but in a way that doesn't rely so heavily on the Jedi and the Force. The Child, aka Baby Yoda, is Force-sensitive and has saved Mando in their run together, but he's also not entirely in control of his Force abilities or his temper as it was noticed in season 1 since he tried to choke out Cara Dune when it looked as though she was hurting Mando, and the Force abilities failed to come to his command at times, leaving him a bit confused. In other words, he definitely needs a Jedi or another Force-user to teach him how to control the power he holds, and the Mandalorians, who are notoriously mistrustful of Force-users, are not the people to deal with such an issue. Jordan Bhanji of Fansided has more to say on this matter.
The fact that there's a season three already on the table for discussion and development means that there must be a pretty strong story leading into season 2 and beyond. Now I REALLY can't wait for the next season to get here, just like everyone else.