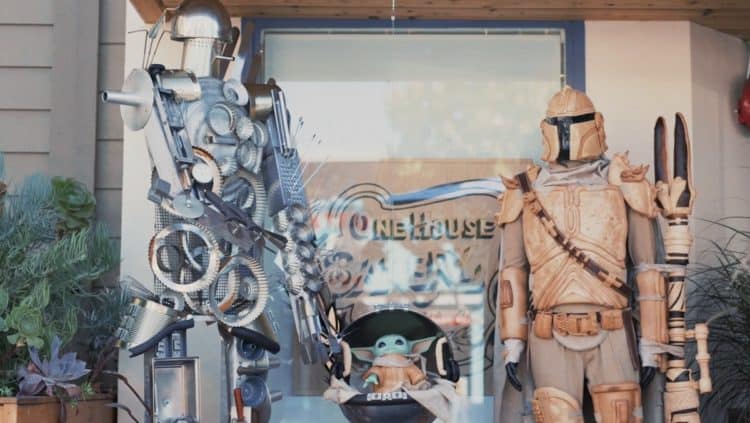 It's easy to think that One House Bakery is already well-known in its area and possibly within the region, but it's even more possible that after creating a life-sized Mandalorian completely out of bread that they're even more well-known at the moment since this is absolutely impressive. Well, just to be fair, the armor of the Pain Dolorian and Baby Dough-da have been made out of bread while the figures inside the armor and clothing are still plastic, but the effect is pretty cool since it feels accurate to say that this likely took a while to create and had to be done piece by piece in order to make it look authentic to the show. Looking at the work it is pretty impressive and one has to imagine that the bakers had to pay close attention to some of it in order to not bake it too long or possibly burn certain pieces since some of it does look a bit darker than others. One kind of has to assume that this would be for display only, but who knows? It does feel safe to say that using it as a display model only would be a better idea than cutting into it unless that was the express purpose of making it. The only thing that could really make this look that much better would have been if the bakers could have found a way to put some sort of metallic-looking coating over it to complete the look. Such a thing might have been more trouble than it was worth, but the effort put forth is nothing short of great since it came out looking great.
It's very likely that there was more difficulty in this than people realize since getting everything shaped perfectly and then baking it would definitely be difficult since in order to work this well the pieces would have to be able to retain their shape and also remain curved, straight, or however they appear to function with the rest of the suit. Obviously, the bottom of the helmet and a few other pieces turned up a bit, but that doesn't take away from the overall image since a lot of people would probably hope that they could do half as well if they attempted such a thing. Plus, crafting Mandalorian armor out of bred wasn't bound to be easy given what can happen during the baking process and then realizing what would be needed to shape each piece. Given the idea of how specialized each suit of armor is one would think that it would be kind of a nightmare to try to do more than one of these since with each different suit of armor one would need a different design and would need to account for anything that sets one suit apart from the other. Mandalorians don't come off of an assembly line, after all, they tend to be unique among their ranks, even if from a glance they look similar.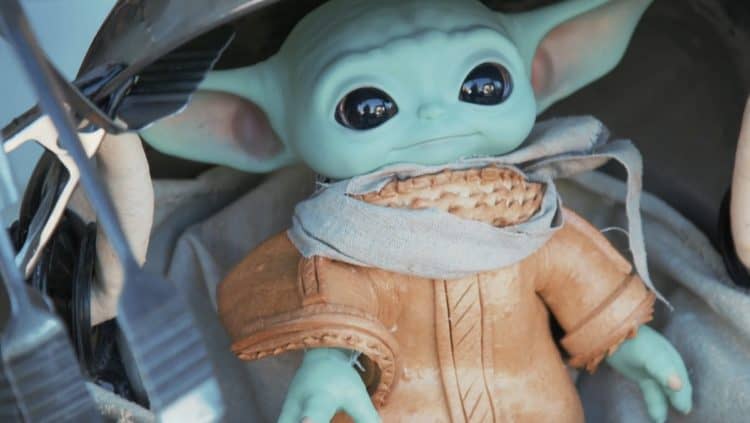 It is enough to wonder why the bakers didn't just make a huge loaf and then mold it around Baby Yoda's body in order to make it fit and look as baggy as it is on the show. But of course, I'm not a baker, so maybe that wouldn't have worked the way I'm thinking. But the effect of seeing it not wrap around one of his arms entirely makes one think that the baker either didn't make the garment big enough or that they were only going for appearance and didn't feel the need to wrap it around the doll completely. It's still a good look since the work that went into this is amazing and being nitpicky is just too easy. The ability to bake isn't all that hard from a beginner's standpoint, but the ability to be consistent, to produce goods that people want, and to make certain that what is produced is worth selling and presenting to people is something that any baker worth their oven can guarantee. It would be interesting to know if those at One House Bakery are Star Wars fans or are just trying to cash in on the fame that The Mandalorian has been bringing, but in the long run, it doesn't matter since this is a great way to entertain and amuse a lot of people since some folks will no doubt marvel at how this was done. One does have to wonder how long it would last outside and whether or not birds would start to pick at it after a while since if anyone knows anything, it's that the outdoor critters aren't too shy when it comes to making off with what they perceive as a free meal. Maybe there's someone watching it constantly, or maybe in the interest of keeping it preserved the bakery coated it with something inedible, but otherwise, it might look delicious to a bird or other small animal.