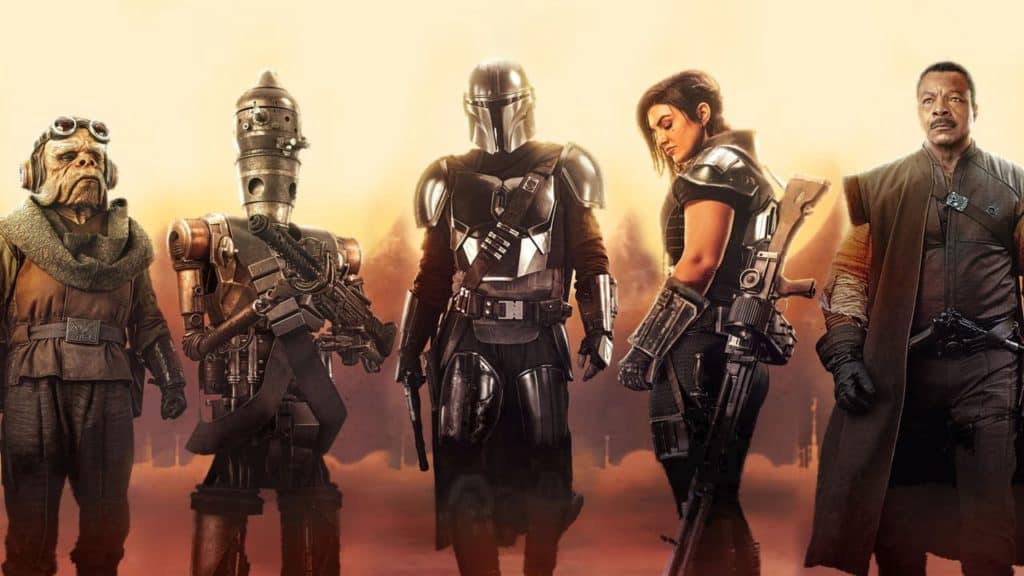 If you're not ready for spoilers to the finale of The Mandalorian then you should probably stop reading at this point, otherwise read on since I won't say the finale was off the chain, but it was most definitely solid as it lines up for a second season in which Jon Favreau and Taika Waititi can be allowed to continue their magic. When episode 7 finished up we saw that Mando, Cara, and Greef were all pinned down in the cantina, Kuiil had been gunned down, and IG-11 was nowhere to be seen at the moment. Moff Gideon was, as moffs usually are, fairly self-assured and arrogant behind his stormtroopers, whose skills haven't really improved throughout the years. There were plenty of surprises to be had in this final episode of season 1, and the name of the Mandalorian was one of them, as he was revealed to be Din Djarin, a young foundling that had been discovered by the Mandalorians and adopted into their creed. Plus, Greef was revealed to have been a magistrate, while Cara was, as we already knew, a shock trooper that was on the hit list of many an enemy. Cara's reluctance to trust Gideon was understandable however as she knew very well that she would be gunned down the moment she showed her face. Matt Mitovich of TVLine has more to say on the matter.
One thing that's obvious, stormtroopers still can't hit much of anything as the opening scenes show us with the scout troopers aiming at a can that's only a few feet away from them. Thankfully IG-11 doesn't have that issue, and thankfully since his protocols were changed by Kuiil he still has his speed and skill at disarming and disabling the two troopers before proceeding to wipe out a substantial number of troopers as he raced to the rescue of his companions. For all Din/Mando didn't trust droids, IG-11 at least proved itself in a big way since it came in guns blazing and ready to blaze a path to safety for the rest of them. The droid didn't even blink when it came time to sacrifice itself for the others, wading through a river of molten lava in order to destroy an entire squad of stormtroopers that were waiting to ambush the group. As heroic acts go droids are still able to hold their own with several beings within the Star Wars universe, as IG-11 didn't just save the group, it saved the Mandalorian when he could have been left for dead, spraying him with bacta, a healing agent, so that he could continue the fight. C'mon, did you REALLY think that Din was done for good? It's a testament to his armor and his toughness that he survived the blast that resulted from Gideon causing the heavy blaster he was using to explode, but it's also fortunate that IG-11 was programmed by Kuiil to save the group by any means possible.
The Child's part in this saga is still very much a solid part of the Mandalorian's story, and his identity, apart from his name, is still fairly intact since the only being that's seen him without his helmet is now so much scrap. As it was stated by the Armorer, he is bound to return the Child to his own kind, which could be problematic since it would require finding the race to begin with, and in the lore of Star Wars it would mean revealing a mystery that fans have been wondering about for a very long time, and possibly ruining it if such a thing is allowed. Is anyone else hoping that they don't do this? It could be interesting, but a whole race of Force sensitive beings that could essentially rule the galaxy if they were of the mind, seems kind of hard to swallow, until you realize that for the most part Yoda's race was likely sparse and more likely to lean towards the light side of the Force. That's a good thing since the power the Child wields, no matter how draining it is, is immense given what he's already been seen to do. And what about the Armorer? Obviously this woman can fight and can take care of herself, so hopefully her part in this story isn't done yet.
It does feel as though we'll be seeing these characters again if only because they've been well-established enough that they could lend a bit more to the story if asked to do so. Cara Dune has already become a favorite of many people, and Greef Karga is a fun way to use Carl Weathers for an impressive show that's been gaining more and more viewers since it started up just a month ago. One very noteworthy mention is that Moff Gideon, somehow and some way, has the darksaber, which will hopefully factor into the next season. Anthony Breznican of Vanity Fair had more to say on this subject. One might even take things so far as to suggest that we'll be seeing a few renegade Force users that might show up here and there, perhaps Jedi, perhaps even a Sith. It's all a matter of what Favreau wants to write at this point. But as Din/Mando would say "This is the way.".