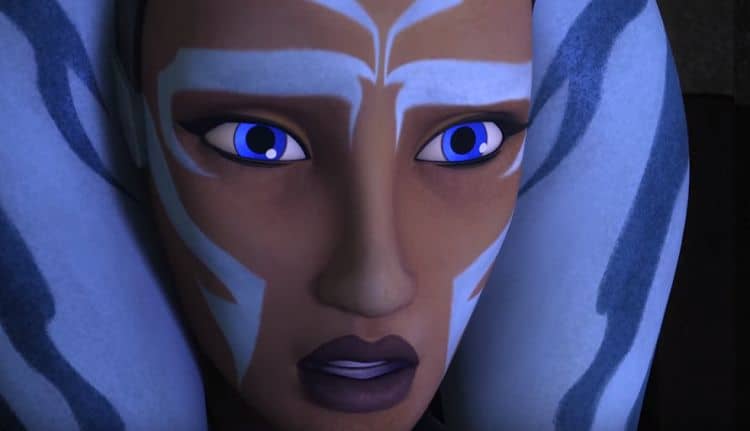 I'll admit, when Ahsoka Tano debuted in the Star Wars universe back in 2008, I wasn't a big fan of her. Her subsequent appearances in the animated Clone Wars series didn't really win me over either, at least not right away. She came off as the sassy teenager who existed only to aggravate Anakin and disobey him regularly. Perhaps it was karma catching up to Anakin, considering that's how he behaved as Obi-Wan's apprentice. Either way, Ahsoka didn't make the best first impression, and I wasn't looking forward to seeing more of her in the future. However, being the big Star Wars junkie that I am, I continued to watch the Clone Wars series. Ahsoka kept acting the same in the first few episodes, but as I continued to watch, her character development started improving.
She matured more, honed her lightsaber skills, and overall, became useful. Ahsoka learned from her mistakes and learned how to fend for herself. She became a leader, a fighter, and as a result, I started warming up to her. I'm close to the final season of The Clone Wars series, and I'm hoping she'll make a final appearance. Her story arc of leaving the Jedi Order gave her some serious depth and explained her absence from Revenge of the Sith. She would, however, return in the Rebels show (which I haven't watched) and even dueled Darth Vader. Her fate was left ambiguous until the show's finale where she decided to search for Ezra Bridger. I'm glad she survived, and now her story can continue.
So where and when can we see Ahsoka Tano again? The answer is kind of unexpected for me, but she is reported to be appearing in the second season of The Mandalorian. The actress to play the part is none other than Rosario Dawson. Fans of Marvel will recognize her as Claire Temple from the now-cancelled Netflix shows. She treated Daredevil's wounds, assisted Iron Fist, and was Luke Cage's lover. A fan of DC? Well, she also voices Wonder Woman in the DC Animated Movie Universe. She's got the acting chops, and now she will soon be officially a part of the Star Wars universe. I'm excited for her to be playing Ahsoka, but just having Ahsoka making her live-action debut is awesome enough.
When I first heard the news, I wondered why Jon Favreau would choose to include her in The Mandalorian. After all, the show is about a bounty hunter, not a Jedi. It's unknown what Ahsoka was doing during the time after the Empire fell, but it seems we're about to find out. Maybe she found Ezra, but that's honestly irrelevant for The Mandalorian. Her inclusion in the show is more significant than fans might realize.
Just remember how the first season of The Mandalorian ended. When The Armorer revealed that Baby Yoda was a descendent of the Jedi, she didn't exactly speak highly of them. If I recall correctly, she described them as, "ancient sorcerers," and implied they didn't have a good history with The Mandalorians. Even The Mandalorian himself protested handing Baby Yoda over to whatever Jedi may still be lurking in the galaxy, even calling them evil sorcerers. Other than Luke, we're not sure how many other Jedi were still around at that time, but I highly doubt he was the only one.
By adding Ahsoka Tano to the show, there is proof that there was at least one other Jedi Master in the galaxy. Luke made his mark, attempted to take on padawans, and now his story is complete. We've seen how his attempt to train a new generation of Jedi turned out, so maybe Ahsoka had more success. In the timeline of The Mandalorian, she would likely be a wiser, more older Jedi Master, certainly coming a long way from where she started. Baby Yoda is already a powerful force-user, so who would be the best teacher to hone his power? Not Luke (he might've tried to kill him in his sleep) but Ahsoka Tano.
When The Armorer was talking about the Jedi, she vaguely referenced their history with them. The Jedi and The Mandalorians were once at war with each other, during the time when Jango Fett was still alive. In one graphic novel, Jango even managed to single-handedly kill a few Jedi bare-handed. Jedi and The Mandalorians were always hostile towards each other, hence The Mandalorian asking if Baby Yoda was indeed an enemy. That was very intriguing to me, because that shows me the show is staying true to the Star Wars lore. On top of that, it sets up an interesting conflict for the second season. Just take a minute and imagine how The Mandalorian would react to meeting an actual Jedi. I'd reckon the interaction would certainly be contentious.
Ahsoka wouldn't be looking for a fight, but if there's a young potential Jedi involved, she wouldn't turn a blind eye. The Mandalorian has made it his new life mission to ensure the safety of Baby Yoda, and after learning about the Jedi, I can't imagine him letting Ahsoka getting anywhere near the kid. Although Ahsoka would be Baby Yoda's best chance of survival, The Mandalorian simply wouldn't trust her. A trust between them would have to be built; a good person to help them build that trust is Sabine Wren. Sabine was last seen with Ahsoka in a quest to find Ezra. If Ahsoka is coming to the show, Sabine can't be far behind.
Sabine is a Mandalorian, like Mando, but there is a difference between them. While Mando is the underdog of the Mandalorian creed, Sabine is basically royalty. She is the daughter of an influential clan leader and eventually freed Mandalore from Viceroy Gar Saxon. She's a hero to the Mandalorians and someone Mando would greatly admire. Sabine would probably respect Mando due to their commitment to the creed and that respect will come in handy. Ahsoka and Mando are going to need each other to keep Baby Yoda safe, but they can't do that without trust. Sabine could be the bridge to building that trust, and once it's complete, Baby Yoda will have his master.
Ahsoka Tano is Baby Yoda's best chance to hone those incredible force powers. If a baby can force heal severe wounds, just imagine what he can do with the right master guiding him? Ahsoka's presence will bring the perfect balance of conflict and resolution to season two of The Mandalorian. If Mando is daddy, Baby Yoda is going to need a Jedi mommy.