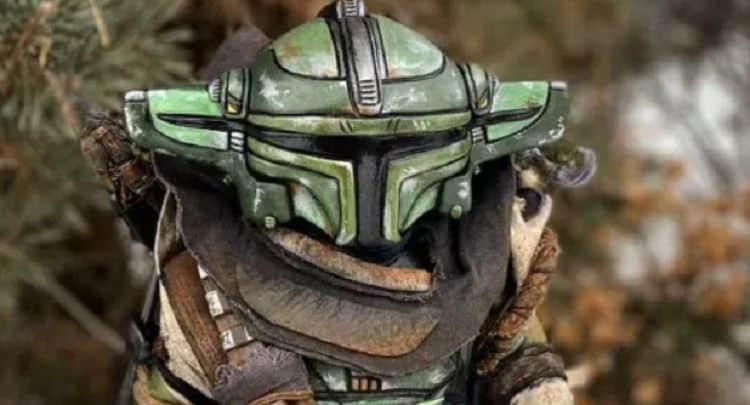 The description of Grogu as a bounty hunter is kind of bleak since it indicates that he was rejected by the Jedi, which means that he went out to take on the role that Din Djarin had filled. This version of Grogu apparently exists a few centuries after the fall of the Empire, meaning Grogu is fully matured. Another downside is that his Force powers have largely faded, which makes him more of a mark than it would if he was still capable of Force-choking someone or moving heavy objects. It's kind of a difficult outlook on this character as it means that he would have to a well-learned bounty hunter that was more than a little deadly and possibly possess a reputation that was second to none in the galaxy. One has to wonder how much would change in that time though, since three hundred years is a good chunk of time, and still a hefty passage to Grogu, who would no doubt live for a few more centuries or more. There are a few things that can be said when it comes to not knowing that much about Yoda and Grogu's species, and it's knowing their actual life expectancy, where they come from, and if all of their people are Force-sensitive for some reason.
One also has to wonder if the Jedi would even be thriving in this time period that produces a bounty hunter Grogu and if he would take it as an offense that they would put him to the curb. It would be kind of interesting to find that his people do have Force sensitivity, but that it varies in strength as it does with other species. Not every Jedi or Force-sensitive is as powerful as everyone else, and there are limits to the Force at times that have more to do with fatigue, stress, anxiety, or other issues that might arise to affect a Force-user's health. But thinking that Grogu would be out of practice with his Force abilities is kind of a stretch given that he was using them when he was still uncertain of his power and still had a great deal of fear and anger in him. It's hard to think that Luke Skywalker couldn't possibly guide him out of that mindset, but if it did happen this way then it's still easier to believe that Grogu could bring himself to practice with the Force just enough to keep his skills sharp and to keep from losing touch with it altogether. Plus, while Luke is powerful, it's not really known if he could actually strip someone of the Force. It's been done in the past, but it's also something that's akin to tearing a part of a person's soul from them, as the Jedi rely heavily on the Force not just for its use, but for the balance it brings to their being.
Imagining Grogu as a bounty hunter would be easy, but imagining him as a Force-sensitive bounty hunter would be next-level since this would give him an edge over others that would be hard to beat and would likely make him one of the deadliest bounty hunters in the galaxy if not THE deadliest. Just think about it, a character that's been trained as a Mandalorian and has access to the Force. It would an unfair matchup against just about anyone if he had the skills of both since Mandalorians are celebrated as some of the greatest fighters in the Star Wars universe, while Force-users, particularly strong ones as Grogu could possibly become, are known to be hard to kill. It's not likely we'll ever see something like this since it might tip the balance of the delicate but frenzied mess that Disney has been creating for a while with the Star Wars universe, but it's still fun to think about. Grogu the bounty hunter would probably be someone that people might laugh at initially since the look is a bit comical, but the power behind his name would likely come to be known as an overt threat that others would be wise to fear. It's odd to think of anyone being afraid of any creature that's so much smaller, but when one really thinks about it, what Yoda says about size is all too true at times.
Obviously there are times when size does matter since the laws of physics don't break for anyone. But still, a trained Grogu that could do what his benefactor, Din Djarin did, would be a definite surprise to many people, and possibly the last one they'd experience before the lights went out. It's hard to think of the Child as a danger beyond his Force abilities, but with another few centuries of life and experience, anything is possible, much as Yoda showed us.