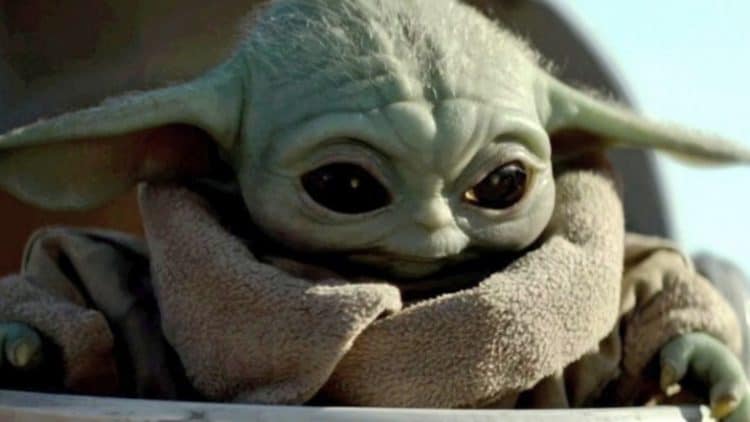 Well, if Baby Herman from Who Framed Roger Rabbit? could do this then why not Grogu from The Mandalorian? After all, he's been what a lot of people are still talking about and he's one of the top characters that's been seen this Christmas and throughout the months leading up to the holiday. But what's going to happen to him in season 3 of The Mandalorian? For those that watched the finale of season 2, they'll have seen Grogu head out with Luke Skywalker towards a future that a lot of people are hoping will be positive, but a lot of people know could be in serious jeopardy since years later, Luke's school would be set to the torch and his students would be killed by Kylo Ren and his followers. That leaves a person to wonder just what's going to happen with the little guy now that season 3 will be coming next year and there's no telling what direction it will travel in. With so much of the past two seasons focused intently on Grogu and Din Djarin's need to keep him safe, it's almost impossible to say for certain just what's going to happen to him. A lot of people would love to see him reunite with Din once again in the coming season, but there's no way to tell just what's going to happen to Grogu or to Din, or how far apart they're going to be in the days to come.
Plus, with The Mandalorian still pushing forward, and The Book of Boba Fett coming, as well as Ahsoka getting her own show and other shows coming out, it's very difficult to say what's going to happen since the Star Wars universe is going to explode in a big way, but in the best way to be certain. It does stand to reason that a lot of people might go on their way if Grogu doesn't make another appearance for a while, but it's also easy to think that a lot of people will stick around just to see what else is going to happen since the desire to see what's going to happen between Din and Bo-Katan will be interesting, and watching Boba Fett and Fennec Shand create their own criminal organization would be interesting since Fett has almost always been a lone wolf in the past. There's also the interesting prospect of Ahsoka mentioning Grand Admiral Thrawn since the blue-skinned Imperial is someone that people have been hoping to see in a live-action Star Wars story at some point. There's so much going on in the Star Wars universe at this time that thinking too much about Grogu is actually going to be a shortcoming at some point, if it's not already, since the cute little guy has taken the fanbase by storm.
There are a lot of characters within the Star Wars universe that are considered important by the fans and that are actually pivotal to the overall story that encompasses so many others, but one thing that people tend to forget is that every individual character has their own story to play, no matter how inconsequential they might appear to be. This is a big part of why it's so easy to let go of characters like Rose Tico and Finn, and why it's frustrating to hear from actors such as John Boyega, who managed to be a part of one of the biggest franchises in the world when he says that anyone dropped the ball on his character. Someone needs to remind him and everyone else that good or bad, a character within the Star Wars universe is someone that's there for a set amount of time, no more, no less, and they'll be allowed to continue forward so long as someone can think up a way for their arc to make sense in some way. That's why it's not likely that we've seen the last of Grogu since the little guy is too naturally gifted in the Force and too well-liked by the fanbase to be dropped that quickly.
In season 3 it does make sense that he's no longer going to be one of the main stars since he'll have a very capable protector and his arc has run its course at this time. As far as Din goes, he'll likely go back to bounty hunting, or perhaps aid Bo-Katan and her people in taking back Mandalore. It does feel as though there's going to be a conflict there that could last a couple of episodes or more, and it's hopeful that they'll bump into Boba Fett once again along the way. Maybe during one of these scenes, we'll see glimmers of the First Order rising as the Empire is forced to finally go into hiding on Exegol. We've already seen the cloning chambers, so there's going to be a lot of explanation heading into the next season.