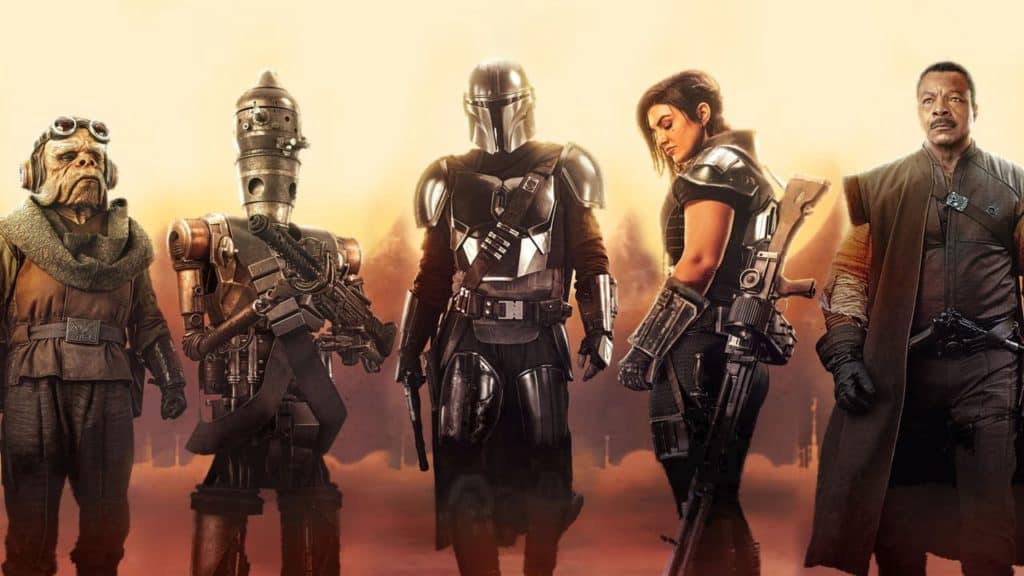 If you took the time to watch The Mandalorian episode 7 yesterday (that's right hands up) then there won't be a lot that you missed, but if you didn't take the time to see it yet then get ready for some spoilers. More and more this show is playing out like a video game in which the main character has to level up throughout each episode and meet new and interesting characters that we've never seen before. But the great part about the show at this point is that this style is working in a big way since it's pushing the story forward and it's showing a lot of development that's going insanely quick but is also opening up new possibilities that could propel the Star Wars universe in new directions if Disney is paying attention to the overall effect the show is having. Erik Kain of Forbes lays it out pretty well during his own synopsis and it's still kind of hard to see Mando accepting any idea that comes from Greef Karga since the last time the two saw each other Mando shot Greef, a shot that would have been fatal if not for the block of beskar in the guild master's jacket pocket.
Even better though is that not only does Mando agree to come back to Nevarro, he stops and obtains backup on the way in the form of people he knows he can trust. Cara Dune, Kuill, and to some extent IG-11 become his crew as they each come for their own reasons, though as you can imagine the Empire, who has taken over the small town that Greef lorded over, is now hell bent on taking out the Mandalorian and retrieving the Child, aka Baby Yoda. The final scene we're given at the end of the episode is one that would make anyone's blood burn since it shows Kuill having been taken out of commission and the Child being scooped up by a stormtrooper with no IG-11 in sight, which is odd since the droid was programmed to be entirely protective and given its propensity for violence it should have been able to protect Kuill and the Child fairly easily. Something seems to indicate that there's something we haven't seen coming in the next episode, which can't come quickly enough in the minds of many fans. Vinnie Mancuso of Collider had more to say on the matter as well.
As was expected though Greef was going to double cross Mando yet again, but the actions of the Child were enough to change his way of thinking after he was healed by the Force-using Child. Either staring down his own death was enough for Greef to turn the other cheek or the kid did something to him through the Force that changed his mind and gave him a new perspective, but the point is that Greef did manage to see things from Mando's point of view after that, and the trap they'd laid might have worked perfectly if not for the arrival of a new and more ruthless superior that Herzog's character answered to, and was summarily executed by. This also introduced the feared death troopers to the story, a fact that some people might know very little about since they haven't been used all that much in the franchise. Let's just put it this way, the death troopers are a lot deadlier than their fellow troopers and are bred to be insanely deadly. Just one of them might not be enough to give Mando, Cara, and Greef that much trouble, but the new warlord brought a squad with him, and a carrier full of stormtroopers as well. So far the finale of the season is starting to look like it's going to be utterly hopeless, but with Jon Favreau heading the project you can honestly assume that where there's danger there's also a way out, somehow. It might get violent and it might require another sacrifice or two, but at this point it feels as though we're going to see the Mandalorian pull another trick out of his sleeve. That kind of leaves the question of just where the other Mandalorian's went up in the air doesn't it?
Given that the Mandalorian is a resourceful individual it would be fair to say that he has a way out of this, but at the end of the episode it does appear that he and his companions are in dire straights since they're pinned down, Kuill is for all intents out of the fight, and the Child has been taken. It'd be kind of a bad idea to ask what else could happen since the Imperials are known for taking advantage of times like this, but there has to be something that can still be done since planning and contingencies are what a Mandalorian are taught to rely on after their strength of arms and aggressive nature. So something is going to happen, but we'll have to wait that agonizing week to find out.