The Good Doctor chose to end its first season by presenting the most feared outcome Dr. Shaun Murphy could face. Anyone who has ever parented someone with autism knows that this is the worst nightmare scenario. Go to any support group, and ask a parent or sibling what their greatest fear is. They'll all tell you the same thing. They'll say that their greatest fear is what will happen to their child when they are gone. Shaun has spent a lifetime learning to cope with things the rest of the world finds simple. Dr. Glassman's diagnosis changes everything, and not just on a personal level, but a professional one as well. The repercussions of Dr. Glassman's diagnosis are so great, in fact, that they change the dynamics of the entire show for next season.
All was right in Shaun's world as soon as he decided he wanted Dr. Glassman back in his life. He missed his friend, he wanted him back. It was as simple as that. There's nothing simple about an inoperable brain tumor. Glassman is both a parent and a man in this moment. He has to balance his fear for his life as well as Shaun's fears about losing someone else he loves. Jessica tries her best to temper both, by asking Glassman to have a second test to confirm his diagnosis. It doesn't help, because the new test strips away Dr. Glassman's lifespan, from 12-18 months down to 3-6.
When Dr. Glassman can't take any more of Shaun's theorizing, they decide to take a pause from life. They go to the carousel, and have a poignant conversation about the people they have lost, Glassman's daughter and Shaun's brother. Through it all, Shaun refuses to give up hope. He refuses to give up until he finds a way to help his friend. Miraculously, he does. The biggest hurdle to Glassman's tumor was that it was in a particular location that made a biopsy impossible, but Shaun found a way. With the information that biopsy provides, Dr. Glassman finds out that his tumor actually is operable. Going from a terminal diagnosis to a hopeful prognosis in the span of 24 hours is as close to a miracle as you're going to get.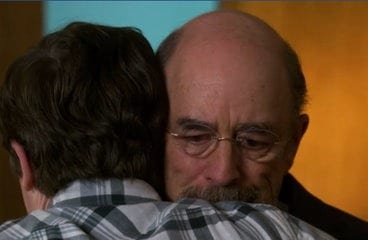 Unfortunately, Shaun's distracted state throughout the day caused him to make a big mistake, and Shaun doesn't make mistakes. He makes errors in judgment, and has trouble interacting with people. But in an operating room, Shaun doesn't falter. Until now. Shaun accidentally squeezes his instruments too hard inside the body of a college pledger who took his tasks too seriously. This causes the patient to go into DIC, a condition where small blood clots develop throughout the body. This puts Dr.'s Melendez, Browne, Park, Kalu, and Reznick in a really tough spot. Everyone (except Reznick) wants to band together to help Shaun, because they know it's a mistake any one of them could have made. However, they also know that if the patient dies, they can't all go down for this mistake. Shaun comes up with a plan to save the patient, and even Dr. Reznick agrees that Shaun's method is workable.
Sure enough, Shaun is able to correct the mistake he made. He even understands the responsibility of the task, and so insists on being the one to correct it. He knew the enormity of his mistake, and did not want Dr. Melendez to take the fall for him. But Dr. Melendez has also grown as a teacher since first meeting Shaun. He always knew that whatever Shaun did would fall back on him, good or bad. Now he doesn't mind that responsibility, because he knows Shaun. He knows that this was a mistake any one of them could have made, even him.
Dr. Reznick doesn't get that, and Dr. Melendez tells her off on this point. This was one of my favorite moments of the season, because it was something Reznick needed to hear. She has been quick to discriminate against Shaun, and quick to put blame on anyone she deems worthy of it. But one day she'll be the one who nearly, or does, kill a patient. Will anyone be around to support her when she needs it?
Reznick was so quick to want to throw Shaun under the bus. Would she ever have the nerve to take responsibility for her own actions if this was her? Again, I'm going to go with probably not. That's the kind of integrity Shaun has. He's willing to go to Dr. Andrews and admit that he made a mistake. Dr. Glassman is also willing to go with him and live up to his end of the bargain he struck with Dr. Andrews at the beginning of Shaun's employment. He promised that if Shaun was anything but excellent, he would resign as president of the hospital. They are both willing to live up to their integrity and fall on their swords. This means that come Season 2, Dr. Andrews will be in charge of the hospital, and there could be some other major staffing changes. Will one of those changes be with Shaun's employment?
The Good Doctor will return for Season 2 this Fall on ABC.