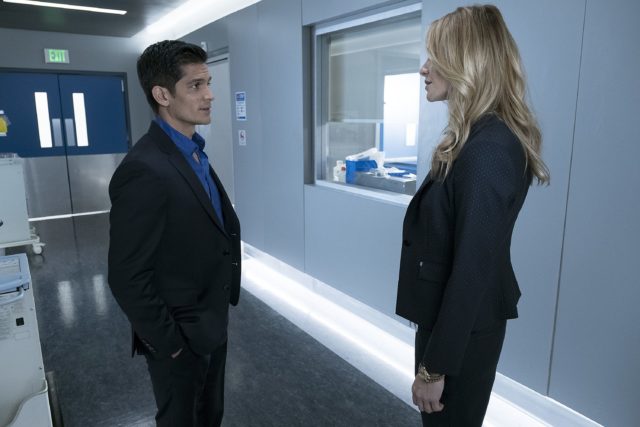 Just because Shaun decided to stay at St. Bonaventure Hospital, doesn't mean things in The Good Doctor's world will go back to the way they were. In many ways, Shaun is still Shaun. If he sees someone make a mistake, he points it out. If he sees someone lie, he points it out. He deals in facts, and facts only. The closest Shaun has come to thinking with his feelings are with his brother, and more recently with Lea. He did so because he felt safe enough to do that. Now he is back to fact-only thinking, but that is not enough to explain human motivation.
Shaun is already on thin ice, so it isn't a smart career move to question his superiors. Dr. Kalu knows that, which is why he apologizes and then keeps his mouth shut. Shaun doesn't have that filter. He calls things like he sees them. The first time he believes Melendez has made a mistake, he says so. That's a big problem because it calls into question the state of Melendez's mind after his breakup. Not only is it dangerous to make that kind of accusation about your superior, it is worse when the man in charge might be lying to himself.
When Shaun thinks that their patient is lying about her injuries, he calls her out, too. That is, until, the patient shows more severe symptoms that indicate exposure to caustic chemicals. Many of these chemicals can be bought by an industrial worker, but they are also used to create chemical weapons. Thus, Shaun makes what he believes is a reasonable leap – that his patient is a terrorist. What Shaun can't connect is that most people has preconceived biases, and will not be swayed by facts until it is too late.
Eventually, the facts of the case catch up with everyone's assumptions. Melendez has to make a judgement call on how to treat his patient, and it comes down to whether or not her worsening symptoms have to do with the chemicals she inhaled, or his own mistake. Luckily, Kalu realizes it was the chemicals in the nick of time. Shaun is convinced that his patient isn't a terrorist when she comes clean about using her lab geek brother's supplies to make perfume. It was dumb and misguided, but not as bad as it could have been.
When her harasser is almost called back to St. Bonaventure to assist on a case, Claire is disturbed to find that he was transferred out with a raise. Ms. Aoki believes Claire's claims, but her credibility was shot the minute Kalu started a fight with the dirtbag. Lucky for Claire, the patient's wife does not want to bring another surgeon in for a risky surgery. After years of domestic abuse, she'd rather let her husband go. After realizing her son was actually responsible for the husband's condition, the wife realizes that she needs to have the strength to walk away. This inspires Claire to find the other women who were harassed at the hospital, so that nothing like this ever happens to another of his coworkers.
I'm sorry if I offend anyone with this, but it needs to be said. I like Dr. Glassman, but he is unbelievably frustrating. He went too far micromanaging Shaun, and now he is backing off in a very extreme way. A smart doctor would make the situation at work purely professional. But that is not what Shaun needs. Shaun has, and always will need, allies. There is a middle ground between being Shaun's parent and Shaun's boss. Shaun needs his one true friend. If Glassman could get over himself, he would realize that it is worse to leave Shaun feeling abandoned. He's as bad as the dad who kicks his son out of the house the first time he breaks a rule. It's petty, shortsighted, and downright mean.
Does anyone else agree that Dr. Glassman's fitful behavior towards Shaun is ridiculous?
The Good Doctor Season 1 Episode 13 Review: "Seven Reasons"
Summary
The Good Doctor searches for the truth hidden in a patient's lies, and questions whether his superior is lying to himself regarding his own actions.