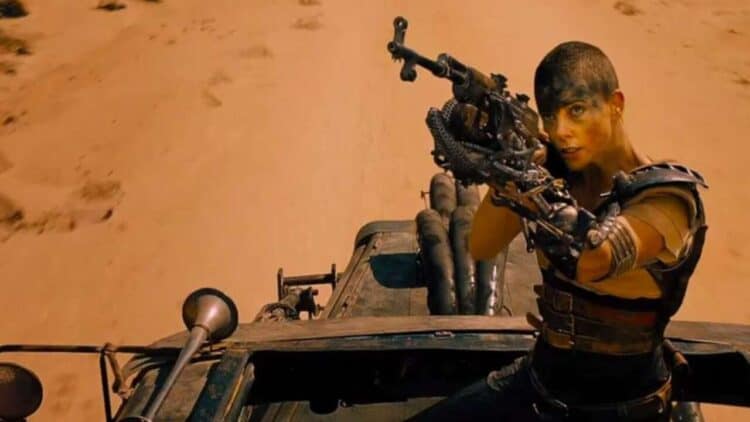 It's pretty hard to love Mad Max and not appreciate Charlize Theron playing Furiosa. In fact, you can certainly argue that she was actually the main star of 2015's Mad Max: Fury Road. And you have to admit, it's pretty hard to even light a candle next to the legendary Tom Hardy. Then again, how many of you actually understood what he was saying in that movie? If you had to put the subtitles on, which you probably thought about doing, you're not alone. Personally, I thought Mad Max: Fury Road was the best movie of 2015. And yes, it has a lot to do with me being a Tom Hardy fanboy, but he was just the icing on that very big cake.
The action in Fury Road was unlike anything I have ever seen before. And in case you're wondering, yes, that is the first Mad Max movie I ever watched. I did make sure to watch the Road Warrior shortly after and it just didn't feel the same. It felt like I started playing a video game and jumped all the way to level twenty and went back down to the easier ones. Hey, you know what? It's all okay, because it still got me into a franchise that I never got into before. And I'm sure we can all agree that Charlize Theron as Furiosa was a spectacular new addition to the Mad Max movies.
What was it about this new protagonist that made her stand out? Was she a sidekick to the titular Mad Max? Not really. In fact, throughout almost all the entirety of Fury Road, Max spent most of his time assisting her. Their relationship initially began as a rivalry, although it was by mere coincidence. Given the circumstances that they were both in, it was really just a battle of survival. As cool as their fight was, it didn't last long and the circumstances basically forced them to form a tense alliance. Oh, but Max was basically just along for the ride. Furiosa was the one who was really running that show, quite literally.
As we all remember, the main goal of Furiosa was to smuggle all the "wives" of warlord Immortan Joe out of his Citadel and away to a mysterious utopia only known as the "Green Place". But of course, that didn't happen, as Furiosa's supposed utopia no longer existed. Now if it weren't for Max, Furiosa and the rest of her crew would have probably rode off into the endless salt flats. And what came after just has to be one of the greatest action scenes in all of cinematic history. Although she was nearly killed trying to get back to the Citadel, Furiosa managed to ultimately succeed in her mission and actually kill Immortan Joe.
After she and the remainder of her group returned to the Citadel, we can only assume that she will assume leadership. And as for Max, he lived up to his nickname and went on his merry way. I think we all had a feeling what was going to happen next. A sequel that centered around Tom Hardy's Mad Max? Actually no. What we're actually getting is a prequel movie that will center around Furiosa. Not a bad idea, except Charlize Theron won't be involved. Okay, so that's pretty disappointing, but let's not fret so soon.
First of all, after what we've all seen in Fury Road, I think we were all left wondering about the origins of this new awesome character. Where did she come from? How did she become a high ranking member in Immortan Joe's army? And how did she lose her left arm? More importantly, we should think about what her ultimate goal was in Fury Road. According to her, what she was really after was redemption. That was her sole motivation for wanting to help Immortan Joe's wives escape the Citadel. On top of that, she did want to return to the Green Place, which she fondly remembered from her childhood.
If she was really looking for redemption, then that clearly implies that she has likely done some terrible things while serving as an Imperator for Immortan Joe. Given that she was a more quiet character in Fury Road, we had very little hints to her past. Whatever we were curious about in Fury Road, I think we will get the answers to in the prequel. And if you're all on board for it, then you'll love this news. The Furiosa prequel movie has begun shooting, as confirmed by Chris Hemsworth on his social media.
Now if the rumors are true, then Chris Hemsworth will be playing the villain of the Furiosa prequel. Thor himself actually playing a villain? He has done so before in the Bad Times at the El Royale, which he was brilliant in. I have no doubt he be an awesome villain in this prequel, but just imagine him having a Mad Max-like appearance that also screams villain. I predict he will look ten times more menacing than Immortan Joe. How can he not with that patented Chris Hemsworth physique?
And challenging Chris Hemsworth's supposed character in the prequel will be Anya Taylor-Joy as the titular femme fatale herself. The last performance I saw of hers was in The Northman. Holy smokes, was she fantastic in that. While she wasn't exactly a badass shield-maiden, she was still able to carry her own, especially acting alongside multiple macho men playing Vikings. Playing such a tough and barbarous warrior character like Furiosa will be a big step for her, but she can pull it off. I predict the prequel will show us where she began, more specifically with the Vuvalini can, as well as her abduction from the clan and the loss of her arm. All very interesting stuff that should all be explored in the prequel. If Furiosa didn't win every fan over after Fury Road, she'll likely do it after this movie.
What are your thoughts, Mad Max fans? Do you think this Furiosa movie will be top notch with or without Charlize Theron? Will filming just recently starting, the film's release date will be in May of 2024. A long way off for such an intriguing idea, but I'm just interesting in seeing how everyone will look. Everyone always looks cool in the world of Mad Max.Mad Max
Tell us what's wrong with this post? How could we improve it? :)
Let us improve this post!