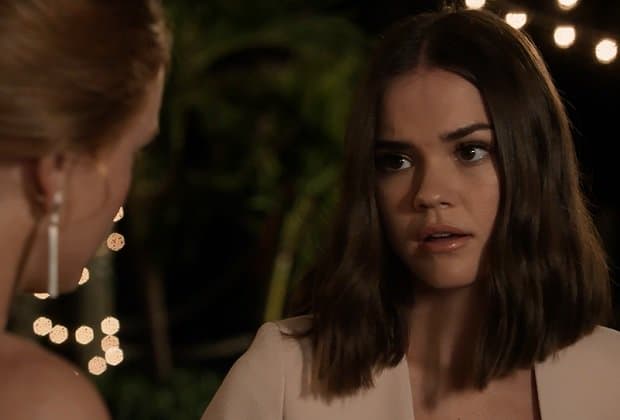 Night 2 of The Fosters season finale may have been located a world away, but it certainly felt like we were stepping back in time a bit. Brandon's entire family makes the trip to Turks and Caicos for his destination wedding. With that much immediate family, there's no shortage of drama. Once again, you couldn't count the number of side glances exchanged between Eliza and Brandon's respective families, but those weren't the looks to focus on. The real drama came from a particularly long exchange between two of the Adams-Fosters who haven't had such nonverbal communication in years.
Before we get to this twosome, let's recap the rest of the drama. One of the reasons this time jump felt like a time warp was because of drama with the youngest Adams-Foster son, Corey. Paranoia drives Corey's birth mother to keep him from leaving the country with the rest of the family. Stef and Lena are forced to leave Corey with another foster family while they attend the wedding, then must politely (and through gritted teeth) explain to Eliza's conservative parents why their children are their real children. It really is one of the worst ways you can have a conversation with parents of adopted children. (And on a quick side note, when did Stef get that massively awesome tattoo?!)
I'm going to be honest. It's anyone's guess if this wedding is going to happen. Even if the two families got along well, Eliza and Brandon have a lot of problems. There's the fact that Eliza won't even consider standing up to her parents on Brandon's behalf. There's the fact that Brandon plans to work straight through the wedding and honeymoon on a new project. There's Eliza upset about this revelation, choosing to take a cheap shot at Brandon's income in retaliation. While I don't want to make it all about the parents, it's a big deal that they don't get along. Even Eliza's brother warns Callie that his parents won't be fair to Brandon.
And all of this still pales in comparison to the connection Callie and Brandon will always feel with each other. These two may have the same last name, but they will never really feel like brother and sister. These two know each other on a level that they have never shared with anyone else. That doesn't necessarily mean that they could ever cross that line again, but it's difficult to be completely open with someone when that place of deep trust lies with someone else.
Time, and the knowledge that a Fosters' spin-off is coming, could decide everything. Do Brandon and Callie belong to each other, or is that just a long-ago dream?
Tell us what's wrong with this post? How could we improve it? :)
Let us improve this post!