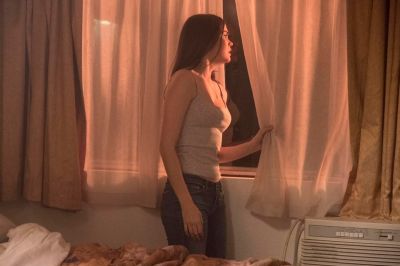 The Adams-Foster family are not naive to the world's injustices and intolerance. How can they be? Everyday they are faced with new challenges that test their individual strength. I say individual because The Fosters is a show about family, and how each member draws strength from the people they love the most. Going into Season 5, there's a shift happening. The kids are no longer children, but moving forward into adulthood. That means that the stakes are even higher on the decisions they make. If they hope to survive this year, it's time to grow up a little bit.
The premiere picks up right where Season 4 left off. As much as Lena pleaded with Mariana to back down from the Anchor Beach protest, I think she did so half-heartedly. We've seen Lena be quite fierce when it comes to telling her children what to do, and that was not even close to her best Scary Mama. This may be partly because Lena had just gotten the wind knocked out of her with the board's decision to make Anchor Beach a private school. Seeing Nick's Dad put his hands on Mariana and pepper spray Jude sure changed that! If anything Lena showed incredible restraint where other parents wouldn't have. Honestly, what kind of man thinks it is okay to attack children? But I digress. The fight for Anchor Beach isn't over yet, as Monty is still technically the principal, making the vote invalid. But make no mistake, Nick's dad isn't done causing trouble.
It's hard not to feel for Jesus, even if he doesn't initially have his facts straight. No, Brandon did not have an fling with Emma behind Jesus's back, but in his brother's mind, he was still betrayed by the people closest to him. Did they lie for a good reason? Of course they did, given Jesus's tenuous health at the time. Once Jesus hears the entire true story, he calms down a little. Not that that does Brandon's trashed room any good, nor Brandon judging by the look on his face. Remember that while Brandon hasn't had nearly as tough a time lately as Jesus, he did just lose his lifelong dream of going to Juilliard. It's an insult to injury to come home and find all of his keepsakes, including his piano, shredded to pieces. If there wasn't a rift between the brothers before, there will be now.
For someone who didn't want to be a father, Gabe did a hell of a job taking care of his son. Gabe and Ana spent the night commiserating over their bad parenting skills, before realizing that their children do need them. No, they don't need them to be their parents. Jesus and Mariana have parents, but that doesn't mean they don't need Gabe and Ana in their lives in some capacity. In one of Jesus's most confused moments, Gabe literally held him together. Ana went on the defensive thinking that she needed to absorb Mariana's blame for neglecting her children as babies, but what she doesn't realize is that they are past that now. Mariana doesn't want to blame Ana for her mistakes anymore because Ana has taken full responsibility and turned her life around. All Mariana needed was to get her feelings out and have them acknowledged. The twins don't need a second set of parents, but that doesn't mean they don't need two extra people to love them. For that matter, Gabe and Ana owe it themselves to get to know the twins. They were never going to be typical parents anyways, so why not just be present? Sometimes that's the best thing.
This was Callie's closest call, and that is saying something. After some very heart-stopping moments, Diamond managed to get a message to Stef as to where she and Callie were. When all was said and done, Stef had some tough words for her daughter. "What's it gonna take for you to start valuing your own life?" she asked her daughter. Stef can't afford to coddle Callie anymore because she was literally seconds away from being raped or worse this time. Callie has to decide right now if she wants to make smart choices about her life.
Sound off in the comments your own thoughts on the season premiere of The Fosters.