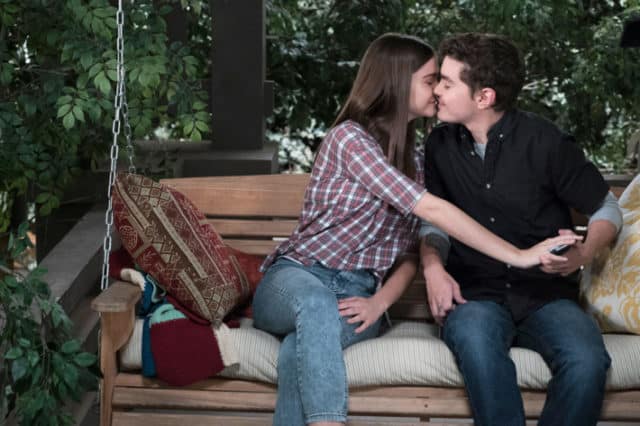 The Fosters doesn't sugar coat anything, and this week that included the awkwardness of life. The funny thing is that most of the time that awkwardness is due to some mishap the kids have gotten into. This time the adults are feeling some of that, as past insecurities and present concerns collide in one of the most awkward dinner parties you can think of. It's no wonder half of the student body skips high school reunions. You never know what can happen when things come up you didn't know were a sore spot.
I can understand Callie behaving blasé about going out with Aaron for the first time. They've gone through almost all of the relationship firsts and spend everyday together anyways, of course it wouldn't seem like a big deal. The minute Aaron starts planning a fancy dinner, Callie feels the pressure exponentially. It also goes hand-in-hand with Callie's struggle with her self-portrait, which isn't helped by her request of her family to help define who she is. Eventually they manage to smooth things out. Aaron could be Callie's healthiest relationship yet, unlike her brothers'; and yes, I mean all three of them. Jesus can feel Emma pulling away as he struggles to control his temper, Brandon can't play in front of Grace or anyone because he can't forgive his mistakes, and Jude dives into his phone as Noah gets high. Besides Brandon finding the words to sing to Grace how he is feeling, not much is resolved for the boys.
Mariana is determined to lead the resistance for Anchor Beach, starting with free press at the school. She's the hero at first, even convincing the boys who thought girls couldn't be in the STEAM program that she has something worthwhile to say. When the drone goes down, Drew takes out his anger by shutting down STEAM altogether. This is all while the girls are competing at Nationals. They're going to come home to a very unpleasant surprise, and that's if Monty and Lena haven't been fired by then. The school board may have sided with Anchor Beach for now, but the fight is far from over.
Not that I wish awkwardness for the parents with everything that they're going through, but there's something strangely comforting in the knowledge that you can still feel like a fish out of water in certain situations even when you're a parent who supposedly should have life figured out. There could not be a more perfect example of irony than Stef's first crush (as in before her marriage to Mike) moving in next door. Truth be told, there really was no way to make that dinner not awkward. Being around people you haven't seen since high school always makes you feel as if you are back in high school. Given that, it's not advisable for Stef to take Tess's advice about Jesus over Lena's concerns, but Tess might have some valid points. Jesus's anger is hardly helped by feeling confined physically and emotionally. Already feeling down, Jesus also didn't need to overhear Lena's confession that she was afraid of her own son. To be fair, Lena is just as afraid for Jesus as she is of him, but it still stings.
Is Aaron Callie's perfect match? Will Jesus ever be the same person he was? How will Lena and the students save Anchor Beach from privatization?
Save
The Fosters Season 5 Episode 3 Review: "Contact"
Summary
This week's episode of The Fosters shows that foot-in-mouth syndrome is not just a teenage tendency.