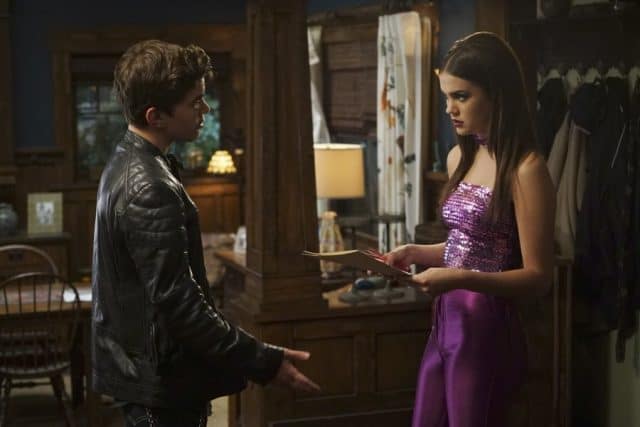 Ask any mother what she wants for her birthday, and the number one thing she'll request is peace of any kind. Whether she wants a spa day, or a big party, or a weekend getaway, the day itself needs to be drama free. It's her day to not have to worry so much about things. The problem is that nine times out of ten this plan doesn't work out, as was the case for our beloved Mama Lena on The Fosters. She gets some truly beautiful moments during her celebration, but it may the last great one she has for awhile. What's worse is that the problems that lie ahead, like most of the worst do, Lena could not have foreseen.
After hearing last week that her former foster brother Kyle has been falsely imprisoned for a murder he did not commit, Callie went to Aaron, the guy she met on what will now be referred to as her "sabbatical day", where she pretended to be someone else. Aaron, who works as an intern for the Juvenile Justice Center, has decided to help Callie out. His only alibi is someone from the youth center, who confirmed Kyle's innocence four years ago, but denies it now. They have a month before Kyle is sent to Folsom Prison, so the new dynamic duo are going to have to work pretty fast to clear Kyle's name.
Mariana is trying to reboot her life, so she decides to try for the STEM-focused Robotics group. All of the girls are clumped together in one group after the boys all pair up, which brings up a very strong topic about girls being excluded from the sciences. The girls are innovative, and Jesus helps them figure out a way to beat the boys. The boys blame it on playing "the girl card" (take that debate up with me personally at your own risk). Mariana is determined to prove her worth, and Jesus is really starting to value himself in this episode as well. He knows he's not happy with his "friends with benefits" situation with Emma because he wants more. Mariana even admits that Jesus was a great help to her and invites him to join their STEM team. That could make for a fun brother-sister bonding experience, so long as they don't kill each other first.
Stef realizes that she should probably put together some sort of tribute video for Lena, which means Jude must ask Noah for help putting it together. This times out ironically with Jude's discovery that his ex has a new boyfriend. Jude violates one of the rules of social media, and proper decorum, by impulsively announcing his relationship status with Noah online before even asking Noah on a first date. Luckily Noah is forgiving enough to give Jude a second chance, so we shall be seeing how their first date goes soon.
Brandon is really feeling the stress of being a full-time adult. Courtney's ex-husband is proving to be an expensive problem between the divorce and custody battle, so unfortunately Brandon feels that he has to return to past dangerous habits. The only way out as he sees it is to do something illegal-take the SAT for another student. In the meantime Stef decides to make an effort with Courtney, but is horrified with she realizes that Brandon is paying for Courtney's legal bills. The entire thing is inappropriate, but Brandon feels as an adult he has the right to make that call about his money; at least until Stef tells him that money may not necessarily be available anymore.
Lena's parents come to town for her 40th birthday celebration, and the tension is palpable. Lena's joy is dampened by the idea that her father could be having an affair. He isn't, he is actually putting together a commemorative video for his wife's retirement; or so he says. Too many lies about finances raise Lena's eyebrows, forcing her to confront her father who makes a horrible confession. He made a series of tax errors which have put them in debt to the IRS. Even worse, the first thing the IRS wants is the Foster-Adams home, since it was actually the senior Adams who helped buy the house in the first place.
Despite the drama, the family does get a few moments of peace and fun. Mariana gets to hang out with all four of her parents for the first time in her life, and it's made all the more sweet by Ana's admission to her daughter that she's in love with Mike. Gabe is quite literally footloose and fancy free for the first time in 17 years, which he takes full advantage of by dancing the night away with Lena and Stef's friends. Amidst all the drama at her 70s themed birthday party, Lena even gets strippers courtesy of Stef's mom! All in all it's a fun party with fabulous costumes, and a small reprieve before the tough times ahead.
Which member of the Adams-Foster family has the most to worry about looking ahead? And just for the sake of a lively debate, who do you think had the best 70s costume of the night?
The Fosters Season 4 Episode 5 Review: "Forty"
Summary
Lena doesn't exactly get the stress-free birthday she was hoping for on this week's The Fosters.