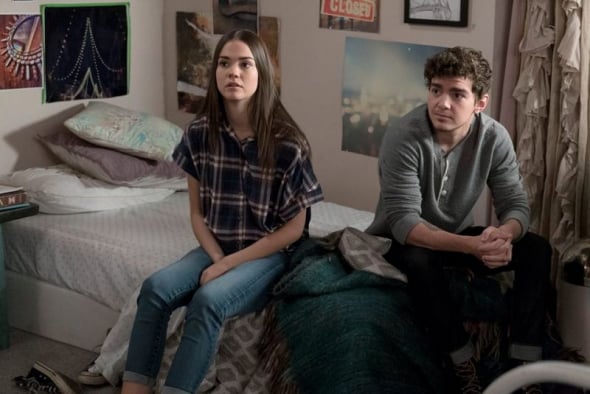 The Fosters packs in the drama that comes with raising five teenagers all of the time, but this week the title for the episode was eerily on point. Fast and the Furious movies are popular for a reason, but the saying should not apply to people who aren't ready to live that kind of life full time. When you move too fast into something you're not ready for, you don't just risk hurting yourself. You can choose to repeat the cycle, or reverse it for a healthier second chance.
As difficult as it is to watch Mariana join a derby team when she can't skate, it's clear she needs an outlet that's just her own. She's been involved in almost every Anchor Beach extracurricular, and is now shunned. Not that Emma doesn't have every right to be angry at Mariana for putting her most private, painful experience on Twitter and making it about herself. That being said, getting an abortion changed Emma. I suspect it made her much more self-aware of her need for safety, both physical and emotional, and that's the bigger reason she's pulling away from the Adams-Foster kids. Jesus has recovered physically, but emotionally he's never going to be the same. That could be good or bad for his relationship with Emma, as it gets them to be more honest with each other about their feelings on the abortion. I suppose it's both-good in the long run as it's never good to lie about your feelings, and bad for the moment since it will make things more awkward once Jesus returns to school.
As for Mariana, she may finally have found a place for herself in the most unexpected way. For a moment, it seemed like Mariana had upset her new teammate and gotten herself fazed out once again. Luckily rational thoughts prevailed, and Mariana keeps her safe (emotionally) space; provided her mothers don't find the bruises first.
There are only two reasons a guy suddenly becomes weird around his girlfriend-either he's cheating, or he's planning to propose. Ana picks up on this with Mike, but because of their history, assumes he might be drinking again. The ring is a much nicer surprise. It wasn't at all what Ana was expecting, but how could she not be excited about it? Sure enough, in spite of Stef's concerns, Mike and Ana get engaged. I love Stef, but considering it took her a decade to consider any kind of ceremony with Lena, I wouldn't turn to her for advice on proposals. Mike and Ana are great together, and they've been through enough to know that this feels right.
It's starting to become clearer how Brandon is like his dad. Mike is happiest when he's caring for people, and has in the past gotten in over his head (trying to make his marriage to Stef work should have been the first clue). For the first time though Mike doesn't need to take care of anyone to be happy, because he's just happy that Brandon, AJ, Ana, and Isabella are in his life. Brandon got way in over his head with Courtney, and still hasn't completely cut the strings on that relationship. Things weren't moving too quickly between Brandon and Grace, but Courtney reentering his life is not going to help.
Callie and Aaron are moving along in their relationship extremely well. I'll say it again, that despite all of their mutual baggage, this is probably the healthiest relationship either one of them has been in. A large reason for that is that neither one of them expects the other to change, to be anyone other than who they are. They're so comfortable with each other, until the subject of sex comes up. It has nothing to do with Aaron being transgender, and everything to do with them needing time to build trust with each other. They both have issues with that, Callie perhaps more so because of how badly her relationship with AJ ended.
Nothing good can come from jumping in too far, too fast. Who's going to learn this lesson the hard way?
Save