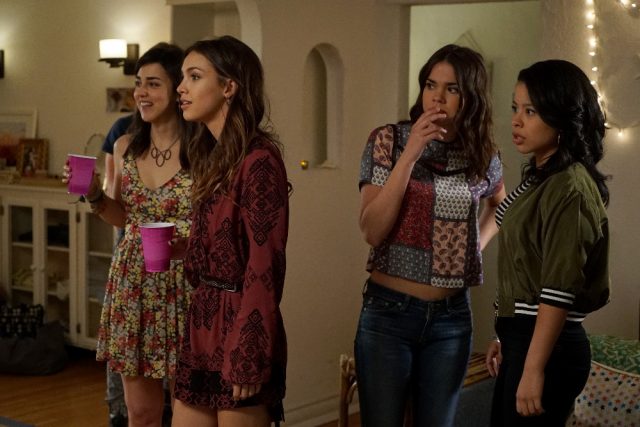 After weeks of chaos and reeling, The Fosters are finally getting back to normal. Which means that each and every one of the teens is looking for a fresh start. You know what they say about best laid plans. As Lena and Stef prepare to celebrate their one-year wedding anniversary, their children try to get back to the business of living their lives with renewed gratitude for all they've been through. What they end up finding is that in trying to move forward, the past has a way of keeping its grip on you.
Now that the chaos of the school lockdown has died down a bit, the school board is getting back to the business of reviewing Lena's continued role as Vice Principal. In their eyes she knowingly put children in danger by allowing a registered sex offender to build sets for a school play. The only way Lena can possibly save herself is to get Gabriel off the registry once and for all. In truth he didn't deserve to be there in the first place. He was barely of age when he conceived Mariana and Jesus with Ana, and has been paying with his life ever since.
Mike and Ana agree to start over after everything that happened with Gabriel's return. She agrees not to see him again since he seems to be a trigger for her addiction. Unfortunately getting Gabriel's name off the sex offender register requires Ana's participation. They get Gabriel to listen to the lawyer, but he is uncomfortable with Lena and Stef footing the cost of a defense he isn't guaranteed to win. A heartbreaking conversation with his biological son convinces Gabe to change his mind. Though Mike is uneasy about how Gabe being free will affect Ana, he puts in a good word with the judge. Gabe finally gets his life back because of it. Now the only question is, will he use this opportunity to build a friendship with his children?
Stef and Lena continue to let Brandon stay with Courtney. Their hope is that the reality of full-blown adult responsibilities will get Brandon to come home. Desperate for a night where they are free from responsibility, Brandon and Courtney decide to throw a party while Mason spends the night with his dad. Their one night of freedom brings a little clash of worlds before Courtney is slammed with a suit by her ex for custody of their son. Brandon assures Courtney that he will stand by her through this. What the reality of that means we'll have to see.
AJ is now officially a student at Anchor Beach much to Callie's delight. She takes him with her to start her senior project, a photo essay of all her former foster homes. Going back to the home where she was raped by Liam is particularly brutal. Liam's mom invites Callie in just to blame her for the destruction of her family. That doesn't stop Callie from going into the room where she was raped and capturing every last detail. It's empowering for her. She realizes that part of her journey has to be going into each of the houses she lived in.
Visiting her next foster home gives her dual parts peace and devastation. Callie gets peace knowing the only reason she and Jude weren't adopted was because their other foster brother had special needs and the state wouldn't allow all three of them to be adopted (someone tell me this law has been changed). Unfortunately her former foster mom Sheila tells Callie that her former foster brother Kyle has been wrongfully imprisoned for murder for four years. Callie believes in her heart that Kyle is innocent too. So she goes back to the law student she met the day she was suspended to ask for his help.
Though Mariana puts up a brave front, Nick's phone call last week terrified her. She's continued to sleep in her mothers' bed just to function during the day. Callie inspires Mariana to face her fears, meaning she needs to face Nick. Before Mariana can clear the air with Nick about the real status of their relationship, he goes on and on about Mariana being his reason for living. Out of fear and guilt, Mariana doesn't correct him.
Gabe has a chance at a fresh start, but are Mariana, Callie, and Brandon moving backwards?
The Fosters Season 4 Episode 4 Review: "Now for Then"
Summary
This week on The Fosters, Callie faces awkward encounters of the past as well as the present.