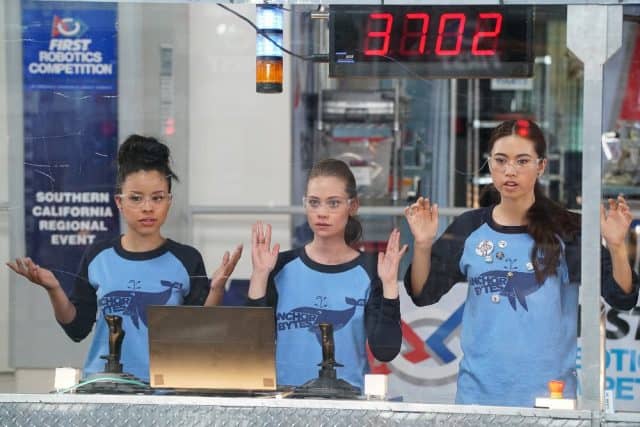 This week's episode of The Fosters has the family's ground being pulled from under them, literally. No matter what this family has been through they have always been able to depend on getting through it together. Specifically, they've always been able to get through crises together in their home. If you're lucky, home is where the heart is. It's the first place Callie and Jude felt safe, it's where Brandon, Mariana, and Jesus grew up, it's where Lena and Stef committed to spending the rest of their lives together. Now in the midst of everything else they are going through, the family is getting closer to the daunting reality that their home won't be theirs for much longer. Until then let's see where everyone is at.
If there's one thing Callie Adams-Foster can't stand for, it's someone she loves being railroaded. Since finding out that her former foster brother has been wrongfully imprisoned on a murder charge for years, Callie has done everything in her power to get him out. Slowly it's become clear that this is not a case fallen through the cracks or shoddy detective work, it's a conspiracy. Someone really doesn't want Callie to continue looking into the case. Patrick Malloy, the man who lied so he couldn't be an alibi, sends the police to Callie's house accusing her of harassment. After that Callie has to lie to her moms saying she won't continue down this path. She follows leads all the way to a "painter" who was around the neighborhood at the time of the murder. Luckily when she and Aaron finally find the guy, Callie realizes the situation seems just a little too unsafe. Stef isn't just blowing smoke about helping though. She is working very hard to prove that the detective on the case did not do his job, she's just doing it through proper channels and strategies.
Brandon is finally waking up. His Julliard audition is on the horizon and with everything he's going through with Courtney, it's almost easier to sleep on the couch at his moms'. His issues with Courtney have to be put on hold for now, but spending so much time at his childhood home practicing allows him and Stef to make amends. Brandon and Callie also have a good conversation after discussing that Mike knows about them. It seems like finally they are getting to a place where they can be genuine friends without having to ignore their history.
Months of being a victim have made Mariana not only ambitious, but aggressively so. She has multiple stresses of secretly keeping Nick sane, the impending move, and the boys rooting for her to fail at her Robotics Competition. All those tightly coiled nerves are lashing out at every member of Anchor Beach's STEAM team, including Lena. When Anchor Beach loses their chance at the finals everyone expects Mariana to explode. Instead she approaches the all girls team which did make it into the finals and offers to join forces to win the entire competition. Their strategy works, and together they are able to defeat the snooty adult team (seriously, there are adults only robotics teams for a reason).
Stef and Lena have to make the house presentable for viewings since it is officially going on the market. Their house really is a home though, clutter in the hallways and all. Not to mention it is overrun with teenagers and all their problems, which does not impress the realtor. In the past no matter what has been going on with the kids, Lena and Stef have looked at their home as a safe haven. The impending reality of losing that doesn't seem real until they actually get a quick offer on the house. If the sale goes through, the Adams-Foster family will be out of their childhood home within the month.
Do you think the sale will actually go through? Is this the last season we see the Adams-Foster family together like this?
The Fosters Season 4 Episode 8 Review: "Girl Code"
Summary
Mariana proves her girl power, Callie proves her learning growth, and Brandon readies himself for Julliard on this week's The Fosters.