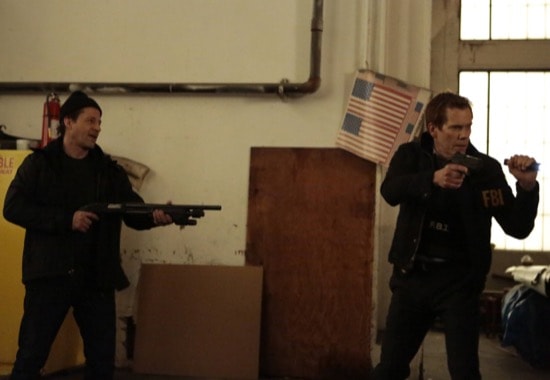 The Following has had a creative resurgence for the ages this year. It has not only improved leaps and bounds since Season 2, but it has some great, thrilling, heart-pounding stories to tell. I'm constantly impressed by the episodes, and I'm riveted by each one.
This week on The Following: Ryan and Mike try to locate Strauss' star pupil by following the trail of fraudulent identification and email left behind by Strauss. Nick Donovan (The Good Wife's Mike Colter) returns while Gina is under investigation, sans one eye. Max is sent to the tech firm believed responsible for the fraudulent email in Strauss' murder case, only to find a bigger connection.
I have to applaud The Following's creative team for several reasons. The first is that they're just crafting a really good story. There is internal drama (Max & Mike triangle, Ryan's new girlfriend, Ryan seeing Joe), but they still have to deal with that amidst hunting for a dangerous serial killer. The new villain (Almost Human's Michael Ealy) is excellent, and I'm so excited to watch them continue "The Hunt." On top of that, they've found a way to use Joe Carroll that is both different and compelling, which is so exciting because James Purefoy is so brilliant. I can't take my eyes off his performances, and I'm so glad he's being regularly included in the show. Just brilliant, and chilling to say the least.
More than anything, I'm compelled by the places they've taken Ryan Hardy this season. Kevin Bacon is just a wonderful presence, and he is certainly deserving of his star power. Ryan's new relationship and the fact that he did not leave and return from "retirement" for a third time suggest that his character has actually undergone some changes. You see this in every episode, like when he talked Mike down from murdering Mark. Not only does this serve the plot (since Mark is definitely going to return), but also Ryan is an evolving lead character, and that's very important.
I cannot understate how much I love the use of Joe. I waited very patiently for Joe to return to the show, and I have not yet been disappointed. Ryan has changed and grown, and being forced to go back to Joe is an aversion to his new life. Joe is constant. He obviously hasn't changed. He longs for attention and does not fear his own death. I fear something very scary is coming from him. He will certainly be jealous of the new killer, and he'll have to go out on top, even if it means helping Ryan bring him down. I certainly don't know WHAT is going on with Joe, but I will be shocked if he is executed in seven days time.
The re-introduction of Nick Donovan creates some interesting dynamics. He and Ryan weren't exactly the best of friends, but things seem to be at least slightly more peaceful now. The one-eyed man (who probably should be wearing an eye patch, don't you think?) knows how valuable Ryan and his people are, but can still make questionable decisions, such as not following Ryan's gut, or sending Max into the field half-cocked. If Donovan stays, there is lots of potential drama that could unfold. Could Joe plant ideas in Donovan's head that cause the execution stayed? Sometimes my theories are hair-brained, but I have to put them out there!
All in all, another thrilling installment of the series. I really wish more people were paying attention, because The Following is carrying all the attributes of what made it great and then some.
What did you think of the episode? Let us know in the comments!
The Following airs Monday nights at 9/8c on FOX.
[Photo via FOX]