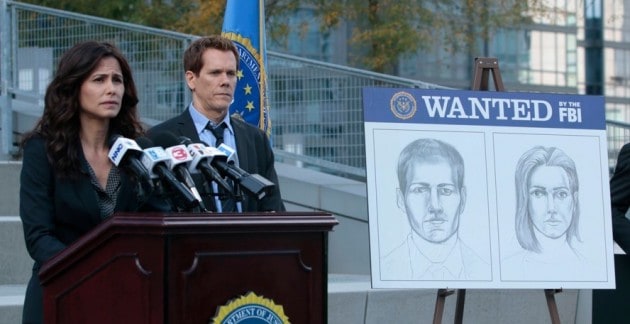 The Following has had a strong run so far this season, mostly because some other complaints that had surfaced about the show are slowly being addressed. The deaths mean more. The FBI is smarter, quicker, and stronger. The characters are stronger than ever. Some might worry that tonight's episode was a step backwards in the progress the show has made, but I disagree. It still fit in with the "reset" of sorts, and it proved to be just as intense as The Following can be.
This week on The Following: Ryan, Max, and Mike pursue the man responsible for the death of Agent Clarke. Ryan is hassled by the press, much to Gina's chagrin. Mark and his followers deal with the aftermath of Ryan's interview, and their prisoners cast doubts within Mark about the allegiance of his friends.
I say that we address this head on. Not head off, like some characters on this show in the past. See what I did there? (Pauses for laughter.) Anyway, I could see how some people would be upset that there was quite a bit more "senseless killing" in this week's episode compared to the previous two. I can see how other critics would say that The Following is falling back on its violent tendencies because it has nothing else to say creatively. However, I disagree with those notions. In the past, much of the senseless killing was done by the FBI. Ryan, Mike, and Max were all party to it. However, this episode's violent moments were all perpetrated by known serial killers. I mean, this is still a show about serial killers after all. Every good show worth it's weight in blood has red-shirts to be killed off (Star Trek, The Walking Dead, etc.), but the important part is how it affects the characters that you are invested in.
At first, it was hard to pinpoint what exactly was different about The Following at the start of its third season. When I arrived at this episode, I figured it out. They're actually doing character work. They're showing how Ryan, Max, Mike, and the rest of the rag-tag gang are changing. They were never bad at doing character work, but it seemed as though most characters that you got invested in would inevitably die. Season 3, however, has been a masterful change of pace. Rather than just simply having death and destruction, The Follow is really reflecting on how death and destruction can affect these characters. The show explores morality, like people who believe that Ryan and Mike's killings were justified, versus people who don't. The Following is better this season because, frankly, it's much easier to care about what's going on this time. Did it feel different to anyone else when they shot Neil down? It was definitely self defense, and the moment just felt different. It was heavier. It weighed on the characters the minute it happened, and it certainly wasn't senseless. That's a good example of what I mean.
There is a lot of good being done on this show, but I miss James Purefoy so much! Joe Carroll was a ridiculous villain, but Purefoy always played him so brilliantly. He's been credited in every episode, so there's only a matter of time before he has a role to play. I think Sam Underwood's Mark (and occasionally Luke) is a wonderful villain for Season 3, but I want to see what any of it has to do with Joe. Surely there's something, right? I mean, this couple that's been hanging out with Mark has a separate agenda, and I desperately want to know what that is. I appreciate anytime that a show can exclude a character when they are not necessary, but I just really miss Joe, a lot. I wanted to get that off my chest.
There is some really great work being done here. I've never been more invested in Ryan, Mike, or Max. I'm intrigued at the mystery, the episodes themselves are thrilling, and all in all, I don't have much to criticize. If you have at some point stopped watching The Following, I think now is as good a time as any to return. I'm very excited to see how things continue.
What do you think? Are you enjoying the new season as much as I am? Got any crazy theories? Let us know in the comments!
[Photo via FOX]