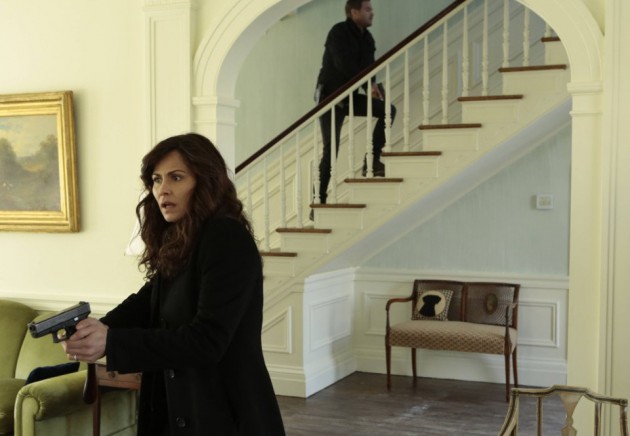 The Following has undergone a creative reconstruction and resurgence for the ages. Never in a million years did I think they would seamlessly be able to change villains, change direction, and keep the same tense, creepy spirit of the show. However, I was proven very wrong by Season 3. I'm absolutely enthralled.
This week on The Following: Gina Mendez contemplates retirement, but Ryan convinces her to give it one more go. Ryan, Mike, Max and Gina discover the identity of their mystery serial killer, Theo, and hunt him to his home. Joe undergoes one of his final therapy sessions before his execution, and learns that Ryan will not be attending said execution.
Perhaps the only thing that I don't buy about all of this is that Ryan Hardy wouldn't retire again after putting Joe away. This episode was an hour-long illustration at why that would happen. Gina Mendez has often mirrored Ryan, once when her personal life was infiltrated by their cases, and again in this episode as she struggled with retirement. Gina gave all the reasons that she couldn't keep doing this, and she was right. So why does Ryan keep doing it? Is he becoming the killer that the visions are foreshadowing? Who knows? I'm glad that they didn't pull a Michael Jordan or Brett Favre with Ryan, but I'm curious as to why he continued to work this time. I think that, ultimately, the Gina parallel was an accurate one, and it was really effective in this episode.
I'm loving the new villain. Michael Ealy is eerie in his portrayal of Theo. He's clever. He doesn't rely on his connections to other people (as both Joe and Strauss before him), but rather on his own brilliance to save him. He plays the arrogant, smug serial killer with such conviction. Honestly, I'd be terrified to meet him anywhere but a well-lit public place. The Following can be terrifying at times, and Ealy's Theo fits right in with that tone. Creepy. I definitely didn't see him killing his wife and knocking out his children either. Wow. The illustration of his commitment to self-preservation has been one of my favorite parts of the character.
Perhaps my favorite thing that the show is doing is putting Joe and Ryan together in the dream world. First, Ryan had a dream about Joe, then Joe has had a couple of misguided daydreams about Ryan coming to help him escape from prison. I was convinced that this episode's dream was a real thing. I was really worried that Joe was about to get out. I was thinking, "No! This isn't good for your revamped story! It's too soon!" only for Ryan to pull up outside the prison and Joe to awake. This particular bit of storytelling has been one of the best things that The Following has ever done. They're illustrating the similarities between Ryan and Joe, and not only that, but also the sense of misguided affection they have for one another. Joe's is a little more blatant than Ryan's, but watching the show, I wholeheartedly believe that Joe and Ryan are two halves of a whole. Neither can live while the other survives. James Purefoy and Kevin Bacon have been wonderful so far this season, and I just can't get enough of that relationship. More please!
All in all, another thrilling installment of The Following. I can't help but look forward to the weeks to come.
What did you guys think of The Following's new episode? Did you enjoy it as much as I did? Let us know!
The Following airs Monday nights at 9/8c on FOX.
[Photo via FOX]