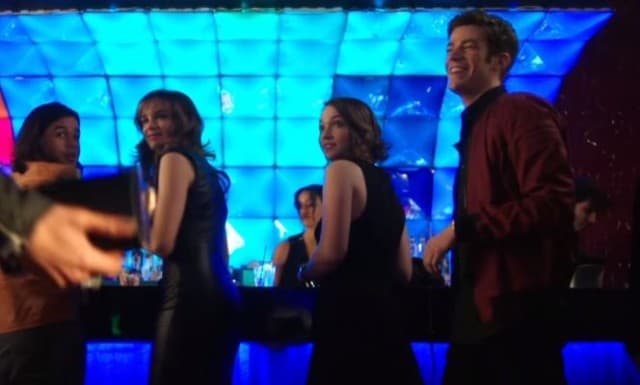 Barry, Cisco, and the rest of Team Flash actually get to go out, have fun, and act their age in tomorrow night's episode of The Flash. However, their night of blowing off steam is cut short when a new female speedster shows up, causing chaos and giving the team a whole new mission.
In the sneak peek below from tomorrow night's all-new hour of The Flash, titled "Trajectory," Cisco suggests that he, Barry, Caitlin, and Jesse hit the club and let loose, dancing and drinking the night away. Iris and Wally meet up with the group while they're there, and the six of them appear to be having a great time, even if Iris doesn't seem to be a big fan of Cisco's more unorthodox dance moves.
But when Trajectory (guest star Allison Paige) speeds into Central City, it's back to business for Barry. Not only does it look like Trajectory is a dangerous criminal, but the fact that she's faster than Barry frustrates him even more, bringing back all the anger he had when he last went up against Zoom.
"I want to be fast enough to stop Zoom and any speedster that tries to hurt my friends," Barry says in the video below.
Will Barry be able to find a way to become faster? We'll have to wait and see what happens tomorrow night.
The Flash airs Tuesdays at 8 p.m. on The CW. Check out the sneak peek from "Trajectory" below, and comment below with which character you thought had the best dance moves from the short clips that we got. My personal favorite? It has to be Cisco.
THERE IS A NEW SPEEDSTER IN CENTRAL CITY; WILL THE FLASH BE ABLE TO KEEP UP? — Deciding to blow off some steam, Barry (Grant Gustin) and the team head out for a night on the town only to encounter an unexpected speedster who is up to no good. Iris (Candice Patton) is challenged by an assignment from her new boss (guest star Tone Bell), and is surprised when friction turns to flirtation. Glen Winter directed the episode written by Lauren Certo and Lilah Vandenburgh.
[Photo via YouTube]