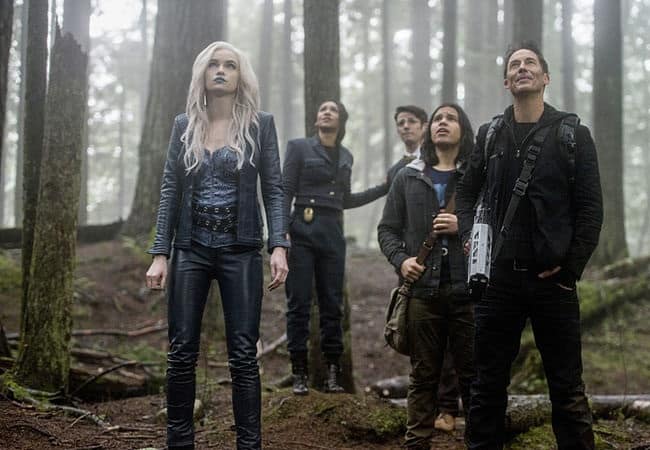 After a strong first part last week: this week's The Flash picks up right where we left off as Barry has to figure out a way to get out of Zoom's prison with the help of Jesse Quick and a mysterious man in an iron mask.
While Part 2 was a very solid and strong follow-up, it had a little shakiness to it, because it had so much to do before wrapping up the two-parter. The second part really gave us a lot more time with Earth-2 Barry Allen that, much like our Barry tend to do a lot, stole the show with his adorkable personality. The one thing I wished we had seen more of was the two Barrys together, but at least when they were together on screen, it was time well used because of the powerful effect their scenes had together. But I seriously could have spent at least 10 more minutes just seeing Grant Gustin playing his Earth-2 self that was one of the funniest things I have ever seen on the show. He sort of reminded me of a very bumbling Clark Kent if he was taking it to the next level and I loved that.
Over at Earth-1, Iris' journalism storyline gets into a new chapter with the arrival of her strict new editor Scott Evans who is definitely someone I love to hate from the absolute get-go. He is a challenging character in a good way because it will push Iris to fight even more to become the ace reporter that we know she will become. He wasn't in it for long for me to get any more impressions of him for now, but I look forward to seeing more of him. While the Earth-1 focus wasn't too interesting last week, it definitely was more compelling this week, as everything came together. While Geomancer didn't manage to change my view from last week, at least the door is open for him to come back.
One of my favorite scenes/aspects of Earth-2 this week was seeing more of Jesse Quick because while she has been spoken about A LOT, we haven't really gotten to know her really well so it was cool to see her and Barry work together, on an intellectual level. The man in the iron mask was such a deliciously frustrating mystery because we kept getting so close to finding out who it was, but each time we did, something – or more like someone, with Zoom showing up one of the times – got in the way. I think it's either Earth-2 Wally West or maybe even some version of Jay Garrick because my suspicions went up big time for the Jay that we've been following so far. While I don't think it's the last that we have seen of her, I really enjoyed Killer Frost's temporary alliance with Team Flash against Zoom at the end. The question now is how we can get her over to Earth-1 because I need that to happen! In addition to that, I also want, in some capacity to see more of Earth-2 Barry and Iris because dang, the more I saw of them as a married couple, the sooner I want Barry and Iris on Earth-1 to get together.
Let's talk about that ending – Jay Garrick goes bye-bye? Well you would think that a Zoom-attack through his heart would be enough, but let's remember that this is a comic book TV show and he did get sucked into the breach so you can never know for sure what actually happened to him. I know 100% that this won't be the last we've seen of him, but it also makes me wonder if there is some shadiness to him that we need to look out for. Overall, "Escape from Earth-2", while not as strong as the first part, was a stellar conclusion to a fantastic two-parter that are definitely two of the best episodes for this season.
The Flash airs on Tuesday nights, 8/7c on The CW.
[Photo: Diyah Pera/The CW]
The Flash Season 2 Episode 14 Review:
Summary
After a strong part 1 last week, Barry and Team Flash continues to try and save Jesse Quick in part 2 of the Earth-2 crossover on The Flash this week.