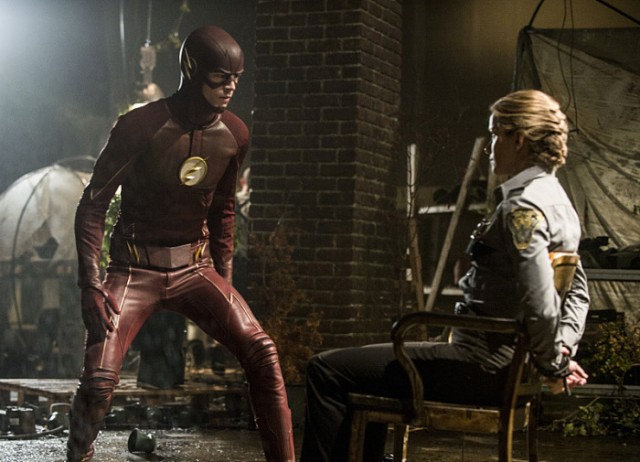 After a very good season premiere, this week's episode of The Flash was a stronger follow-up as we saw the further introduction of Jay Garrick, as well as getting introduced to another Flash character, Patty Spivot, and a tease of Barry's new enemy, Zoom.
Jay's further intro on the show ended up as one of my favorite introductions for a new character because of how well it was done. Teddy Sears fits the role so well, and while we know that he is someone we can trust, it was compelling to see Barry being so opposed to him at first. It shows the viewers that Barry is learning from his previous mistakes. Although like Barry said at the end, if Jay had just mentioned once "Oh hey, I lost this winged helmet," that would have saved them a lot of the headache.
As we got to learn more about Jay, The Flash began exploring the major concepts of Earth-2 and the Multiverse itself, which Martin Stein explained excellently. Also, we got flashbacks and glimpses of what Earth-2 looks like, and hopefully, this is just the beginning of Earth-2 flashbacks because I wouldn't mind having at least two of them in each episode, sort of how Arrow does it with its flashback telling. As the big nerd that I am, it was pure fun seeing Jay and Barry working together, as well as the show giving us a huge nod to one of the most famous Flash comic covers over all-time: #123, also titled "Flash of Two Worlds" (the same title as the episode).
There was one point when Barry's hesitance got a little bit too much, but thankfully, Iris had a really good heart-to-heart with him,, which was one of her best scenes of all-time and one of the best scenes with them together. It reminded me a lot of the scene that Oliver and Laurel had in Arrow Season 2, when they were both brutally honest with one another in the hallway. That to me is another way of reflecting great chemistry, as well as solid writing for two characters. With Barry and Iris' scene, it was just as powerful, because one of the many things that I love about any character dynamic is when they can give each other the brutal truth. Even if they don't want or think they need to hear it, there is always that person that will give them that talk out of love. Iris made so many good points in giving Barry the wake-up call that he really needed.
"Flash of Two Worlds" also gives us the first appearance of Shantel VanSanten's Patty Spivot, a character that had initially been described as The Flash's Felicity Smoak, which was something that made a bit nervous at first. While she did have a little bit of a Felicity vibe, it wasn't as much as I expected, and I enjoyed the character and thought VanSanten fit in very well with this cast.
However, there were a few times when there was just a little bit too much of her, even though this was her intro-episode. I liked her dynamic with Joe a lot and her determination of getting on the task force. Overall, I liked her first episode and look forward to seeing more of her. The one thing I do hope they make sure to feature is Patty interacting with everyone and not just being limited to Joe and Barry. That's one of the things that Arrow had a problem with in its first few seasons, when the female characters would barely get to interact with one another. I would love to see several of the butt-kicking ladies on The Flash get together for some awesome scenes.
Lastly, this week's The Flash set up several mysteries: Cisco starting to learn more about his Vibe-y powers, Martin Stein collapsing at the very end of the hour, Zoom being established (and boy was he creepy-looking), Francine West surprising Joe, and the big reveal on Earth-2: Harrison Wells. I think it's a tie between the big Harrison Wells mystery and Mama West's visit in terms of what got me most intrigued. With Harrison, I keep wondering how he will factor into this season and when he will get over to Earth-1, because we know he will. Francine's surprising visit just has me excited because I want to learn more about Iris's relationship with her mom as well as Joe's history with Francine. In addition to that, her introduction might give us a clue as to how Wally West will come in later this season and how he will be related to Iris in this version of The Flash.
Overall, "Flash of Two Worlds" was a very solid episode with good introductions for new characters, strong moments for our established ones, and more juicy mysteries for this new season.
The Flash airs on Tuesday nights at 8/7c on The CW.
[Photo via The CW]