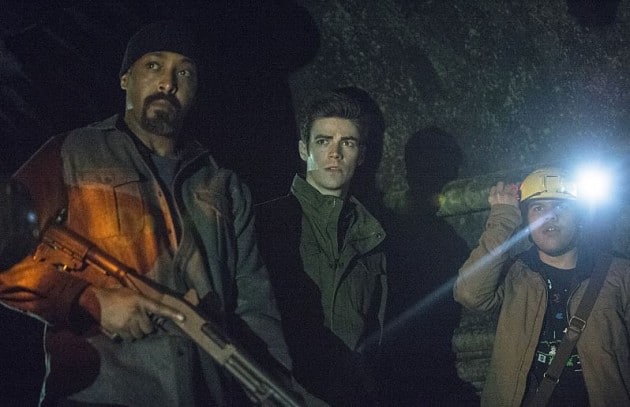 One of the most fascinating part of this first season of The Flash has been the teasing of the Flash villain Gorilla Grodd. This week's episode, "Grodd Lives," marked the speedster's first encounter with Grodd and also dealt with Iris now knowing Barry's big secret.
The way that the writers handled Iris and her feelings towards everyone that had lied to her couldn't have been handled better because of how balanced it was. One thing that can easily go wrong in superhero stories is when a love interest, a best friend, or someone else important to the hero learns his or her secret identity. There are times when it can get overly dramatic and have a lot of angst, but there are also situations where the character handles it very well. In this situation, you only supported Iris because she stated so many valid points, and it brought up an interesting question about the subject of why superheroes keep their secret identities from the loved ones.
It's always about wanting to protect them, but something that I think we are starting to see quite a lot of in these comic book stories is that the truth will actually protect your loved ones more as opposed to keeping them in the dark. We see right away how useful Iris can be for Team Flash, when she knows the entire truth. It was awesome seeing her help out during the search for Joe. Candice Patton has been a strong performer since day one, but this was truly one of her best episodes of the season. Two of her best scenes were with Barry and Joe. While Iris may have forgiven her father, the healing process has only just begun with her and Barry, and Iris will probably need some time, which I totally get.
Let's talk about the big elephant in the room, or should I say gorilla. I can't imagine how much the effects must have cost to make Grodd, but all I will say is that the VFX team on The Flash deserves so much more than just an Emmy: they deserve an Academy Award, because the effect last night were movie-like. Grodd was exactly what he was supposed to be: absolutely terrifying and monstrous, but also fascinating. I'm still holding to my statement that it's good that we are only getting dosages of Grodd this season. While we did get a more Grodd-heavy episode this week, I think it's a good setup for next season as he will probably play a much bigger part in it. Who knows? We might even get to see the Gorilla City storyline from the comics get adapted in some capacity.
Last, but definitely not the least, the adventures of the two Thawnes was insanely fun to watch, while also being completely terrifying. If you had asked me back when Scrubs was still on if I could ever imagine that Tom Cavanagh could be this terrifying, I would have probably said no. But this week continued to showcase how remarkable Cavanagh is because we are slowly starting to see all of Eobard's evilness as he completely toyed with Eddie. To see him just go full-on evil at Eddie by revealing that he will lose Iris to Barry and that he is going to fail as a detective was just deliciously wicked. I can't even imagine what Eddie is going to be like in the two final episodes.
"Grodd Lives" also ended on a very mysterious note. I wasn't sure where Harrison was when he said that he is getting ready to go home. To me, it looked like he was down in the pipelines where all the captured meta-humans were at, which would be an great setup for next week's "Rogue Air."
Overall, this was another solid episode of The Flash, specifically for Iris as Patton got some of her best material of the season with the aftermath of Iris learning Barry's secret. You can't go wrong with Grodd and the way they ended his story, for now, was pretty much what I expected where he takes off, until we see him next time.
The Flash airs on Tuesday nights, 8/7c on The CW.
[Photo via The CW]