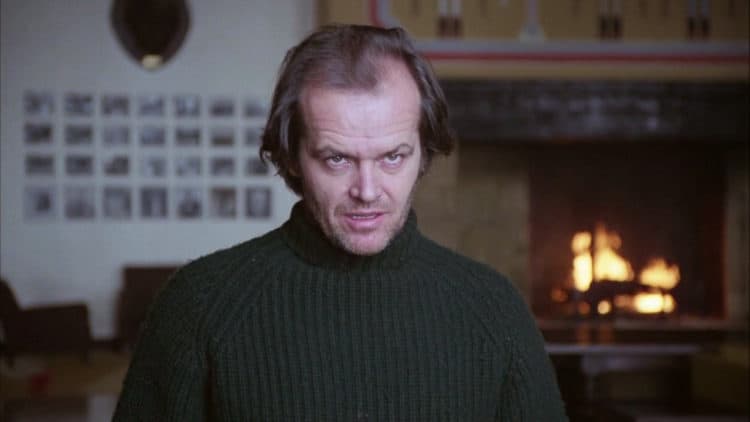 One of the most versatile and talented actors of his generation is Jack Nicholson. The elusive actor may not be often seen walking the red carpet or giving out interviews, but he certainly makes up for it through his memorable portrayals that have shaken us up to this day. Nicholson does not shy away from difficult characters. He immerses in each one of them, and gives a performance of a lifetime. He's a class act that only appears every so often. It's not every day that we witness an actor have a repertoire of such a wide range of roles, which include comic book characters, romantic leads, anti-heroes, and villains. The options are limitless, and Nicholson definitely knows when to seize the day. Here are the five creepiest movie scenes starring Jack Nicholson, in no particular order:
5. One Flew Over the Cuckoo's Nest
The psychological drama film explored life in a mental institution. Nicholson portrayed the role of Randle McMurphy, a new patient in the facility. Life within the four walls of a mental institution can be interesting, there are always new issues to tackle and something bizarre that can happen at any moment in time. Take the scene where one of the patients got agitated, because of an intense craving for cigarettes was a great collaborative moment that showcased the powerhouse and underrated cast of the film. Randle stepped in during the commotion and showed his other co-patients how it's done. The scene ended in brutality, and just showed how Randle wasn't about to go down without a fight.
4. The Little Shop of Horrors
We witnessed a young Nicholson's portrayed the cameo role of a masochist named Wilbur Force in the horror black comedy musical. The film was an adaptation of an off-Broadway musical of the same name, and served as Nicholson's breakthrough role in the big screen. The scene where Wilbur visited the dentist gave viewers a preview of his skillset as an actor, which involved humor with some sense of madness. Wilbur introduced himself as a walk-in patient who insisted on getting his teeth checked as soon as possible. It was a short but sweet cameo that proved to be a noteworthy performance that kick started a colorful career in Hollywood.
3. Batman
Nicholson opened the door wide open for epic portrayals of Joker, one of the most iconic supervillains in the history of superhero movies. The 1989 film was the first installment in the initial Batman film series, with Michael Keaton playing the role of Batman. The scene where Joker re-introduced himself to his previous boss, Carl Grissom, portrayed by Jack Palance, a powerful crime lord (City Slickers) in Gotham City, was a spine-chilling moment. Joker was Grissom's former henchman, Jack, who he though was already dead. This made the confrontation even more priceless, as Grissom did not know who he was up against.
2. The Shining
Iconic scenes from the film have been turned into memes over the years, making it one of Nicholson's most memorable works. The psychological horror movie was based on the bestselling novel by Stephen King, which followed Nicholson, as he portrayed the role of Jack Torrance, an aspiring writer and recovering alcoholic who accepted the job of being an off-season caretaker of the isolated Overlook Hotel with his wife, Wendy, portrayed by Shelley Duvall (Annie Hall), and their son, Danny, portrayed by Danny Lloyd (Doctor Sleep). Events take a turn for the worse, and Jack's struggle with alcoholism and past traumas turned him into an abusive person. The scene where he chased after Wendy and forced her into the bathroom was both chilling and heart stopping. Wendy tried to escape, but found the bathroom window too small to squeeze through. Nicholson's portrayal of Jack had us on the edge of our seats all throughout the film, and made us extra fearful of checking into creepy-looking hotels.
1. The Witches of Eastwick
The all-star ensemble of the dark fantasy comedy was enough reason to tune into the film. The storyline followed three witches, Alexandra Medford, portrayed by Cher (Moonstruck), Jane Spofford, portrayed by Susan Sarandon (Feud), and Sukie Ridgemont, portrayed by Michelle Pfeiffer (French Exit), who are not aware of the extent of the power of their abilities until a man named Daryl Van Horne, portrayed by Nicholson, comes into their lives. The scene where Daryl experienced the wrath of the three witches was a confluence of punishment and revenge. Daryl started out as a character who seemed like someone who could satisfy the witches' deepest desires until it was revealed that he had a dark side of his own. Daryl did not know who he was messing with, and ended up humiliated, in pain, and banished because of his selfish ways. As they say, hell hath no fury like a woman (or in this case, women) scorned.
Tell us what's wrong with this post? How could we improve it? :)
Let us improve this post!