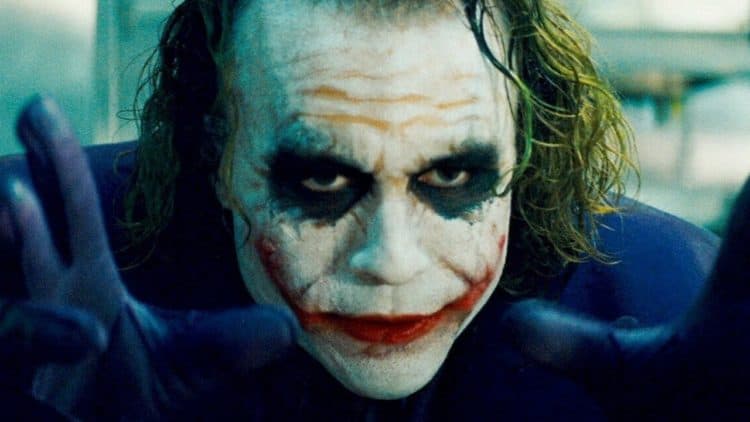 It could be argued that the Joker is Batman's greatest rival. Created by Bill Finger and Jerry Robinson, the DC villain made a huge splash when he was introduced in the very first Batman comic back in 1940. There have been plenty of backstories given to the "Clown Prince of Darkness"; however, there's no denying that Joker is a mentally unstable murderous psychopath. Following his introduction, Joker was always key when it came to the lore of Batman, whether it was in comics, cartoons, and movies. Since Heath Ledger's iconic turn as the DC villain, Joker's stock within the DC universe had vastly risen, with him appearing in Suicide Squad, Gotham, Zack Synder's Justice League, and even being heavily influenced by Harley Quinn's actions in Birds of Prey (And the Fantabulous Emancipation of One Harley Quinn). He even got his own origin story that saw the film garner twelve Oscar nominations. Now, whenever Joker is onscreen, he lights up any scenes that he's in. Who could forget the beautiful imagery of money burning behind him as he turns on the criminals in The Dark Knight? Or the madness and hilarity of him wearing a nurse's outfit as a hospital behind him explores? Or Mr. Fleck blowing Murray Franklin's head off in his origin story? Nearly every avenue has been explored with the Batman villain and I'm sure Todd Philips and Joaquin Phoenix will deliver the goods in Joker 2.
However, it's time to venture onto new villains when it comes to Batman. Granted, the upcoming Matt Reeves film doesn't have Joker anywhere in sight but given the level of popularity of Arkham Asylum's favorite mental patient, it would be shocking if Joker didn't make an appearance for Robert Pattinson's version of the dark knight. The issue is that Joker has been overexposed at this point. His sequel to his origin story is interesting because we're focused on Joker's adventure without the dark knight present. Following him during his time in Arkham Asylum could make for a very compelling character study. Do we need a Joker 2? No, but there's still a layer of mystery and intrigue surrounding Joker's journey before he meets his arch-nemesis. However, in terms of Batman, it's time to expand the world of Gotham and give new villains the center stage. It's not hard to craft a new direction involving the two rivals. Hell, maybe Joker becomes an anti-hero of sorts and oddly teams with Batman? But the key thing is that it's time for new stories to be told involving villains who simply haven't gotten their due. Why not test the waters with Professor Hugo Strange? A psychiatrist who uses his medical expertise and strange fixature on knowing Batman's identity could make for a fascinating cat-and-mouse game.
Or Jason Todd/The Red Hood? Surprisingly, The Robin/Batman dynamic has been missing after Nolan teased him in the Dark Knight Rises. Suicide Squad pretty much stated that Joker was responsible for Jason Todd's death, and his return as the murderous Red Hood could also be an interesting avenue to explore. Titans has taken that direction somewhat, but the dynamic between him and Batman isn't the focal point. Slade Wilson/Deathstroke could also be a fun diversion as he's essentially an equal match of Batman in terms of strength, speed, and intellect. Poison Ivy, The League of Assassins, Blask Mask, Clayface, Victor Zasasz, the purpose of me listing all of these villains is due to the fact there's plenty of interesting characters to choose from Batman's roster that would make a fine villain for the caped crusader. Batman and Joker will face off again, and I don't blame executives for milking their rivalry dry. The Dark Knight made $1.005 billion worldwide. Suicide Squad $746 million. Joker was $1.036 billion. The key thing is that each movie involved Batman or Joker. I've mentioned this previously, but Hollywood is a business first and foremost so using the most popular character for maximum profit is a smart call. However, there is a such thing as a law of diminishing returns. If the filmmakers and executives continue to just focus on the Batman and Joker saga, audiences will eventually grow tired of seeing them battle over-and-over again. Plus, it harms the world of Gotham because featuring new characters won't allow new stories to be told and boxes in an otherwise diverse and rich cast to a few characters. Just like Marvel was able to take big on B-level characters such as Guardians of the Galaxy, Shang-Chi, or even Ironman, opening the universe to new characters keeps the excitement going amongst fans that could easily help the DC universe expand. Joker doesn't need to stay away from Batman forever, but these two rivals should be kept apart for a good amount of time.