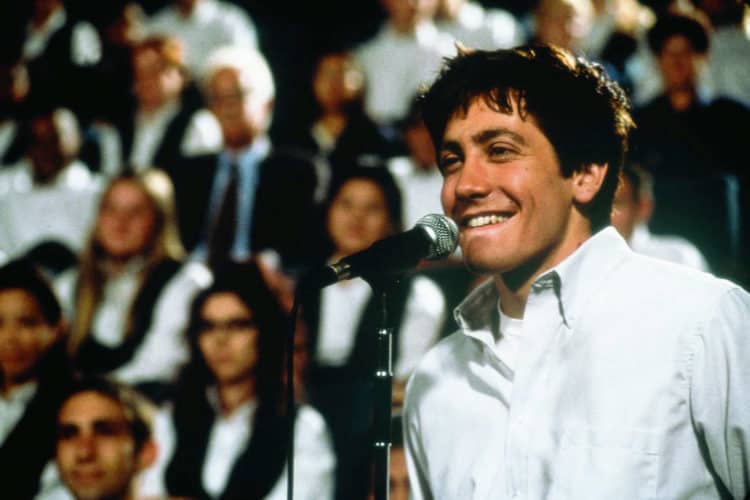 Donnie Darko is an odd movie, but it is possible to understand it if you really watch it from beginning to end at least once or twice. The music is something that's just as odd but at the same time vibes with the movie since when a soundtrack is created it's usually best if it fits even if it sounds like something that might drive you nuts if you listen to it for too long. That being said the whole premise of this movie is that Donnie affects a wide number of people with his words and actions throughout the story as Frank guides him and tells him what to do, taking hold of Donnie in a way that is both disturbing as well as unavoidable since Donnie does seem to be a very troubled young man. But somehow this movie did become a cult classic and is one of those that people will talk about gladly, but perhaps only whenever it comes up and not always by choice.
Here are some of the best tracks from the movie.
5. Killing Moon
The moment when Donnie was supposed to die was influenced by a being that he doesn't understand and yet follows without any question whatsoever. This is when you know that there's something inherently wrong with Donnie since he doesn't once think about what Frank is telling him, he just goes along with it. Those that hear voices and experience unexplained phenomena can go either way in real life and in movies, it all depends on their mental state and what they're willing to accept. But having a brush with death should usually make some folks a lot more grateful to be alive.
4. Stay
From the moment his room is trashed by a falling jet engine it becomes apparent that Donnie has something of a charmed life, though what he does with it is anything but charming or positive since he starts to make a regular nuisance of himself be it vandalizing the school or insulting a speaker that was brought in for the benefit of the students. That scene was actually kind of uncomfortable yet pleasing however since once you get into the character that Patrick Swayze played and understand who he really is you kind of get why it was a bit of comeuppance that was well-deserved in the movie.
3. For Whom The Bell Tolls
Some movies and some music are just designed to give you the kind of chills that are uncomfortable and also hard to shake since it's a very visceral feeling that you get from this kind of experience that makes you think that it could be real enough in this world to happen. But thankfully unless you're drunk or high there's a good chance you won't be seeing any monstrous-looking rabbits or experience the need to set fire to someone's home. Hopefully at least. But in this movie the mere buildup to the acts that Donnie commits and the reason he's doing them, Frank, is enough to give just about anyone the shivers.
2. Head Over Heels
Okay, this statue does need to be discussed just a little bit since it's not only disturbing as hell but it's also the kind of thing that have many people looking at the school board and wondering just who in the world gave the green light for such a thing. Like many aspects of the movie it's just one more disturbing part that you can't help but think brings another bit of the macabre to a movie that's already floating in the strange creative juices that first gave birth to this picture. But from one frame to the next the movie seems ready and willing to freak the audience out and make their jaws drop in various ways.
1. Mad World
The story of Donnie Darko is indeed a rather disturbing tale since it not only deals with something that seems deeply rooted in the psyche of a young man that's extremely difficult to figure out, but also in the theory of time travel and how it pertains to the one moment in the movie when Donnie could have survived to impact a great many lives in a variety of ways, or would die and leave those interactions unfulfilled as those that would have been touched wake up thinking they've missed out on something, though they will never know what it is since by the end of the movie Donnie is dead and his legacy won't ever be filled as the whole movie seems to suggest. This is a total mind trip of a movie and honestly it's kind of a big slap in the face to make you realize at the end that it's all been one giant goose egg waiting to burst.
It was fun while it lasted though.