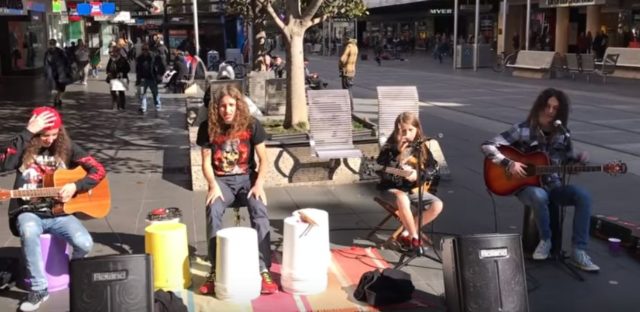 If you're a big Metallic fan then this is worth a watch. The opening is perfect, and the entire way through these kids don't deviate even once. Nothing Else Matters isn't the greatest song that Metallica has ever produced, but it's by far and large one of their more popular. The tempo is a little quicker in some areas, but that's kind of expected in those that are performing in anything but a crowded auditorium After that, these kids are just amazing.
Every person in the group knows their part, everyone hits their marks, and the love of the music is obvious as they deliver the song with such near perfect accuracy that you might actually believe that they're a cover band for the famous group. Seriously, if given the proper venue and half a chance, these guys could possibly go on to become something impressive just based on how well they replicate this one song. I haven't been a Metallica fan for as long as others and I know I'm not a diehard, but when they come on I let myself all into the music just as easily.
Have you ever had the frustration of listening to someone sing or perform a piece by a great artist only to horribly butcher it part of the way through? If you're a music lover it's a travesty, a decidedly uncool way to represent a band and/or a singer. You can give credit to a person for trying but they know their sound is nowhere near what it needs to be then credit for their exuberance is about all you can give them. It might sound snobbish and even elitist, but when music is played it needs to at least sound like what it's emulating.
That's what makes these kids so amazing. They hit every note just perfectly and deliver a performance that is second to none really when it comes to amateurs. I still think that they could easily be a cover band if they put their minds to it and really went for the gold. But then some people do actually do such things for the music and JUST the music, which is equally impressive and very noble.
A lot of Metallica fans would agree that when you play their songs you either need to know what you're doing and play it right or don't play it at all. They're the kind of band that's already been immortalized in their own time and deserves the respect and consideration of those that know how to play. I was very impressed with the drummer on top of everything else. Since it's been a while since I've heard this particular song I didn't know whether he got a bit ahead of himself at first or if he was right on key, but throughout the rest of the song he was spot on and just great.
The entire band should feel good about this since they gave a performance that didn't break attendance records but was certainly appreciated by those that enjoy good music.
Save