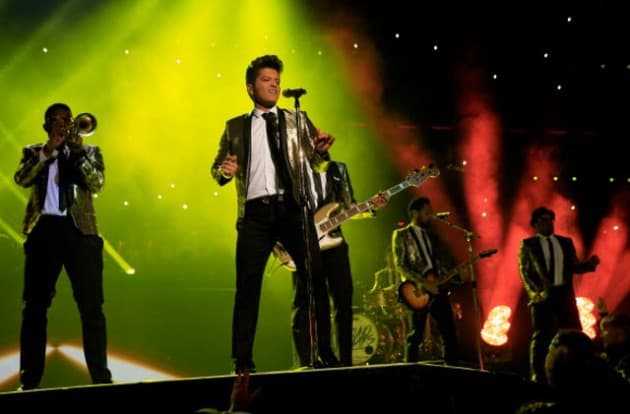 Peter Gene Hernandez doesn't have quite the same ring as Bruno Mars, but regardless of his name his arrival on the music scene was met without the fanfare you might have expected. He was dropped by Motown Records to start out his career and was then picked up by Atlantic Records in 2009. Since that time his career has taken off and he's done nearly everything a musician can do. He went solo after a short while and started churning out hits like there was no tomorrow. Even at this point he's still a hot commodity despite the very real fact that he's had to move aside just a bit to insure that others get their shot at fame as well. He's still topping the charts however and is still one of the favorite artists of many individuals since his songs are powerful enough to create an emotional response from so many.
Here are a few movies and shows in which his talent can be seen and/or heard.
5. Bubble But-The Emoji Movie
The Emoji Movie is pretty much what it sounds like, a movie all about the wonderful little pictures on your phone that are called Emojis. It's a film that's essentially about fitting in and finding your place in the world just by being who you really are and accepting it. Of course if that was all that it took then the movie wouldn't have been that entertaining.
4. 24K Magic-The Voice
It's nice how the show will have guest stars and performers from time to time to break up the scene a bit. This is a show to give voice to those that are attempting to discover whether or not they have the skills for a career in music, but now and again it's nice to see an established talent take the stage and lend a little inspiration to those that are seeking to make their way.
3. Alvin and the Chipmunks: The Road Chip
People don't ever seem to get tired of seeing the chipmunks onstage performing. Their cover songs are usually pretty cool and are done in a very stylish way that allows them to keep their popularity and style. Since their first episode the chipmunks have been a sensation, though they've gone through so many different versions at this point that the films should hopefully be their final makeover.
2. Welcome Back-Rio 2
The fun thing about this one is that he doesn't just sing a song in the movie, Bruno Mars is also one of the voice actors. He plays Roberto, the childhood friend of the female lead. The movie is about a trip to the Amazon where heavy logging is starting to destroy the habitats of many different animals. There's a lot that has to do with staying true to one's roots and culture, and remembering where they came from.
1. Superbowl 48-Locked Out of Heaven
It was the Seattle Seahawks vs. the Denver Broncos, and by halftime the Seahawks were on top as Bruno Mars came onto the field. This wasn't the only song he performed but he did such an awesome job that simply talking about it seems wiser than listing them all out one by one.
Bruno Mars is still tearing it up.