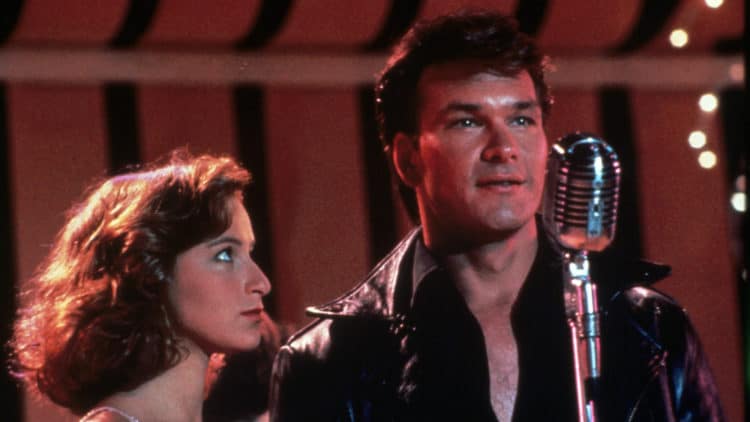 Dirty Dancing is the kind of movie that you can watch over and over and never get tired of since the acting was great, the dancing was great, and the story was something that a lot of people probably can't relate to, but can still enjoy fully and without reservation. The classic tale of a guy from the 'wrong side of the tracks' and the naive young woman that wants to make a difference in the world is kind of like two opposite elements colliding unexpectedly. Baby wants the world to make sense, Johnny's just trying to get by, and somewhere in the middle they find that what they wanted was something they weren't even looking for in the first place. Besides that, one of the best phrases to ever be coined in a movie was heard near the end when Johnny, who decided that he liked the person he was becoming, finally stood up and said "Nobody puts Baby in a corner." If that doesn't just give you chills then you need to watch the movie again, or for the first time.
Here are some of the best songs from this iconic movie.
5. In the Still of the Night
One thing about this movie is that you can see how Baby is drawn to Johnny immediately with a hunger she can't identify and doesn't fully understand. Johnny on the other hand has had so many women throwing themselves at him throughout his life that he doesn't really notice Baby that much and kind of shrugs her off as just another woman with an infatuation. When Baby keeps coming around however and mucking about in his business he starts to notice, but he's got more resentment for her to start with than anything. As she continues to integrate herself into his life though he can't help but see her for the brave yet naive person she really is.
4. Hungry Eyes
Some people think that dancing is easy and it's all about getting the movements down. Those are the folks that upon getting on the dance floor tend to shrug their shoulders and just shuffle their feet a bit and think that they're Fred Astaire or Ginger Rogers. Dancing is actually something that you need to feel and a little more complex than just moving in the right way. There are a lot of simple tricks to get the movements down, but keeping them straight and in one continuous flow is another matter since some folks take years to master their craft while others still take a while to get the rhythm down.
3. Stay
It's already been said that Baby was a bit naive when she first met Johnny and his friends, but it also feels fair to call her a bit prudish since she had no idea how to react to the scene when she walked into their dance party. It's also fair to state that for all her idealism and desire to make the world a better place Baby lived a kind of cloistered life where her parents were the authority and life was allowed to make sense by what they told her and what she could read and watch in the newscasts. When she was introduced to Johnny's world it was a massive culture shock that she didn't know what to do with.
2. She's Like the Wind
People from different walks of life fall in love all the time even now, and while the disparity between them has lessened somewhat the idea is that a person doesn't really get to stay with someone that's below their economic status without a lot of flak from those around them. While this thinking is quite erroneous it's still something that persists today. In the movie it was used as a way to drive Johnny off and remind him of his 'place' in the order of things. Thankfully he eventually came back and defied the natural order since he knew deep in his heart that what he was doing was right.
1. (I've Had) The Time of My Life
This is the absolute best song on this list since it's the culmination of the entire movie when Baby and Johnny finally get to admit that they're together and can show what they've been doing to the entire procession. And wouldn't you know it, the people love it, as does the owner, and everyone can't help but get on their feet and start dancing. Even Baby's father admits to Johnny that he was wrong about him, approving of the match finally. Sometimes it takes going through a great deal of struggle to really show people how right something can be, even if it flies in the face of what's considered normal.
Dirty Dancing still stands as one of those movies that has been better left alone as its remakes have fallen well short of the mark.