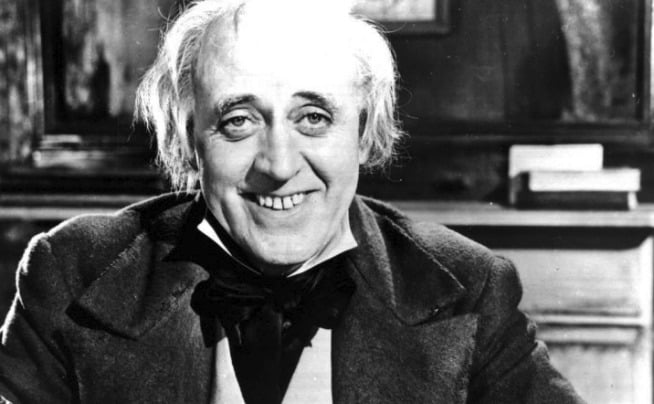 Originally released in 1843 as a novella titled A Christmas Carol. In Prose. Being a Ghost Story of Christmas, Charles' Dickens' story has become one of the most famous Christmas tales of all time. Over the years, A Christmas Carol has been made into more than a dozen movies and many of them are now considered classics. A Christmas Carol is also responsible for giving us one of the most unforgettable holiday characters: Ebenezer Scrooge. Known for his surly attitude and general dislike for Christmas, Scrooge is a prime example of what it means to be on the naughty list. Over the years, Scrooge has been portrayed by some very talented actors, but some of their performances have been more memorable than others. Keep reading to see our list of the five best portrayals of Scrooge in movie history.
1. Alastair Sim in A Christmas Carol (1951)
Although it's true that many of us weren't around when Alastair Sim played Scrooge, a lot of us have probably still seen the 1951 version of A Christmas Carol. Sim's performance is often considered the gold standard when it comes to Scrooge, and his ability to bring the character to life has captivated generations of viewers. From the face to the tone of voice, Alastair perfectly embodied what it meant to be Scrooge. Interestingly enough, Sim reprised the role in 1971 to voice Scrooge in an animated version of A Christmas Carol. Alastair Sim passed away in 1976 at 75 years old.
2. Bill Murray in Scrooged
Originally, A Christmas Carol wasn't meant to make people laugh. However, the 1988 movie Scrooged is a comedy. Starring Bill Murray as Scrooge, the movie was a success at the box office and it but an interesting spin on the popular story. That said, it received some mixed reviews from critics because some people couldn't get with the comedic twist. However, Bill Murray's performance attracted a lot of positive attention. Although Bill Murray probably isn't the kind of actor people would expect to see playing Scrooge, he knocked the role out of the park. Even though it's been more than 30 years since the movie was released, Scrooged has aged surprisingly well.
3. George C. Scott in A Christmas Carol (1984)
As mentioned earlier, there have been dozens of variations of A Christmas Carol over the years. As a result, any movie telling the story has to be pretty special in order to stand out. Luckily for the 1984 remake, it was about as special as they come. Starring George C. Scott as Ebenezer Scrooge, the movie received lots of great reviews – many of them were the result of Scott's awesome performance. Scott's version of the character was incredibly mean and especially out of touch with the consequences of his behavior. If you haven't seen this version of A Christmas Carol, it's something you'll definitely want to add to your watch list during the holiday season.
4. Christopher Plummer in The Man Who Invented Christmas
Released in 2017, The Man Who Invented Christmas is the newest movie on our list. However, Christopher Plummer's portrayal of Scrooge is still one of the best. Unlike many of the other re-tellings of A Christmas Carol, The Man Who Invented Christmas centers around Charles Dickens and his decision to write A Christmas Carol. When the movie begins, Dickens was struggling after writing three books that didn't do well. He hopes that his Christmas story will be able to revive his career and help put him in a better financial situation. The film follows him as he comes up with the story and he interacts with the characters along the way. While the film itself didn't get the best reviews, Plummer's performance was great. In a review for The Independent Critic, Richard Propes wrote, "Christopher Plummer, as the inspiration for Dickens' story, is the film's shining star and the primary reason the film's worthy of at least a modest, if unenthusiastic, recommendation."
5. Scrooge McDuck in Mickey's Christmas Carol
Mickey's Christmas Carol is the only animated film on our list, but it's still one of the best. The 1983 movie gave us one of the most memorableScrooge portrayals of all time. Like the original, Scrooge McDuck is wealthy, stingy, and cruel. He has no regard for anyone else and he will stop at nothing to protect his own interests despite what that could mean for those around him. This version of the story may be a cartoon, but it's something that appeals to people of all ages. In fact, for many, watching Mickey's Christmas Carol has become a holiday tradition.
Tell us what's wrong with this post? How could we improve it? :)
Let us improve this post!