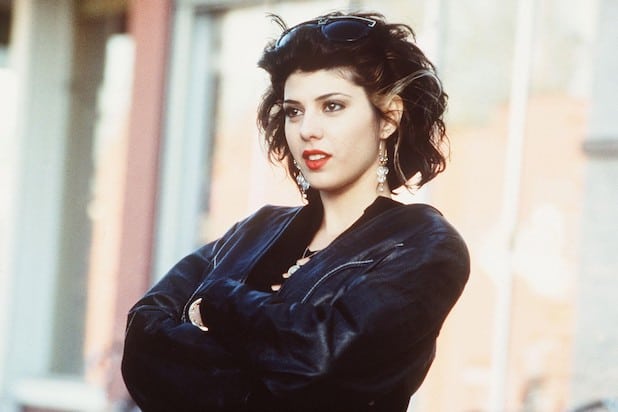 Marisa Tomei is one of the many actresses that men have gone absolutely nuts for over the years and to be honest she's only gotten better as time has gone on. In fact she's gotten more attractive and her talent has been able to weather the experience and make her into a certified legend of the screen that many people don't seem to give the time of day but will praise when she's recognized. On a personal note she is one of those that managed to turn a lot of heads not just with her looks but with her on screen attitude since she's played a lot of strong-willed female characters that have been more than capable of standing up to the male leads she's with or the other men in the film at the same time. That being said she's appeared vulnerable as well as and done just as great of a job in convincing people of the veracity of her roles.
Here are some of her best movies to prove it.
5. In the Bedroom
This movie is a moral conundrum that doesn't have an easy answer since not only is Frank in love with a woman that's older and has kids, but his parents don't seem to think it's that big of a problem until the woman's ex-husband snaps and kills their son. While dating an older woman with kids isn't the end of the world, staying away from a crazy ex is perhaps one of the safest things to do. But when the man that murdered their son is released since there were no witnesses to the crime the father finally takes matters into his own hands and gains his own brand of justice for the murder of his son. But is anyone in the right in this case?
4. Chaplin
There's never been anyone else quite like Charlie Chaplin and while his life is something of a legend there are also moments behind the greatness that didn't seem to shine so brightly. But all in all he was the kind of man it seems that inspired greatness among others while at the same time he attempted to live a life that was beyond any moral means if not monetary. Chaplin as a performer brought joy and entertainment to so many that it was hard to believe that his personal life would be such a mess, but whether the film portrayed it accurately or not it would seem that history has told the tale with a finer brush than any possibly could.
3. The Wrestler
There are times in life when one has to realize the show is over, but it's hard when the show is all you've got left. Despite reconciling with his daughter and finding a kindred spirit in Cassidy, Randy feels that the only way he'll be complete is to stay in the ring where the people seem to love him. Even after all the abuse his body has taken, all the hits and all the hard impacts that many wrestlers somehow go through night after night, he can't give it up and decides that he won't no matter how much Cassidy urges him to. Some people are meant to go out in a blaze of glory, no matter how much it hurts.
2. Untamed Heart
Tragic love stories pull at the heart in a way that few other things do since they offer such promise and hope only to have it come crashing down at the end. When Adam saves Caroline it seems as though it was meant to be, that the two of them are supposed to fall in love and be happy forever. But when he's revealed to have a heart defect that requires a transplant he refuses since he's worried that he won't be the same person that she loves. Eventually they grow closer and upon attending a hockey game it's shown that they're more than just dating. But tragically Adam dies on the way home as his heart gives out, though he leaves Caroline a note professing his love.
1. My Cousin Vinny
Mona is that woman that you don't talk down to since she probably knows more than you do about any given subject you'd want to bring up. She's the kind of person that reads voraciously and is also kind of fed up waiting for her boyfriend Vinny to make her a wife and a mother. But somehow she sticks by his side and helps him out repeatedly as she seems to have faith that he'll turn his life around at some point and do the right thing. But of course along the way she's going to give him plenty of grief for taking so long and wasting her time again and again. Love is a funny thing with some people.
She's a joy to watch, and she just keeps getting better.