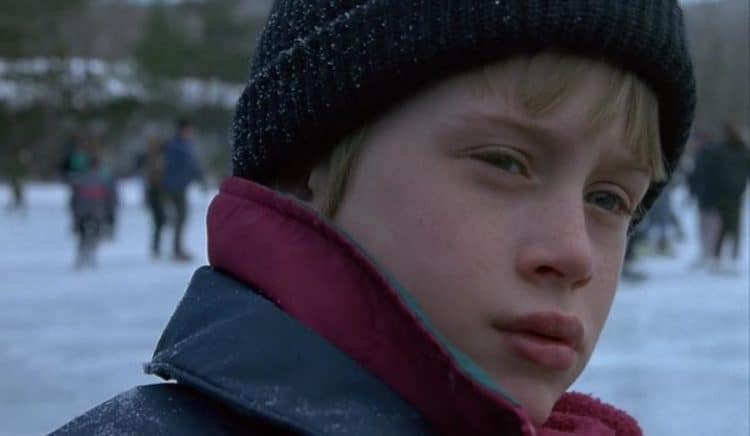 In his days as a child actor Macaulay Culkin was one of the absolute best since he had such childlike innocence and a small array of catchphrases that, in their time, worked like a charm. But beyond Home Alone some folks seem to have forgotten that he was in a few other movies throughout his career as a kid, some of which were glossed over but others that were actually pretty good if you took the time to sit down and watch them. As he got older his fame kind of waned and he didn't seem to show up as often, but he was still widely known as the "Home Alone" kid and banked a lot off of that. To be known for something you did in your childhood years isn't anything new, but to be still thought of as an icon after all that time is kind of interesting since he really hasn't done a whole lot since that's garnered even a fraction of the attention.
Here are some of his best movies from a career that's not over but isn't quite the same after all these years.
5. My Girl
Thomas was kind of a quiet character that mostly followed Veda's lead since she was the more dominant personality between them. It didn't really have anything to do with it being her movie for the most part, but she was after all the more forceful between the two and her ability to deal with the world on a much more personal level than Thomas was something that made her stand out. As good friends though this was an on screen relationship that could have become something even more special than it was, but unfortunately Thomas wasn't meant to see the end as he was attacked by a swarm of bees and killed at one point in the movie. It's kind of depressingly sad for a movie that's supposed to be somewhat upbeat.
4. The Good Son
Those that say they don't believe in evil often turn to science to try to divine just what's wrong with kids like Henry. As such kids do exist beyond the shadow of a doubt it's hard to say if it's a chemical imbalance in their brain or if they're just born with bad wiring. But some people don't have any empathy at all for others and will lash out with nothing save emotion when they feel threatened or in any way angered. Calling Henry an evil child is easy, but calling him a sociopath is easier still since he had no regard for anyone, not even his own family, when it came to getting his way. And add to that the fact that he was so good at hiding his indiscretions and you've got a classic psychopath that knew just what he was doing.
3. Rocket Gibralter
Blue is the quiet kid in the bunch but also the one that seems to be the deepest thinker since he takes everything his grandfather says to heart. When his grandfather, whose health is failing when he invites his children and grandchildren to his home for his birthday, he tells his grandkids about his wish to have a viking funeral, and even goes into detail concerning what happened and how the vikings would send their honored dead off before firing flaming arrows at the boat in order to send their loved ones on to Valhalla. While the adults are mired in their own problems, the kids are set to honor their grandfather's last request, which actually makes for a nice scene at the end.
2. Uncle Buck
Uncle Buck is the fun kind of guy that you might want to see around the holidays but not all the time until he finally gets his life sorted out. Unfortunately for the family that has to happen while the parents are away on an emergency and Buck has to get to know his nieces and nephew at the spur of the moment. It's easy to think that no one really knew what to do in this situation but at the very least Buck made the best of it, and Miles and Maizy accepted him rather quickly as their guardian. Tia on the other hand was not quite so welcoming and, partly due to being a teenager, had to make his life a living hell before she accepted him.
1. Home Alone
Yes this is a classic film since it really established Macaulay as a star. But if you take a look at just what kind of punishment these crooks go through you'd see that any thinking person would have stopped the moment they got a pellet shot into their gonads. Plus, the lack of any lasting damage done to the crooks is a great effect, honestly it makes it funny as all hell, but upon consulting a team of physicians you'd learn that the first few injuries would have done them in and had them calling it a night.
He's still popular after all this time largely because of these films.
Tell us what's wrong with this post? How could we improve it? :)
Let us improve this post!