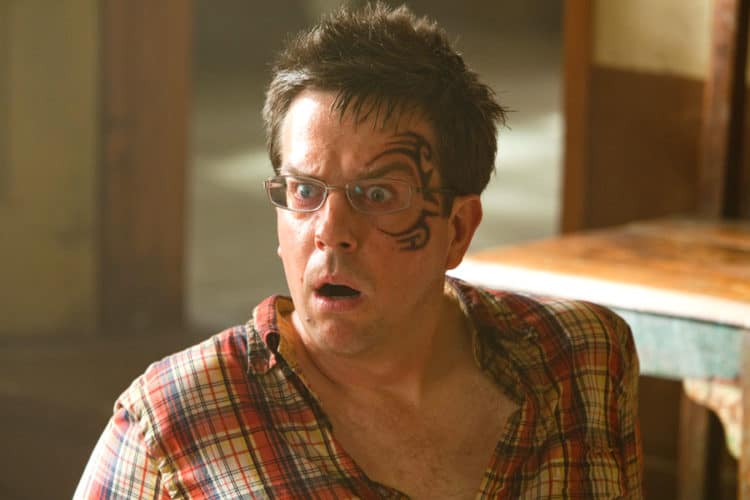 For a guy that was going to originally be a geology major in college Ed Helms certainly picked a different and correct course for his life since comedy and acting has been quite good to him over the years. If you read the list of movies and TV shows he's appeared on you can see that he's become one of the most famous and favored faces in Hollywood these last several years and has been someone that people can't help but laugh at and with since he's just that funny. It's thankful and interesting however that he's excelled in drama as well since there are those movies in which he's been seen as a much more touching and deep figure that doesn't rely on getting a laugh every single second. It's kind of regrettable that his movie Vacation didn't do all that well and seemed like a poor follow-up to the overall series of movies, but apart from this he's created a legacy thus far that is nothing short of uproariously funny.
5. Father Figures
Imagine that you don't know who your father is and have to go in search of him only to find that your mother was promiscuous back in the day and that you can't possibly find out who he was. Once the brothers finally discover that their mother adopted them and that their birth mother was never fully known, they come to realize that their lives are all the better for having gone on the quest to find out just who they are. This is a movie that those who are adopted might find kind of amusing and even kind of eye-catching since it doesn't give a lot of answers, except for the one that matters, which is to keep moving forward.
4. The Lorax
It's a little obvious that this movie took the story way beyond its original limits and did so in a manner that was meant to up the ante and take the message of the book to a new extreme. But in doing so it really managed to create something that's a little preachy in some ways but is still an enjoyable movie that allowed the voice actors a lot of fun and engaging messages that were seen throughout. Ed got to voice the part of the Once-ler, the lonely hermit at the beginning, and we had the chance to see him in a manner that was a little easier to relate to and was also a little more revealing because of that.
3. We're the Millers
This movie was really more about Jason Sudeikis and the group that he led on a drug-smuggling trip to Mexico, but Ed was an important character for part of it. After all David wouldn't have assembled a 'family' if Brad hadn't given him no other choice. The movie was hilarious in many ways since despite being highly illegal the satirical nature of it became almost cartoonish in some ways but still stayed in the realm of the possible most times since it didn't go so over the top that one might feel that it was designed to be more slapstick than anything. In other words, it was a physical comedy that relied more on tone and appearance than anything else.
2. Tag
One of the best parts of this movie is, as Lucy Rennick of Junkee reminds us, that this is based on a true story. A group of friends actually kept a game of tag going for three decades and it was finally noticed and turned into a movie. The cast couldn't have been much better since it featured a few different stereotypes to make it just a tad more interesting. It was also dynamic enough that it added in a good deal of humor to what is actually kind of a touching movie. When Hogan goes off to find his buddies for what they believe is their annual game of Tag he has something else in mind, he wants to finally tag Jerry, the only one among them that's never been tagged. He does have another reason for this however that he doesn't reveal until it's too late.
Poor Stu. That seems to kind of sum up his part in these movies since while he is a full member of the group and is able to claim a lot of moral high ground, Stu is usually the guy that gets it in the end in these movies, literally in the second movie. In the first one he pulls out his own tooth, in the second he gets a facial tattoo and has an ill-fated trip to a strip club, and in the third he still has to go along with the guys to make everything right and finally help bring things back full circle. So yeah, poor Stu seems to be a good way to say it.
He's a funny guy with a dramatic side.