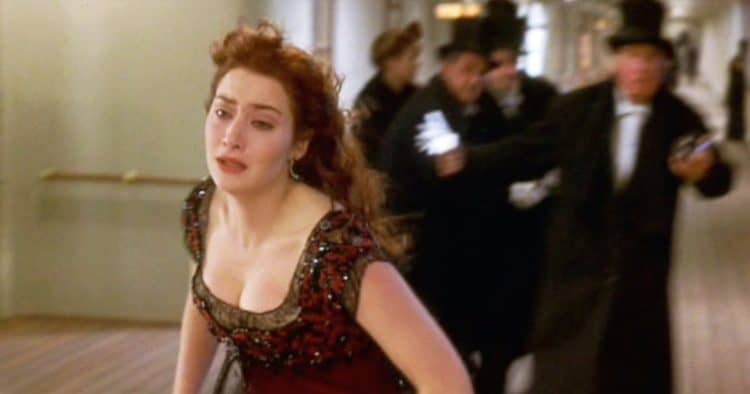 We are lucky to be born during an era where we are still able to witness the greatness of Kate Winslet. The English actress is best known for her portrayals of strong and independent characters, in which she has won numerous awards for. She is easily one of the most-respected and gifted actresses of her generation. Winslet gives her all as soon as the camera starts rolling, and is not afraid to be vulnerable or show the rawest of emotions. This fearless attitude and love for her craft has gifted us with memorable characters whose lasting impact has managed to stay with us through the years. Here are the five best crying scenes of Kate Winslet in her films, in no particular order:
5. Titanic
The award-winning film by acclaimed director, James Cameron, has proven to be a timeless masterpiece. The epic romance incorporated historical and fictional aspects to its visualization of the RMS Titanic's tragic sinking during its maiden voyage. It also gave life to the star-crossed love story of Jack Dawson, portrayed by Leonardo DiCaprio (The Revenant) and Rose DeWitt Bukater, portrayed by Winslet. The scene where Jack sends off Rose to hop on a life boat, while he awaits his own chance to escape the sinking ship is a cinematic experience on its own. The two characters may have just met, but the feelings they had for each other surpassed time and reason. The tearful goodbye coupled with beautiful cinematography and a goosebump-inducing soundtrack turned into one of the most romantic moments in the film, as Rose changes her mind and jumps back on the sinking ship to be with Jack. Nothing, not even death, could bring the two apart.
4. Revolutionary Road
The reunion project of DiCaprio and Winslet after their wildly successful collaboration in Titanic was such a treat for the duo's fans. The romantic drama tackled the real-life challenges that faced the marriage of Frank Wheeler, portrayed by DiCaprio, and his wife April, portrayed by Winslet. The confrontation scene where Frank finds out that April was trying to abort their unborn child was gut wrenching and heartbreaking. April was a lot soul whose ambition made her do thoughtless actions. Frank on the other hand, lacked the care and support that April was seeking. Witnessing the blossoming of their romance to the demise of their marriage was a harsh reality check, and proof that marriage really takes a lot of work and effort.
3. Eternal Sunshine of the Spotless Mind
The romantic science-fiction film followed the story of an estranged couple, Joel Barish, portrayed by Jim Carrey (Bruce Almighty) and Clementine Kruczynski, portrayed by Kate Winslet, who have erased each other from their memories. It's a heartbreaking storyline that explored the psychological connection of memory and romantic love. The ending scene where Joel goes after Clementine and tells her he is okay with going on with their blooming relationship despite knowing that this could lead to a bad and painful breakup speaks loads about the extents people can go through for love. The film was the epitome of the famous saying that, "It is better to have loved and lost than to never have loved at all."
2. The Reader
The romantic drama that won Winslet her first Academy Award told the story of Michael Berg, portrayed both by David Kross (War Horse) and Ralph Fiennes (The English Patient), who had a sexual relationship with an older woman, Hanna Schmitz, portrayed by Winslet, when he was just 15-years-old. Hanna disappears only to resurface a couple of years later as a defendant in a war crimes trial that is connected to her past association with the Nazis. The court room scene where Hanna admitted that Auschwitz was indeed an extermination camp, but denied that she had anything to do with hundreds of women who perished in a church fire had viewers at the edge of their seats. Hanna's co-defendants refuted her claims, and put her in a dangerous position. Michael, who witnessed all this, suddenly realizes the secret that Hanna has been hiding all along, and uses this information to potentially save her. It was a heavy movie with performances that certainly packed a punch.
1. Mare of Easttown
Winslet's small screen comeback in the HBO limited crime drama series was certainly one of the best television moments of 2021. Winslet portrayed the role of Mare Sheehan, a seasoned detective who was in-charge of investigating a murder in a small town. Mare seemed like this stoic and strong person who got it all together but in reality, she is this broken woman who has had to go through so many tragedies in her life. The scene where she is struggling to come to terms with her son's suicide is so emotional and painful. Winslet crushed her portrayal of a fierce but unhinged woman who has her family and community's best interest at heart.
Tell us what's wrong with this post? How could we improve it? :)
Let us improve this post!