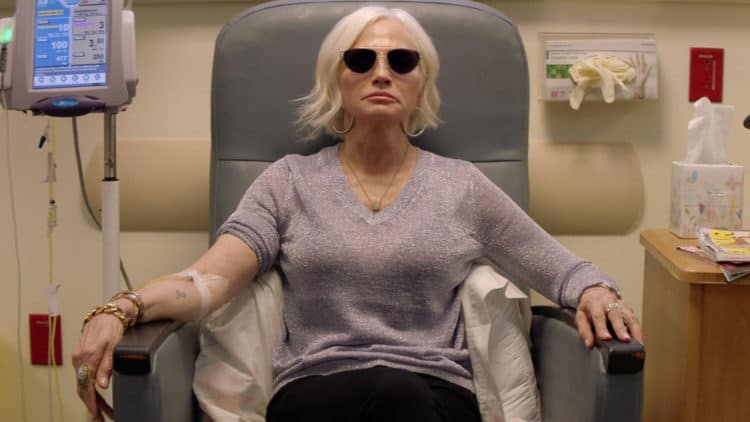 Smurf's time on Animal Kingdom was coming to a close, at least that's what a lot of people would probably say if asked since being diagnosed with cancer has left a lot of characters looking for a better way to go out until acceptance has finally come. But judging by what has been said by the producer and by Ellen Barkin things might not be as simple as all that. Her costars were apparently on board with writing Smurf off, though Barking did manage to make a remark that the show was actively killing her off, though one has to wonder if she was joking around or really trying to sow discord in some way. It's hard to tell really, but a cancer diagnosis, even if it's not the immediate end of the world, is something that will eventually take a character off the cast at some point, in some way. Look at Breaking Bad and Sons of Anarchy, as both shows featured those who were dying from cancer, Walter White and Wayne Unser respectively. Both of them attempted to do something else to make their lives worth living, though one became the monster of his own show while the other was eventually killed by one of the very individuals he'd sought to protect for so long. Smurf was a different character altogether since there was very little good about her considering that she was a schemer that had very few redeemable values once a person saw past her facade.
But the explanation of needing to keep the show fresh and move in a positive direction is a bit of a dodge since if anyone's been paying attention over the years they might have noticed that a show can be kept fresh and upbeat while still keeping various characters around, perhaps in a diminished capacity or in a manner that begins to show their eventual decline as they struggle to hold on to whatever they have left. In other words, it might have been possible to keep Barkin around without sacrificing the integrity of the show, but one thing is evident, and it's something that people might not like to hear but is still true. Killing Smurf invites a new direction for the show that could dissolve the Cody family in a big way, or could strengthen them in a way that hasn't been seen yet since if one is being honest, Smurf was a huge influence on all of them in one way or another, and while that influence wasn't always positive it was still felt and it was still something that the guys had to move around at times. If there's a 'real' reason to why Barkin is leaving the show, it's bound to remain hidden behind the explanations that the producer and Barkin are both doling out at the moment since the fact is that both stories are different enough that it's hard to rely on either of them entirely, though some might want to take the producer's word since it's better to simply accept that someone is getting cut from a show than to dig too deep and find out an unfortunate truth.
On the other hand, there are likely plenty of people that will go with Barkin's explanation since let's face it, the mere fact that a woman is getting cut from a show is one reason for many people to grab up their phones and get to typing about sexism on TV and inequality. Hopefully it won't come to that, but the fact is that many people do stand beside the actors they enjoy when it comes to reasoning over why they've been cut from hit shows that they helped to start. If that's the rationale that's going to be used though it won't be too long until many people realize they're following someone else's line of reasoning 'just because', which is a horrible reason to do a lot of things. Ellen Barkin isn't exactly a struggling actress, nor is her reputation about to take a hit after being cut from a show where her character was already on a serious downward slide. People might want to remember how Gemma from SOA started to decline after a while, especially after killing Tara, as every decision she made had to be second-guessed and those that she went ahead and executed at times went awry in the most horrible ways. While Smurf wasn't Gemma, she was by far and large someone that felt as though she was about back herself into a corner, where killing her would be the only option left, sad as that sounds.
Taking one side or the other in this matter wouldn't amount to much since it's been done and it's over with. No matter if Barkin is happy with the move, the fact is that Smurf's days on Animal Kingdom will be relegated to flashbacks as of now.