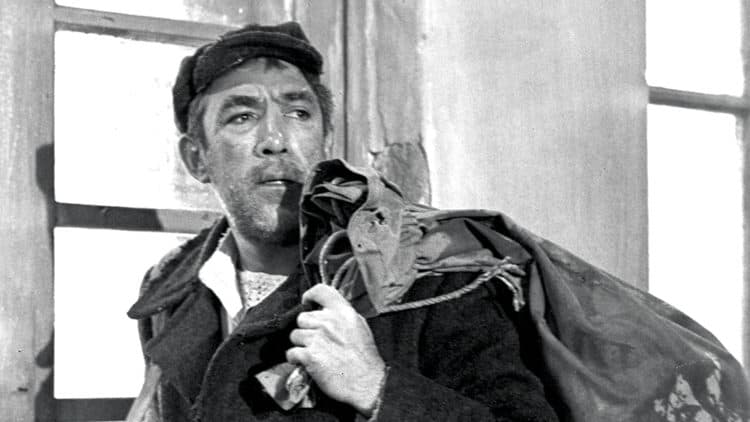 It's kind of interesting to learn about Anthony Quinn since if you didn't already know he used to box to make money way back in his day. He even studied architecture with Frank Lloyd Wright, and when he got into acting after being offered a contract he had no idea what to do. When you look at someone's career and see just how great they've done over the years and then learn this kind of thing about them it's hard not to be amazed since legends can in fact be created out of next to nothing. But anyone that's followed Quinn's career and enjoyed every bit of it has to know that he was one of the most expressive individuals in the business and also had the distinction of being one of the most laid back on camera when it came down to his many roles. The breadth of his talent was simply amazing, and it's likely that a lot of people would agree that he's one of the many that will be seen as one of those that we won't be likely to see again in our lifetime.
Here are the five best movies from his career.
5. A Walk in the Clouds
I had to add this one since he gets to play the part of the cool old grandpa that's just so relaxed and laid back that almost nothing really gets to him. The story itself is what some might call a chick flick since it's about a soldier that comes home to find that his significant other has been cheating on him, and yet he doesn't care since he doesn't feel much for her anyway. When he meets a woman who's pregnant but unmarried he decides to do her a favor by acting as her husband so that her father won't be angry with her, but of course this only leads to more problems since no one knows who he is and when they find out that he's essentially a nobody her father is even angrier.
4. Lust for Life
Anthony actually won an Academy Award for this movie and it's not too hard to see why since the story of Vincent van Gogh is one that many people have been interested in for a very long time. Even Paul Gaugin, who Quinn played, is an interesting character that many people have taken after, and the time period in which the movie was set was one that a lot of folks have studied at length as it's produced a number of very vivid and rather entertaining tales that have been taken in many different ways and inspired one movie after another and even helped to create pop culture in a way.
3. Lawrence of Arabia
Funnily enough Quinn did his own makeup for his role in this movie and was mistaken for someone else when he came on set. That's how convincing he really was since he had a picture of the man he was impersonating and did such a great job that it fooled even those that knew him. Many of us likely remember this story from school as some of us were likely told to research it for a project or as part of our studies throughout history class or perhaps literature. It's a very intriguing story really but kind of long for the likes of some folks and does tend to drag in a way, but it's still an epic to this day.
2. The Guns of Navarone
Dangerous missions in war movies are by far one of the best stories out there since they involve very real risk and the idea that not everyone is going to make it back. As one of the only survivors of the mission to Navarone to take out the guns that are harassing the allied forces, Stavrou, Quinn's character, eventually decides to stay on Navarone for the woman he loves. One has to imagine that those that had actually seen combat either took this movie to heart or rolled their eyes and stated that nothing they'd seen was really how it was in the field. That's the only downfall about war movies is that a lot of what's on the screen is usually beefed up to such a degree that it's hard not to criticize it for a serious lack of realism.
1. Zorba the Greek
Some might see madness in this story but there is more order to it than you might think. It's not as meaningful as it could be but it's still a nice and entertaining tale with a good deal of emotion and a very telling look at humanity and how little it takes to rile people up and get them to do unspeakable things. Zorba and Basil aren't perfect men by any means but their desire to live and to enjoy life is taken very differently by both men and as a result they both come to a crossroads by the end of the movie that one could almost expect to happen sooner.
He was one of the greats, without a doubt.
Tell us what's wrong with this post? How could we improve it? :)
Let us improve this post!