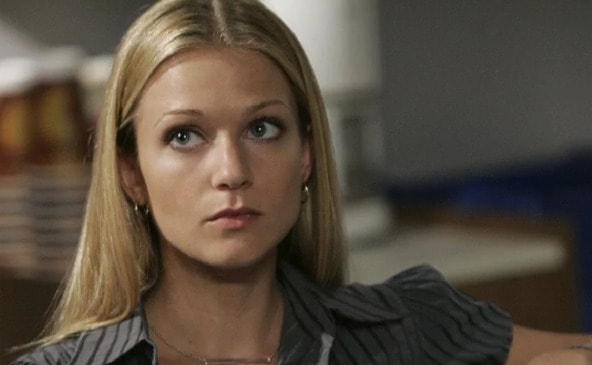 You might not believe it but A.J. Cook started out pretty humbly as a child. In fact she was declared legally blind in the 2nd grade since she had a very severe astigmatism. She managed to correct this however thanks to contacts and thick glasses that helped to correct her vision. In 2007 she went through a surgery that a lens implant was used to correct the impairment. From that point she went on to become a dancer since she'd been doing this since the age of four. She gained proficiency in jazz, tap, and ballet and competed for years before making up her mind at 16 years of age to go on and try acting. She was also a dance instructor at one point and has admitted that if she hadn't have become an actress she would have been teaching in a small dance studio somewhere by now. She still tap dances, but she's pretty happy where she's at in her career.
So let's see how that evolution from dancer to actor went.
In 1997 she was featured in a McDonald's commercial.
That's not too bad of a start really considering that she wasn't actually working IN McDonald's and was more of a model/spokesperson for the restaurant chain. Everyone's got to start somewhere and there are a lot of worse spots to start in than this. In fact starring in McDonald's commercial would likely seem as though it was a big break for a lot of people since McDonald's gets some serious attention and people tend to see the commercials on a regular basis. Some folks even find themselves humming the tune that was created some time ago. So A.J. couldn't have found a much more public commercial to start with since this would allow her to become known throughout the world since the commercials were aired so often.
The Virgin Suicides was her breakout role.
As Mary Lisbon she was one of the suicidal sisters that rounded out the cast and made this a very awkward coming of age movie that turned out to very depressing and insightful. The whole angle of the film was disturbing in a way since the five sisters were kept under lock and key and were so pent up that they just wanted to get out. But the fact that they were suicidal was kind of unnerving, and the manner in which the boys handled them and their obvious issues was even more so. It paints a strange picture of adolescence that many people felt almost shaken by after watching the film, but it was one of those that managed to spark her career and turn into something that would keep rolling on as she kept going.
Her career then culminated when she reached the cast of Criminal Minds where she became a fan favorite.
In 2005 she took on the role of Jennifer "J.J." Jareau on Criminal Minds and people grew to really love the character. Unfortunately in 2010 it was discovered that her contract would not be picked up for season six due to budget cuts. She was allowed to return for two more episodes in order to wrap up her story line. This came on the heels of thousands of letter and petitions that were written to the producers of the show. A.J. also returned for one episode when Paget Brewster left the series. By 2011 however it had been discovered that she'd signed on to reappear for two more seasons, which assuaged the anger of the fans for at least a while.
A.J. has come a long way since her time spent on the McDonald's commercial and has become a well-respected actress that has won the hearts and minds of many audience members with her various roles. It's enough to say that she started out simple and became something of a titan during her run, someone that didn't always seek out the biggest, most influential parts, but was relentless in what she wanted and didn't quit. She did seem to take it easy at a certain point and not take on too many projects, but this could be attributed to a number of things, chief among them that she might have wanted time to stay at home and raise her family, since she and her husband have two children, both of whom have appeared on the show Criminal Minds.
Whatever the case the act of becoming anyone's favorite or even becoming a fixture in a show like Criminal Minds means that she hit upon a character and a cast that was there at the right moment and offered her a chance to be something that she was wise not to pass up on. This is the kind of show that could make or break a career and it's definitely done wonders for A.J. Hopefully moving forward she'll be seen in even greater roles.
Tell us what's wrong with this post? How could we improve it? :)
Let us improve this post!