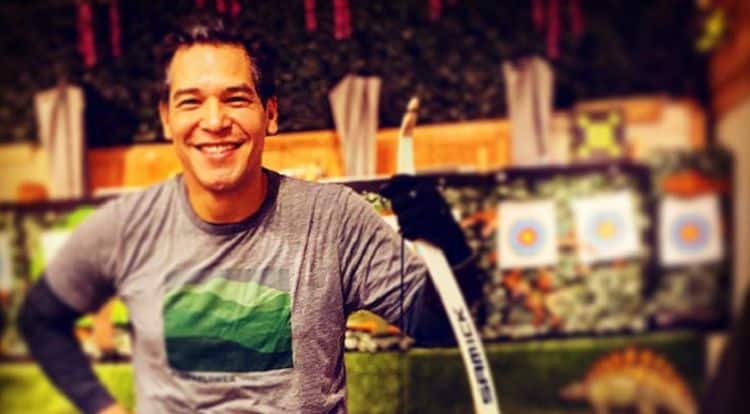 If you're a fan of FBI's new spin-off, FBI: Most Wanted, you're no doubt familiar with the name Nathaniel Arcand. The Canadian actor takes the role of Clinton Skye, starring alongside other industry heavyweights like Julian McMahon and Lorne Cardinal in what promises to be one of the shows of the year. Find out more about the actor with these ten fast facts.
1. He embarrassed himself at the AMPIAs
One of Arcand's most famous roles (and indeed, his first ever on TV) was in North of 60. The actor portrayed the character of William Mac Neill for 3 years between 1994 and 1997, picking up numerous accolades in the process. One such honor was an AMPIA award: although delighted with his achievement, the ceremony itself isn't something Arcand recalls with fondness, as he shared with The Edmonton Sun. "When I won the AMPIA award for my role in North of 60 and when I went to accept the award, I did have a speech but it turned into a very nervous squeaky "TTtthhaannkkss…". Embarrassing."
2. He's a multi-award winner
Winning the AMPIA for North of 60 may count as one of Arcand's most embarrassing moments, but fortunately, he's had plenty of opportunities to redeem himself since. The actor has won numerous awards and nominations over the course of his career, including a Best Supporting Actor at the American Indian Film Festival 2005 for Johnny Tootal, a Performing Arts Award at the Aboriginal Role Models of Alberta 2006, a Best Actor Nomination at the Winnipeg Aboriginal Film Festival 2010 for Two Indians Talking, and a Best Actor Nomination at the American Indian Motion Picture 2010 for Two Indians Talking.
3. He made his film debut in Savage Land
In 1994, Arcand made his film debut as "Tree Climber" in Savage Land. His appearance may have been fleeting, but it did at least give the actor that all-important foot in the door. Since then, he's appeared in numerous productions, with some of his most notable movies including Crazy Horse (2006), Chasing Indigo (1999), American Outlaws (2001), Elektra (2005), Two Indians Talking (2010), Dead Again in Tombstone (2017), and Cold Pursuit (2019).
4. He's teaching his family about their cultural inheritance
Arcand, who has three kids (his eldest, Griffin, is an up and coming actor himself), believes that sharing his cultural inheritance with his family is one of his most important "dad duties". "With my youngest, we try to take him to the occasional pow-wow or round dance," he told Soar Magazine. "We make sure to do that. It's important for me and important for his development, I think. And even though I don't speak Cree fluently, I still try to teach a few words here and there."
5. Bruce Lee inspired him to act
When Arcand was 6, his mom took him to see "The Chinese Connection" at the drive-in. Arcand was so inspired by Bruce Lee's performance, he decided then and there that he wanted to be an actor… although like most kids, he flitted between ambitions as he grew older. "I recall it because I was so fascinated by the martial arts and the acting," he explained to CBC. "I told my mom right there that I wanted to be like Bruce. I know she said something like "follow your dreams son." But later on, I wanted to be a police officer or a fireman – something where I could drive a vehicle with sirens. The funny thing now is I have played all of those roles and done those things in different movies and tv shows."
6. He's played his hero
Growing up, Arcand, like most kids of his generation, was obsessed with The Lone Ranger. "I watched the Lone Ranger when I was a kid," he said. "I always wanted to be the Lone Ranger or Tonto, it didn't matter to me which one." Little did he know that 20 years later, he'd get to do exactly that when he landed the part of Tonto in The WB's TV movie reboot of the classic series. He clearly had a great time reliving his memories of the show, telling his official fan club "It was a good time. I felt we kept true to the original story."
7. His motto is "never stop learning"
In the early days of his career, Arcand took numerous acting lessons, something that, as his work attests, clearly paid off. These days, Arcand is using the skills he's learned over the course of the last 30 years to help the next generation, regularly teaching at community acting classes. Not that he's shaken off his own student days entirely. In line with his motto, "never stop learning", he still takes the odd acting class himself, proving the good teacher will always be a student at heart.
8. He's worth $5 million
At 48 years old, Arcand is one of the most respected actors in Canada, with a string of hits to his name that includes everything from North of 60 and Heartland to Two Indians Talking and Cold Pursuit. As well as being honored with numerous awards, the actor's efforts have been rewarded with some pretty hefty paychecks, the sum total of which add up to a very respectable net worth of $5 million.
9. He's a father of three
Arcand is the father of three kids, a daughter, Trisha, and two sons, Jaden Plaizier and Griffin Powell-Arcand. To Arcand's delight, Griffin has followed in his footsteps and is currently carving out a career as an actor. In 2003, the pair even got to share screen time when they both featured in Hallmark Entertainment's 2-part TV mini-series, Dreamkeeper.
10. He loves to cook
When he's not acting up a storm, Arcand can usually be found cooking one up in the kitchen. The actor cites cooking as one of his favorite pastimes, just topping the list above watching cookery TV shows like Chopped.