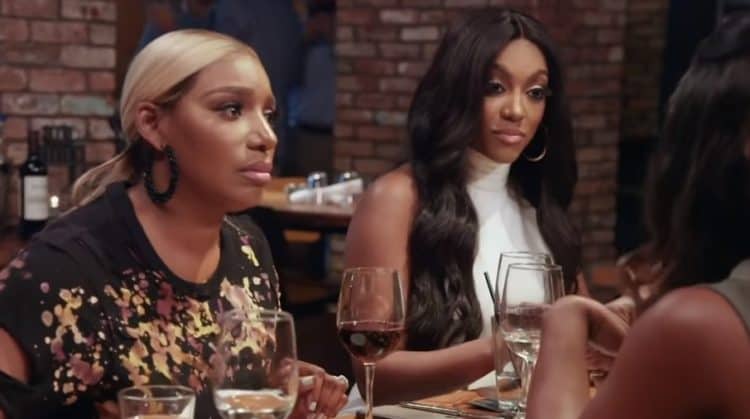 The reality television series Real Housewives of Atlanta had a few crazy moments during the 11th season. There were a few moments that made our jaws drop even though we've come to expect some drama from the group. If you missed out on a few episodes or haven't been able to tune in yet this season, we have highlights of the five craziest moments of RHOA right here to bring you up to speed. The cast were at their finest and included Kandi Burrus, Nene Leakes, Porsha Williams, Eva Marcille, Cynthia Bailey and the anticipation of the latest cast member to join the group, Shamari Devoe. Here are the scenes that you absolutely need to know about.
1. Kandi Burrus gets daughter Riley's honest feedback on parenting
This scene is a little surprising and in it we find out what daughter Riley really thinks about Kandi's notions of having one or two more babies. They're all sitting down for a meal and Kandi brings up the fact that she still has two frozen embryos available. When she hints at the possibility of expanding the family again, Riley makes it very clear that she is not in favor of the idea. Riley isn't being cruel to her mom but rather, she's pointing out the fact that she works too much to consider having any more babies because she's away from the little ones that she has right now and it's obvious that she's not considering the ramifications of bringing more kids into the mix. Riley seems to be the voice of reason in the conversation.
2. Greg Leakes has cancer
This is another moment that was monumental in season 11 which takes place in the third episode. Although Greg learns that he is considered to be cancer free at the moment, the doctor warns that there may be microscopic cancer cells that still remain in his body that have gone undetected. He strongly urges chemotherapy treatment to lessen the chances of Greg having a recurrence. If you missed previous episodes, Greg had surgery to remove the stage 3 cancer that was found in his colon. This isn't the news that he and Nene wanted to hear. They're aware of the side-effects that can be caused by chemo and it's something that Greg doesn't seem willing to do at this time.
3. Kandi Burrus knows things about Porsha's new Boo
This scene is a classic on RHOA that tells us there's a lot more drama to come in the future. Porsha is going all in with the relationship and she's not playing her cards very close to the vest on this one. Kandi Burrus lets us all know that she's heard a lot about the guy already because she's dated a few girls that she knew. She issues a warning that Porsha needs to pace herself with this guy but she gives her word to stay out of it and let the chips fall where they may. Do we really think she's going to be able to do this? The guy hasn't even made his debut on the show yet and she's already taking the dude ring shopping. Is it tacky that they shopped at the same place her ex bought her a ring?
4. Porsha and Kandi go down the wrong road
This is an awkward scene that shows things falling apart, ever so slightly as there is a question about who's populating the gossip grapevine this time. Kandi said something about Porsha's man and the girls are seated around the table and lay it all out on the table. Did Nene tell Porsha what Kandi said about her man? It's somewhat of a clearing of the air but the sparks are flying, although everyone is making an effort to keep things low key. We can feel the tension at this gathering as there is a lot of fast talking and explaining going on with a few denials as well.
5. Eva is the subject of Tea
Cynthia Bailey leaves some strong clues that she's going to be facing off with Eva Marcel over last year's situation with Will. She addresses the gossip that she's heard and it opens up a can of worms. We all know that Cynthia is not one to back down when she's confronted and this was just another of the crazy moments that took place during the eleventh season.