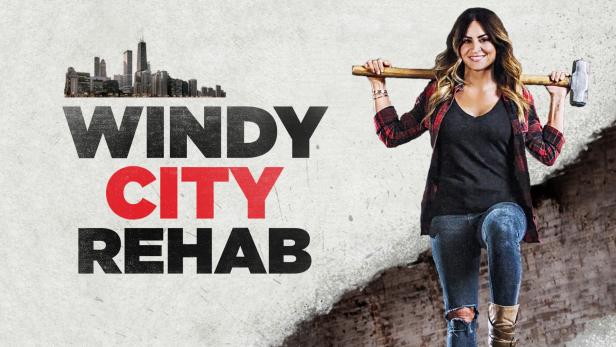 "Windy City Rehab" is the latest home improvement show to air on HGTV. The show premiered on January 1, 2019. It's not just any home improvement show. "Windy City Rehab" focuses on the restoration of vintage homes in historic Chicago neighborhoods. It stars DIY Network and HGTV star Allison Victoria and contractor Donovan Eckhardt. The pair set about purchasing run down homes built between 1880 and 1980 and restoring them to their historic and architectural heritage. They're considered "Boutique Designers". Here are 10 things to know about "Windy City Rehab".
1. It stars Allison Victoria
Allison Victoria is no stranger to HGTV rehab shows. Best known for 9 seasons on DIY Network's "Kitchen Crashers", Victoria has been a staple of home improvement shows for years. The popular HGTV star is excited to return to her roots and restore homes to their original glory in her hometown of Chicago. Allison Victoria kicked off her new show "Windy City Rehab" on January 1 with a special All Premier New Years Lineup looking at HGTV pilots and season premiers including "My Lottery Dream Home" and "House Hunters" as well as a sneak peak at 2019's "Dream Home in Whitefish Montanna".
2. Who is Allison Victoria
Allison Victoria is from the Bucktown neighborhood of Chicago near Lincoln Park. When she was just 10 years old, Victoria convinced her mom to let her remodel the family basement. Her love of interior design led Victoria to open an Interior Design Firm, "Allison Victoria Interiors" which is located in Chicago and Las Vegas. Victoria also has a line of furniture and home furnishings. Her dynamic personality and knack for home design led her to host DIY Network's "Kitchen Crashers" for 9 seasons. Victoria has hosted several shows on HGTV and is excited to showcase her latest adventures in home design in her hometown of Chicago.
3. Donovan Eckhardt
The lead contractor on "Windy City Rehab" is Donovan Eckhardt. Eckhardt is the owner of BE Custom Millwork and VizCorp, Eckhardt Properties in the Greater Chicago area. He brings his skill and passion to "Windy City Rehab". Allison Victoria has described Eckhardt and his approach to architecture as calm and level headed where she can be more like a tornado. The two balance each other as they tackle some difficult rehab projects.
4. It focuses on restoration of historic homes
"Windy City Rehab" isn't just a home improvement show. Allison Victoria, contractor Donovan Eckhardt, and their team work on vintage homes in some of Chicago's most historic neighborhoods. The homes they are rehabbing were built between 1880 and 1980. Many of the homes they tackle had been converted to duplexes and condominiums. Some have become eyesores in the most popular historic neighborhoods of Chicago. "Windy City Rehab" looks at the careful details of restoring these homes to the original grandeur, focusing on the original architecture while adding modern amenities.
5. It's tougher than most home improvement shows
Unlike most home improvement shows, "Windy City Rehab" faces many more obstacles. The logistics of restoring vintage homes can be difficult to tackle. The crew finds a lot of risks along the way. They face problems getting permits. They fight logistics and tackle heavy financial burdens to recreate these homes. They often deal with structural damage, and they have to deal with Chicago's winter weather. Along the way, "Windy City Rehab" offers lighter moments to alleviate the tension with its great crew.
6. Finding material
Allison Victoria and her crew work diligently to focus on the homes' architectural aspects and finding the right material to work with to restore the homes. As they restore and modernize the home's interiors, they find ways to enhance each home's original architectural elements. For example, in one home, the focus becomes a beautiful fireplace and mantle which the team works diligently to restore to its original grandeur and becomes the focus of the home once again. Victoria loves finding artifacts from the home's original time period and bringing those back to life in the homes.
7. Brick
Allison Victoria and her team on "Windy City Rehab" often use brick to rebuild the exterior of the homes they work on. Often many of the homes they work on had been converted and the brick exterior done away with. Allison Victoria notes that after the Chicago fire of 1871, brick became a popular frame for new buildings and home. Victoria loves to restore the homes exterior to their original brick which is often inexpensive and easy to salvage.
8. The first house
Episode 1 of "Windy City Rehab" shows the 9 month restoration of a home in Allison Victoria's neighborhood, Bucktown. Bucktown has become a trendy area in Chicago with quaint streets lined with brownstones, townhouses and industrial lofts and a vibrant nightlife. In the premier episode the crew tackles a home that was built in 1903 in Bucktown. During the 9 month project the crew tackles difficulties including crumbling walls and Chicago's winter weather. They restore the home to what Allison Victoria calls a "sophisticated cottage" with an A-Line roofline. The home sold for $1.3 million.
9. Other houses
"Windy City Rehab" has its share of difficult yet beautiful homes that are restored. Most of the homes were converted to duplexes or multi-family units. In the second episode the Victoria, Eckhardt and their team tackle a boxlike home on Wabansia that had been converted in the 1990's. They deal with expenses and delays reconverting a Lincoln Park four-plex to a single family home in another episode. In other episodes the team tackles a split level home and a Skyline Penthouse.
10. Popularity
Just into the first season of "Windy City Rehab", HGTV fans are already excited for the series to continue. Allison Victoria brings her unique and exciting personality into her rehab projects. It's clear she is happy to be working to improve the historic neighborhoods of her beloved hometown of Chicago.