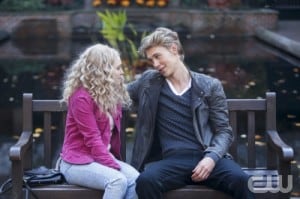 Carrie and Sebastian haven't had much time alone on The Carrie Diaries, with Donna doing everything in her power to come between them and Carrie being grounded for being late the night of the dance. The two are, however, still going strong and he asks her to sneak out and accompany him to the local country club, which his father has joined and will be dragging him to that weekend. Carrie declines over fear of being caught by her father, but she might have been better off going, seeing as how Donna was there and shared a table with Sebastian. They find an excuse to leave their parents and head out to a bench to smoke pot; Donna tries to get him to hook up with her, but he remains true to Carrie.
The following Monday, Donna struts into school wearing his dinner jacket and makes a point to give it back while he's talking to Carrie, insinuating that the two had hooked up during the weekend. Carrie gets upset thinking that Sebastian had cheated on her due to her "good girl" image; he informs her that while he might like to get wild and party, even needing to now and then, he never wants to with her. He doesn't need to escape when he's with her. Later, he calls her at work to invite her to a Blue Oyster Cult concert and she accepts.
While Carrie was at work, Donna again tried to make a point to Sebastian, only this time she was extra nice to Mouse while hanging out with the blonde bad boy. This bit of news makes Carrie determined to spend time with her and she blows off plans to hang out with Dorrit at the swim club to be with Sebastian – at the swim club. Carrie and Dorrit had been getting along much better following the grounding, but when Dorrit still pops up at the club, the littlest Bradshaw feels betrayed and leaves. She goes home and tells their father what Carrie's doing and who she's doing it with, Mr. Bradshaw ending up walking in on the two kissing in the pool. Everything seems to get smoothed over until he bans Carrie from seeing Sebastian after finding out the name of his father.
That night, Dorrit, Mouse, and Maggie come over to hang out with Carrie, who is officially off grounding. Sebastian stops by and asks about the concert; Carrie declines to go and doesn't tell him about what her dad said.
Dior No Dior
Carrie thinks that she has two weeks until the shoot with Interview, but Larissa gives her a call one day during work and tells her that the shoot had been pushed forward – to that day. Carrie still had quite a bit of work to do and a strict boss to please and though it went against her instincts, she decided to go for it and leave work to go to the shoot. Larissa held the key to the glamour and decadence that she wanted for her own life and if she didn't go, she might not have been able to experience her dream. Carrie makes up a story to tell Barbara about the need for extra binders; while the woman agreed to let her go, she reminded Carrie about the school credit aspect of the internship (i.e if she didn't get her work done, there'd be no signing off for credit) and gave her other things to do while out, including picking up lunch and finding a case file.
The shoot was all bright colors and fur coats and took place near the water. Carrie can only stay for a little bit before heading out to do errands, though Larissa gives her a one-of-a-kind Dior scarf as a gift before she goes. All the errands get done and Carrie manages to take Larissa's advice about "faking it til you make it" regarding acting confident around her boss, which works – even if she had to give up a Dior to keep her secret life private.
True to Yourself
Maggie and Walt still aren't having sex or being physically intimate, much to her chagrin. After he didn't seem into receiving oral sex from her, she tries cornering him in the hallway and getting handsy in public, which he calls desperate and smothering. However, he finally decides to take initiative and surprise her after school with an offer to consummate their relationship. The problem is that Maggie, whose father is the Chief of Police, was hooking up with a cop in the back of his car; when they finished, she had him lie with her, as she had never felt that type of intimacy with Walt before. Maggie returned home after Walt had waited for four hours and he breaks up with her, as he wasn't ready to have sex with her after all and didn't care if she was out with another guy. While he did comfort her quite a bit, Maggie later goes to Carrie's for a little girl time.

Additional thoughts and observations:
-I'm not typically into blonde guys, but Sebastian's "just imagine what we could've done with the other 19 seconds" thing was especially hot.
–MORE COWBELL.
-I hope that we get a little more Mouse in the future.
-Cautiously optimistic about how they're going to handle Walt's sexuality and everything they did tonight made me a little less cautious. Good stuff.
-Next week on The Carrie Diaries: Carrie uncovers information about Sebastian's past, Maggie deals with the break up with Walt, and Larissa takes Carrie, Mouse, and Seth to a performance art club.
Tell us what's wrong with this post? How could we improve it? :)
Let us improve this post!