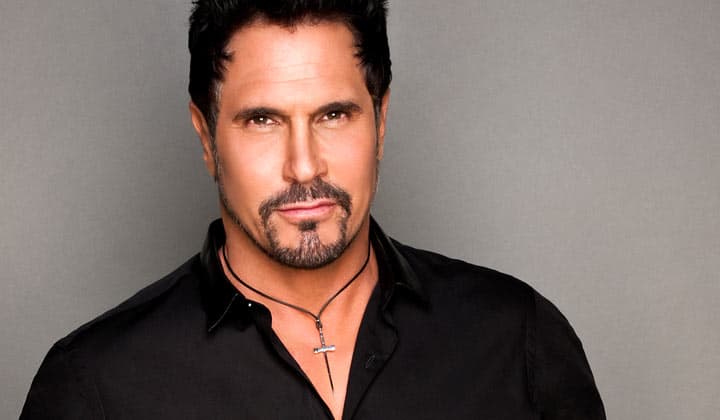 The Bold and the Beautiful fans just love Bill Spencer. He is the kind of man who likes to make a major situation out of everything, but he totally owns everything he is, all he is, and all he does. He's not making apologies for being the man he is, and we love that about him. He might not always be nice. He might not always put anyone ahead of himself except for his money, and he might be kind of a jerk at times, but he knows it. He owns it. He's okay with it. And that is refreshing. We like someone who isn't very nice but totally knows they aren't, and they own that like it's their job, so much more than we like people who aren't nice but like to pretend like they are and like they don't have a problem with their own behavior. And that makes us want to go through his many marriages and relationships and figure out which ones are our favorites.
Katie
You see, she is his wife more than anyone has been his wife around here. He might be a man who likes the ladies, but he does make it his mission in life to spend his time with who he is with. He might be a cheater, but he's not a serial marriage kind of man. He's only been married twice, and he's good with that. Our favorite marriage was with Katie. They were married from 2009 to 2014, and then they remarried a year later only to divorce a year later. All right, all right. He's been married three times, but we aren't really counting the fact that he was married to Katie two times in the same year almost. But, they were the best couple. He did well with her. She was good to him, they worked well together, and they certainly did a decent job of keeping their own drama to a total minimum thanks to the fact that she kept to herself, and so did he. And we loved her so much with him. We hope that they are able to recreate a much more amazing marriage this time around, but we just don't know.
Steffy
Okay, so they were never married, but we did not hate this relationship entirely. It never worked out for them to be together in a way that is traditional. She had a huge thing for him for a while, then he had one for her when she was married to his son, and then things didn't work out for anyone at all. But, we think that there is more to it than we thought possible. For one, we thought that there was a good chance that they could work things out on their own, and they did not. But, she's just as powerful, just as confident, and just as strong as he is, and he's yet to find someone who fits that bill. Bad joke, we know. But, they would have made one hell of a couple had anyone allowed them to have the chance.
Brooke
She's too needy, and that's why she's at the bottom of the list for us. She's not the kind of gal who makes a good wife to anyone, but they were married for about a year. What we dislike the most is that he was married to her own sister when she came in and made all kinds of noise about not wanting to interfere in their marriage and not wanting to do things that might hurt her sister, yet she totally did, then she married the man. That's not what we love about her, and it makes it hard for us to like Brooke at all. She did marry him for a moment in 2017, but it only lasted a few months until the beginning of 2018. And, we should be honest and tell you that she only married him because it didn't work out with Ridge first, and that's all there is to it. There's a lot going on, and there is nothing we cannot control about this, but she's our least favorite of his relationships, and we don't apologize for feeling that way.